Sunday Spotlight: Jeremy Pelt
Jeremy Pelt talks about his first dose of Miles Davis, and tells Ryan Smith how to be cool like Cannonball.
August 3, 2013 at 8:05 AM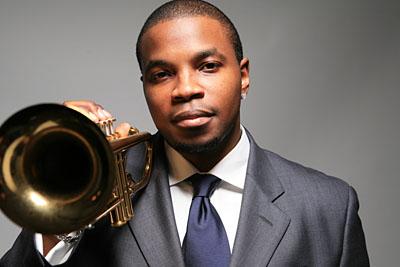 Jeremy Pelt's a busy man. He's a teacher. He's a producer. Oh, yeah -- he's one of the most noted music-makers in the wide, wild world of jazz, too. On Aug. 4, the internationally-renowned trumpeter is bringing his band back to the Gem City, where they'll be performing as the Sunday headliners for the Erie Art Museum's annual, highly-anticipated Blues and Jazz Festival. I recently caught up with His Pelt-ness and tossed him a few questions about things like natural elements, musical preferences, and what being really, really cool is all about. Here's what he had to say:
Ryan Smith: You're currently touring across the U.S. and Europe in support of your latest album, "Water and Earth." Are you looking forward to trumpeting around Pennsylvania's Great Lake and northwestern terrains again?
Jeremy Pelt: I'm absolutely looking forward to bringing my band to Pennsylvania's Great Lake! We had fun the last time we were there, a few years back, and we're sure to have fun this time around!
RS: You're a young man. What propelled you early on into the world of jazz?
JP: I was propelled by much of the same thing that I'd imagine most trumpeters are propelled by, which was me getting my first dosage of Miles Davis via his "Live at Carnegie Hall" record.
RS: So tell me -- what are you listening to right now?
JP: I've been recently listening to groups like KNOWER and The Naked and Famous.
RS: As an educator as well as a musician, how do you define what jazz music is?
If there's ever a secret to being 'way-cool', I suppose the secret is to have no secret. You dig?!
JP: As both an educator and musician, I stray away from actually defining what jazz is. The term itself is so personal and subjective to one's own experience that I try to focus on further discovering my own individuality -- and I encourage others to do the same. That said, I do believe in having foundation.
RS: I thought that might be the case. Okay, then ... can you just straight-up give me the secret to being way-cool like you? I really gotta know, man.
JP: Well, I'll thank you for the compliment -- and leave you with this statement made by one of the coolest, hippest cats that ever lived, Cannonball Adderley: "Hipness is not a state of mind. It's a fact of life. You don't decide you're hip. It just happens that way!" If there's ever a secret to being 'way-cool', I suppose the secret is to have no secret. You dig?!

Jeremy Pelt performs at the Erie Art Museum Blues and Jazz Festival on Sunday, August 4 at 8 p.m.For the complete lineup, click here.