Tee-ming with Options
Multiple outlets offer locally made shirt designs and more
December 6, 2017 at 1:45 PM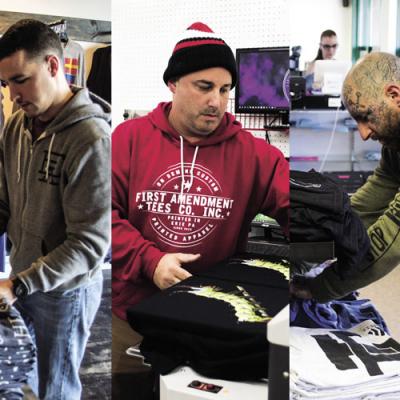 A simple t-shirt. It's the keystone to everyone's casual attire. You know them and you love them, and, as everyone knows, you can never have enough of them.
A handful of businesses around town have even made them their livelihood. There are a few successful screenprinters (from Silkscreen Unlimited to No Dress Code Studios, to Leadhead Creative), who have carved out a niche of their own through countless ink-loaded pulls of a squeegee. A few outfits (and outfit-makers) have recently opened their doors, providing potential shoppers retail storefronts that folks can pop into for all their window shopping needs — something doubly helpful now that we're in the holiday season.
If you want to give someone a wearable bit of Erie, there are a couple places you can go. Erie Apparel, First Amendment Tees, and Iron Empire all feature locally printed designs made by local entrepreneurs. Each of these growing businesses have debuted new storefronts not too long ago.
Erie Apparel recently opened up their flagship store on West 12th St, at the plaza shared with Wayward Tattoo Studio. The company, founded by Greg Straub, Peter Demichele and Scott Gladd, also has a pop-up kiosk in the Millcreek Mall until Dec. 30. Bursting with community pride, there are dozens of elegantly simple designs that any longtime resident will get a kick out of. Whether culling references from local flags ("Don't Give Up the Ship," Pennsylvania's coat of arms), to assembling a typographic collage of Erie-centric in-jokes, their designs are worth checking out, each one with a welcoming, subtly positive spin.
First Amendment Tees just set up shop on the first floor of the PACA building on State Street, transitioning to a larger location from their previous home at 9th and Peach. The company, founded by Mark Biletnikoff, offers a huge array of options, with dozens of categories of tees to choose from. Many of their designs are irreverent and may even raise a few eyebrows, but will probably elicit a chuckle or two as well. There are plenty of puns, and pop culture references abounding. FAT-Tees (as they're known) does plenty of custom work, even letting patrons design their own shirt online, with printed tees being ready to ship within 48 hours.
Iron Empire Clothing continues to expand their borders by leaps and bounds. The company specializes in athletic wear, as well as — of course, t-shirts. Established by RJ and Jamie Messenger, their clothing line champions hard work, dedication, and perseverance. These themes serve as inspirational mantras whether you're bench-pressing hundreds of pounds or simply walking down a snowy Erie street. Adorning many of the company's items is their instantly recognizable logo, the lines of the abstract pyramid shape providing a bold calling card. At their storefront on 14th Street next to Union Station, shoppers can find hoodies and pants in addition to their line of tees.
So whether you're looking for something nostalgic, funny, motivating, or anything in between, one of these shops will provide an affordable way to fill your stocking as well as your wardrobe.
Visit the Erie Apparel storefront at 2309 W. 12 St. or shop online at erieapparel.co
Visit the First Amendment storefront at 1507 State St. or shop online at fat-tee.com
Visit the Iron Empire storefront at  169 W. 14th St. or shop online at ironempireclothing.com
Nick Warren can be reached at nwarren@eriereader.com