The 2012 Parade of Horribles
Alex Bieler reports from Erie's oldest tradition, held on the day after Christmas each year since 1795.
December 27, 2012 at 5:26 PM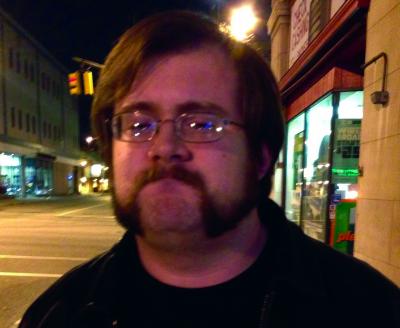 Like many Erieites, it took me awhile before I discovered Erie's oldest tradition. I had never heard of the Parade of Horribles until last year, when Erie Reader Contributing Editor Cory Vaillancourt opened my eyes, as well as plenty of others, to the event, which has been running strong every December 26th since 1795.
From 5 a.m. to 5 p.m., the Parade of Horribles reliably demonstrates what Erie does best – fixate on the worst. Started nearly 60 years before the Gem City officially came into existence, the event combines the natives' greatest skill with the preferred local pastime of imbibing adult beverages in public spaces.
While other towns have also adopted the yearly tradition of the Parade of Horribles, Erie's version not only came first, but is the most successful of all, with local celebrities, decision makers, and other notable citizens often making appearances, with some of the most distinguished members acting as Grand Marshall, such as Colonel Seth Reed – Erie's first settler – did way back in 1797.
Unfortunately, I was not going to be able to see the parade, as I was to head west to visit the parental units and other assorted family members for Christmas. As an adopted member of the Erie community, I had hoped that I could witness the event in person, especially after Vaillancourt's spirited field notes from last year's running of the Horribles.
But as luck would have it, I would get my wish.
Less than an hour before I was to set out on my voyage to the land of Cleve, I was beckoned by way of cellular phone to meet with the head honchos of the Reader. As they were signers of my paychecks well-respected individuals that I am honored to work with, I made my way to the Erie Reader Tower, passing the genteel rowe-bit butlers en route. Soon, I was face to face with the Editors-in-Chief and Managing Editor, where they informed me that Vaillancourt had burst in earlier, mumbling something about "stilt walkers" and "drinky-drinks." Worried that this was a sign that he would be unable to report on Parade of Horribles 2012, they decided that, since I was the youngest, most expendable someone with experience providing an prolonged account of vivacious celebration, I would have to cover the events.
"The way I see it, we've got a specific to-do list for you," said Mr. Managing Editor, with the Editors-in-Chiefs nodding in unison behind him."Now don't get on your street-corner soapbox, we're being upfront about this and the visual experiences you'll have. Even if you're dressed all nice with that fancy hi-tech watch, we want you on that street, fashionista or not. You ought to know that we'd be on the lookout for Mr. Vaillancourt, and if we were you, we'd tell him to get back here. Alright, you heard it straight from the editors – now go."
Confused about both this new assignment and his comments on my attire – especially since I wasn't even wearing a watch, hi-tech or otherwise – I begrudgingly accepted the assignment to check out this Parade of Horribles for the first time, grumbling about having to cut my mandated family gathering time short.
After a while, however, I realized that maybe I was looking at this whole situation the wrong way. Instead of viewing this unexpected assignment as a burden, I realized that my wish was being granted. Not only would I be helping out the Erie Reader higher-ups in their time of need, I would also be getting to see just what the denizens of Erie could whip up for this parade. I had only the wonderful words of the vanishing Vaillancourt to describe what positively wonderful floats of negativity this town's minds could come up with. As the Northwest Pennsylvania-bred muckraker Ida Tarbell said, "Imagination is the only key to the future. Without it none exists - with it all things are possible."Erie is a fascinating town, and the Parade of Horribles could show me how the town has a future despite all of the unfortunate events the parade would focus on, just like when Tarbell served as Grand Marshall of the parade in 1944.
With my trusty pen and notepad and just a sliver of sleep, I would be off to Parade Street on the morn of December 26, ready to document the happenings of the 217th Parade of Horribles. I offer you my notes on the sights and scenes of this time-honored event, which I hope you find to your liking.
 
[Editor's Note: While on shorter notice than our usual standards, Mr. Alex Bieler was still given ample time to complete the assignment given to him. Instead, we received a pink Hello Kitty notebook that had been handed off to a concerned intern after a frantic call from Bieler at 7:47 p.m. In addition to containing a barely readable handwritten account of the Parade of Horribles, the notebook was full of absurd notes and doodles of Vikings and odd drink stains. The following is his account of the Parade of Horribles, which were typed as submitted. We have still not heard from Messrs. Bieler or Vaillancourt at the time of publication.]
 
5:06 a.m. – So far, Cory was right about this event; it is freezing. Erie's oldest tradition? More like Erie's coldest tradition, amirite? … I already apologize for that. I'll continue clutching to my chai tea latte for warmth. Hopefully some more people will start showing up, as it's dangerous for large, bearded, leather-jacket-wearing guys like me to be alone on the streets in the dark.
5:55 a.m. – Parade Street is starting to get a little livelier. People murmur excitedly to one another, as the beginnings of a parade are starting to enter into sight.
6:28 a.m. – The beginning of the procession has finally started to move down by East Second Street. Marching bands, dance teams, and what appears to be a group of really tall people in voodoo garb start approaching. My chai tea latte being long gone, I go out in search of some sort of vendor. I find one small stand open at this ungodly hour, a poorly built hut lined with assorted furs manned by a short, stocky man wearing a gleaming bronze breastplate that was partially covered by his braided black beard.
"What drinks do you have?" I ask, as the man eyed me up from beneath his studded Viking helmet.
"Ah, we have but one beverage here, my boy," he responds. "This hut holds just mighty pretzels, stelzenläufer, and me."
"Stelzenläufer? What's that?"
"Ah, but it be the finest beverage my brethren and I make."
"Is it warm?"
"Aye, mayun."
"I'll take it."
6:51 a.m. – I'm not sure why, but it definitely seems warmer than before. Maybe it's because some parade floats are finally walking by. I see the stilt walkers Cory wrote of but still no sight of Cory himself. When one of the stilt walkers approaches with a pig's bladder hip flask in hand, I motion to my drink, as I have strict instructions from the Reader editors to not accept any beverages from anything that could be used to traditionally line sausages. He pauses, then grins widely, nods, and takes his place next to an out-of-place-looking, blond stilt walker. He must be new to their group.
7:29 a.m. – It took awhile, but we finally have our first float of the day. A bunch of snow-shovel-wielding Erieites in thick winter coats are walking around a flatbed carrying a ton of snowplows and piles of salt. In the middle of it all is a polar bear precariously perched on a small pillar of ice being consoled by a goatee-rocking man wearing an International Broadcasting Center jacket. Hold on a second, this isn't a float; this is just a bunch city workers that haven't had anything to do with the lack of true winter conditions so far this year.
8:02 a.m. – The first official float is coming down the street. According to the parade pamphlet, this is supposed to be for William George Beman, but all I see is a guy driving a black Jeep SUV flanked by some annoyed city council members. It doesn't last long, however, as Parade of Horribles officials quickly curb off the vehicle as former Erie County Councilman Ebert Beman hops out. Apparently he didn't file the proper parade float documents.
8:26 a.m. – Wow, this next float is massive! It's so shiny and new and big. It must have cost a fortune, like somewhere between $90 and $110 million or something. In fact, I'd say it's just about as nice and big as the Cathedral Prep float that came before it. This guy dressed up like a janitor next to me doesn't seem like a fan, grumbling that McDowell Senior High School's float last year was perfectly sound last year and would have been just fine again.
9:19 a.m. – Some guy calling himself "Erie James" has set up next to the stelzenläufer hut. He keeps on ranting about how he's the premier vendor and that the friendly stelzenläufer-serving Viking-man and his adorable army are frauds. Clearly this man is insane. Next to him stands a woman with a nametag that reads "My name is: Marketa Playkazzet" keeps on nodding along with everything he says. They don't even have a stand, much less anything worth paying attention to, and nobody else seems to see them. Fortunately, the Viking serves me quickly, grumbling about "bobolees" or something like that.
9:58 a.m. – Man, this stelzenläufer is much better than I expected.Also, it doesn't seem cold at all anymore. I don't even need my jacket! In fact, I think someone stole it from me. Ah well, that just means more stelzenläufer for me!
10:42 a.m. – The people around me are telling me that this Parade of Horribles is shaping up to be the best since Ish Kabibble was Grand Marshall back in 1993. Oh, look, here's a troop of General Electric Co. Transportation workers, but they seem worried about something. Maybe it's the float of a giant vacuum with the words "Made in Fort Worth, Texas" that's right behind them, sucking one of them up every so often. That might be it. Man, the people that make these floats have some imagination. I guess anything is possible.
11:33 a.m. – Here comes what is expected to be one of the most popular floats. Out in front, several BayHawks and Otters player march in step in front of a newly renovated… wait, are you [REDACTED] kidding me?! They couldn't even finish the Erie Insurance Arena float (sponsored by Tyvek) before the parade season started? [REDACTED]
12:12 p.m. – Trying to get a refill of stelzenläufer, but Beeman keeps arguing with the Viking-man, who seems to have gotten taller. Or maybe shorter. All I know is that none of Beeman's credit cards are working, and he's going on and on about how he has a letter signed by his dad, Grand Marshall of the parade in 1998, saying that he's good for the money. Eventually, parade officials come and escort him away. Good, I need more drinky-drink.
12:58 p.m. – A bunch of robo-bots are leading this next float, which is just a flatbed with a single woman sitting at a plastic Fisher Price table while everyone else is eating pie. I'm not sure what the point of this float is, but that blond-haired stilt walker sure seems to be enjoying it.
1:37 p.m. – People really seem split over the Kanzius Cancer Research Foundation float. The people on the float seem really happy, but it's not them some of the parade-goers are jeering, it's the man with the megaphone, Glenn Beck. He seems to be holding something. It seems to be a jar of some golden liquid with a toy on the inside. Is that an action figure inside [ILLEGIBLE]? Oh, [REDACTED] that is disgusting! What a [ILLEGIBLE].
2:23 p.m. – Oh, I didn't know that there were fireworks in this parade! I was just going to get some more drank and all these loud popping sounds started… oh, wait, it's just another shooting. Back to Mr. Viking.
3:01 p.m. – This next float is rather bizarre. It's a massive farm, with cows, sheep, chickens, and about 100,000 people all looking rather out of place. What [ILLEGIBLE] would sponsor that? Lemme check this… ah, Gov. Tom Corbett and the Department of Public Welfare. Right behind it is a fancy theater full of people in formal attire all fixated on Corbett up at the podium. Hold on, a couple are running up and shouting. There aren't many of them, but they are really [REDACTED] pissed.
3:48 p.m. – For the love of the Flying Spaghetti Monster, Beeman is driving in the parade again! Does this [REDACTED] not understand what rules are? How has he not been kicked out of this [ILLEGIBLE] [REDACTED] parade yet? I swear, if someone doesn't take this [REDACTED] away… WHAT!? Oh, apparently some judge is finally putting Beeman in timeout. Nearby, an alien custodian named Timothy is applauding while the blond-haired stilt walker dances as someone plays "Hold On" by the Alabama Shakes. I need my stelzenläufer.
4:27 p.m. – I can't find the nice Viking man. I thought I saw him walking with that [REDACTED] blond-haired stilt walker, but I think I'm just seeing things. Luckily, the last float is coming up next. It's just out of sight, but it's coming up really quickly. What is tha…
Mother. Of.  God…
It's the end of the world.
The Mayans were right! Every type of apocalypse imaginable is coming up Parade Street. Soon I'll be hit by the massive meteor above our eyes, eaten by the horde of zombies, washed away by the tidal wave coming from the east, and be forced to see Jersey Shore brought back on the air! Oh god, oh god, oh god, this is it this is [REDACTED] it! We're all going to die because those [REDACTED] Mayan [ILLEGIBLE] couldn't find a bigger [REDACTED] calendar. Couldn't they have just gone to one of those [REDACTED] kiosks in the Millcreek Mall and [ILLEGIBLE] [REDACTED]. Oh jeebus, the apocalypse brought Ace Frehley to play. [REDACTED] Ace Frehley! Now we're just going to die in [ILLEGIBLE] mediocrity [REDACTED]! Ah! Timothy is gone! WHY [ILLEGIBLE] WHY!? There are no [REDACTED] rules anymore [ILLEGIBLE]! [REDACTED] free of [ILLEGIBLE] tyranny of pants! TAKE ME NOW!
4:44 p.m. – Mistaken. Wasn't end of world – Dec. 26. Lost my pants.
4:51 p.m. –Everyone leaving. Could not find Vaillancourt or Viking man. No more drinky-drink. Must find truck. Annoyed-looking patrolman in car approaching.
"Son, have you been drinking?"
"Um, no sir; all I had was this stelzenläufer stuff that this Viking was selling. I swear he had a permit on the back of his hut."
"Vendors? There aren't any vendors at the Parade of Horribles," he says, pointing to a "No vendors permitted" sign. "First I pick up this blond-haired fellow that thinks he was hanging out with stilt walkers, and now I've got a Viking enthusiast. Get in the car with Mr. Vaillancourt back there.  This parade is over."
 
Alex Bieler can be contacted… as soon as we find him.