The 24th Annual Edinboro Highland Games and Scottish Festival
Drink, live, and breathe Scottish on Edinboro campus
August 30, 2017 at 1:45 PM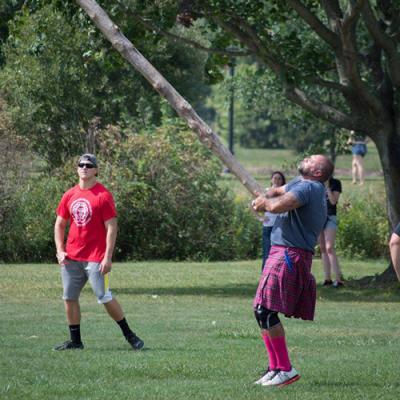 Wednesday, Sept. 6
Though bagpipes can be heard at many Edinboro University ceremonies, bagpipers and other Celtic musicians come out in full force during the annual Edinboro Highland Games and Scottish Festival. The four-day event, which takes place on the university's campus and other nearby venues, celebrates Scottish heritage with music, dancing, athletic competitions (including heavy lifting, disc golf, and "archery tag," which is similar to paintball, but with giant foam arrows), traditional foods and beer.
Incredibly proud of his Scottish heritage, festival director and university professor Dr. Tim Thompson began planning the first Highland Games in 1993, when he saw that the university didn't already have such an event. Now more than 5,000 visitors spend the weekend at this annual celebration. Thompson advises would-be attendees not to miss Saturday's noon opening ceremony, which he calls a "spectacular sight." Traditional marching bands amass on the lawns, lending the campus a convincing air of authenticity.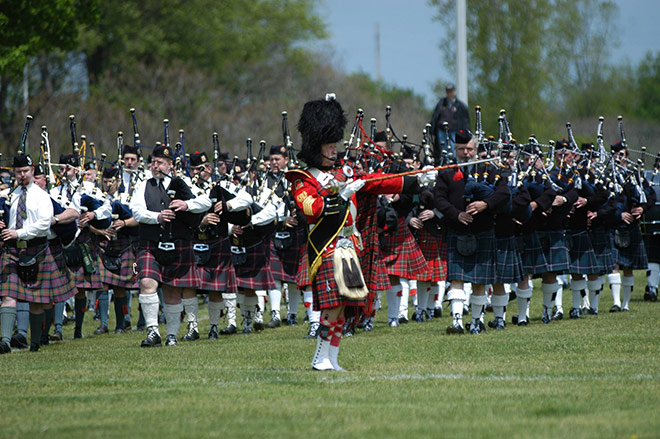 However, you don't have to wait until the weekend to join the party. A single malt whiskey tasting, a first for the festival, will kick off the fun on Wednesday evening, a day earlier than in previous years. Attendees can try five single malts from Scotland at the President's Dining Suite of Edinboro's Van Houten Dining Hall. It's one of the festival's few events with an admission fee ($30). Beer tastings will follow from 11 a.m. to 4 p.m. on Saturday, giving you plenty of time to recover.
For multiple years, both the National Scottish Fiddle and Harp Championships have been hosted at the university. This year, that tradition continues. People can hear harps play Thursday evening, or try their own hand at the instrument on Friday. A drum circle will signal the "Calling of the Clans" that evening, as festival-goers will gather around a bonfire on the gazebo lawns. The music will carry through to Saturday, with performances from 10:30 a.m. to 3 p.m. Among the performers are husband-and-wife duo Jim (guitar) and Beth McQuiston (flute) of Celtic Creek. They've been attending and performing at the Edinboro Highland Games and Scottish Festival since 2004, Jim recalls. They've found their "authentic" sound by visiting Scotland and hearing its traditional music firsthand.
McQuiston fondly recalls the "best compliment" he's ever received: "The difference between you and the rest of the bands, is you play it like they do in the Irish pubs,"
Of course, Scotland and Ireland are not exactly one and the same; but then again, neither are Scotland and Edinboro. But for one week, they're close enough.
— Tracy Geibel
Wednesday 6 to 8 p.m., Thursday 6 to 9 p.m., Friday starting at 1:30, Saturday 8:30 a.m. to 10 p.m., Sunday at 10:45 a.m. // Edinboro University, 219 Meadville St, Edinboro, & varied locations // free, $30 single malt tasting, $35 ceilidh // edinboro.edu/events/highland-games