The 25th Annual Blues & Jazz Festival
Your guide to the Erie Art Museum's evolving weekend of entertainment
August 2, 2017 at 3:45 PM
This year is a milestone for the Erie Art Museum Blues & Jazz Festival. Not only is this the 25th anniversary of the festival, but it's also the very first year offering three days of activities. Museum director John Vanco, who is retiring at the end of the summer (but plans to oversee the festival in the future), has seen this expansion coming for some time. "The goal with the festival is to keep the [blues and jazz] part that everyone loves and expand it to other things such as poetry, performance, theatre, and other kinds of music. To become a true community arts festival."
Erie's favorite weekend event is evolving and growing. It's all an elaboration on a common alliterative idea: a fun, free, family-friendly festival at Frontier. And with loads in store for Friday, things seem well on their way. Like in years past, the home for the festival will be Erie's beautiful Frontier Park. Tents are welcome as always, and guests are permitted to bring their own beverages, though there will also be plenty of refreshments available for sale at the beer tent for those not into the whole cooler thing. No pets will be allowed at the festival, but feel free to take yourself for a walk and explore all the sights the weekend has to offer.
If you didn't already donate to the festival's highly successful Kickstarter campaign, you can still get yourself a commemorative button for a small fee (the earlier the better, in fact, as wave after wave of "bucket brigade" volunteers will meet you with a smile after seeing your pin-backed festival accoutrements). Keep an eye out for some impressive button collections in the crowd, commemorating someone's elite, veteran status as a longtime festival-goer. For those backers who did pledge to the Kickstarter, they can pick up their rewards at the Erie Art Museum's info tent anytime from 2 p.m. on Saturday until 8 p.m. on Sunday.
Festival Producer Emily Dauber detailed what exactly might separate this iteration of the weekend from previous incarnations, essentially describing it as "the same festival you know and love, expanded and enhanced to incorporate other forms of art."
"The idea with Friday is to make it family-friendly," Dauber explained. She's eager for the entire community to know that "it's not just this music festival that happens in Frontier Park, where adults are there imbibing [laughs], the idea is for it to really transform into a community event welcoming all ages, and to expose people to art and culture and music that maybe they wouldn't have seen in their day to day life. And it's free!"
Like the genres of blues and jazz themselves, this festival is evolving, adapting, and forging ahead. The umbrella is widening, welcoming more and more members of the community in with open arms.
To imagine how your weekend will play out day by day, just think of it like this: arts, blues, and jazz.
Friday
3 p.m - 8 p.m. // A New Day
While events on the eastern side of Frontier Park (on Saturday and Sunday) will be essentially similar to the festival concertgoers are used to, there are plenty of new family-friendly arts activities to take part in.
There will be interactive workshops where guests of all ages can participate in creating their own art, with help from seasoned members of the art community. Check out puppets from the National Marionette Theatre, or large-scale works courtesy of the Cleveland Museum of Art's Department of Community Arts, helmed by director Robin VanLear. There will be stilt-walkers and line dancing, as well as the "Surprize No Prize" show, where the audience will get an opportunity to spin a wheel to determine the theme of each mini-performance. Food trucks will also be on hand, featuring some of our region's most deliciously mobile treats (the traditional tented vendors will be on hand the rest of the weekend). The Northwestern Pennsylvania Artists Association (NPAA) has taken over the Lake Erie Arboretum at Frontier (LEAF) Education Center building in beautiful ways, with an exhibition from 2 to 7 p.m. and an opening reception from 7 to 9:30 p.m. (additional hours are from 4 to 7 p.m. on Saturday and Sunday). You'll also be able to help artist Mark Weber (responsible for many of the festival's best posters) paint a mural that will be on display at the St. Martin Center. The Erie Philharmonic will host a "Jazz Instruments Petting Zoo", letting you try your hand for your own musical inspirations. LEAF will have a living Willow Art installation that you can even prune yourself. There will be hula-hooping with Jen Dennehy, a poetry workshop with Marisa Moks-Unger (our Erie County Poet Laureate), and the Erie County Library's local music project will offer kids' STEAM (Science, Technology, Engineering, Art and Math) activities.
After sunset // movies
Following the tradition of LEAF's Movies in the Arboretum series, there will be a screening of Illumination Entertainment's animated musical feature Sing, followed by the locally-made short film 1,000. Produced by poet Abdullah Washington (better known as Bigg Wash), and filmmaker Tom Weber, 1,000 follows Washington around Erie as he encounters several members of our community, helping to weave together the fabric of our city.
Saturday
2 p.m. // Eric Brewer & Friends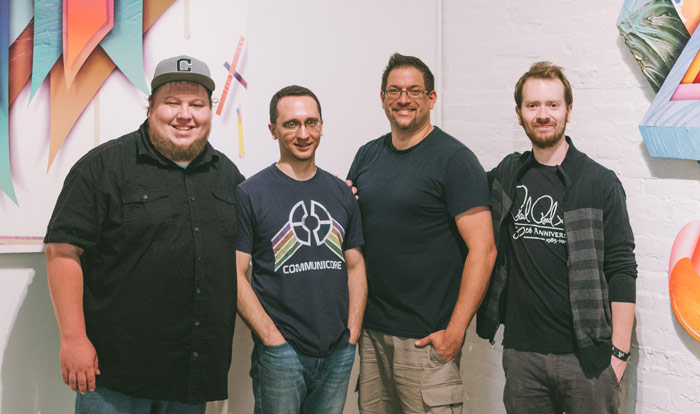 Home Base: Erie, PA
Led by Erie's virtuoso guitarist, Eric Brewer and Friends are a perfect way to kick off a weekend of great music. Combining outwardly light-hearted tunes with progressive, complex musicianship, the band has a little something for everyone. With sets full of extended jams and group improvisation, each set is a new creature unto itself. Experience the energetic tension and release as solos build to a beautiful apex, notes soaring and bending through the air. The band also features keyboardist Charlie Meyer, bassist Ralph Reitinger, and drummer Steve Barone — after hearing this wonderful group of musicians play, you'll want to be friends, too.
Recommended If You Like: Umphrey's McGee, Phish, The Disco Biscuits
4 p.m. // Rodger Montgomery Blues Band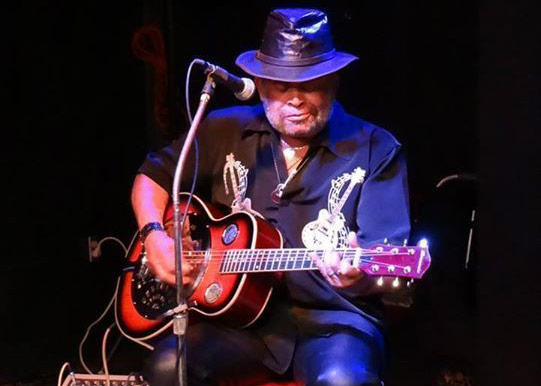 Home Base: Erie, PA
To many people, Rodger Montgomery is blues in Erie. Long a fixture of the regional music scene, Montgomery was one of the performers that graced the stage at the very first Blues & Jazz festival, 25 years ago, when his band had recently formed. An accomplished singer and guitar player, Montgomery is just as comfortable laying down searing overdriven licks on his Stratocaster as he is playing some impassioned, traditional slide tunes on his resonator. Joined by drummer Sam Orrico and bassist William Frazier Jr., this trio will bring you some of our region's best, authentic blues.
RIYL: Freddie King, Buddy Guy, Albert Collins
6 p.m. // Eddie Turner and Trouble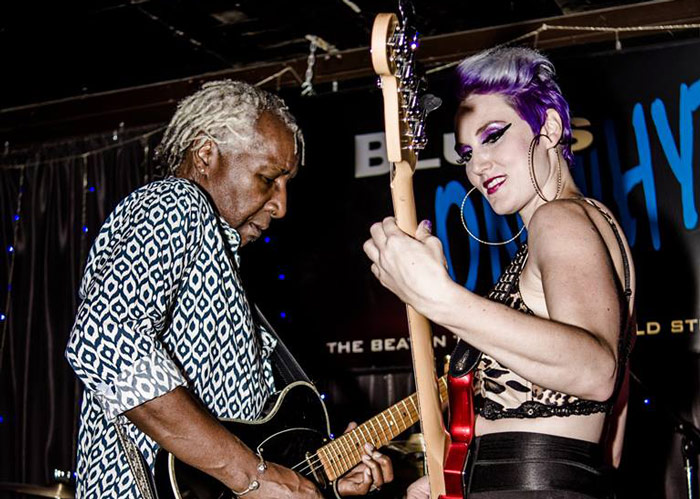 Home Base: Denver, CO
A wildly expressive performer, Eddie Turner's playing might make you think he made a deal at the crossroads. His nickname, "Devil Boy," may lead you to wonder all the more. Born in Cuba, Turner was raised in Chicago. Growing up at the blues epicenter, he began to play guitar at age 12. He's worked with acts such as Tracy Nelson and Mother Earth, Zephyr, the 4-nikators, and was also a founding member of the Otis Taylor Band. His band, the "Trouble" makes up the rest of the rocking Colorado quartet, with bassist Anna Lisa Hughes adding her smoky voice to the mix along with Turner's gravelly tone. Like Montgomery, Turner brings that raw blues sound that the festival's Saturday nights are famous for.
RIYL: Gary Clark Jr., Bernard Allison Group, Eric Gales
8 p.m. // Mokoomba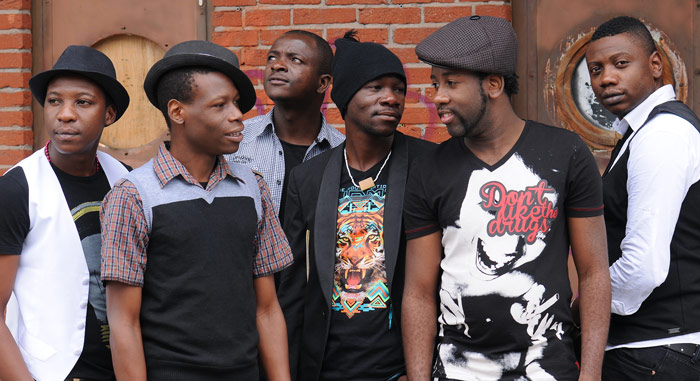 Home Base: Victoria Falls, Zimbabwe
With an infectious energy abounding in every measure, Mokoomba is sure to get you dancing. Rhythmically driving from start to finish, the six-piece plays a unique blend of afro-fusion that immediately gets the listener's head bobbing. The band sings in Tonga, one of the less common languages of their country, spoken primarily in the northernmost region of the western horn of Zimbabwe (bordering nearby Zambia). Despite its foreign tongue, the music of Mokoomba resonates beyond language barriers. Singer Mathias Muzaza's soulful presence is flanked by the danceable beats of drummer Ndaba Coster Moyo and percussionist Miti Mugande, as well as guitarist Trustworth Samende, bassist Abundance Mutori, and keyboardist Donald Moyo. Heralded as Zimbabwe's most popular musical export, Mokoomba is sure to be an unforgettable experience and one of the touchstones of the weekend.
RIYL: Red Baraat, Antibalas, Oliver Mtukudzi
Sunday
12 p.m. // Stephen Trohoske's Art Groupies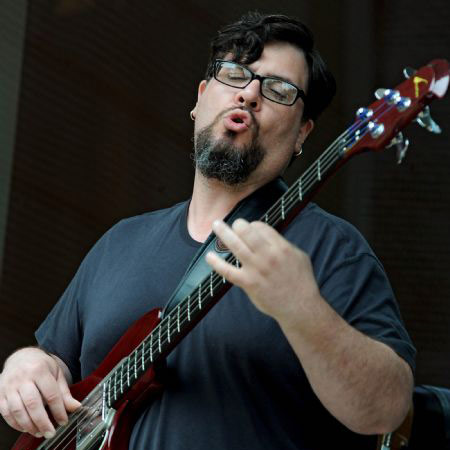 Home Base: Erie, PA
A crucial mainstay of Erie's music scene, Stephen Trohoske has proven to be the solid, funky backbone for countless bands. The bassist has assembled some of the region's finest musicians together for a rousing set that is sure to kick Sunday off in style. With a setlist of original tunes, along with new wave and postpunk gems, each song gets the special treatment. Joined by fellow bassist Tony Grey (let's call him the "lead bassist"), guitarists Eric Brewer (making his second appearance of the weekend) and Frank Singer, drummer Ken "Stix" Thompson, and singer Elly Vahey, the band approaches each cut with sultry, intricate musical precision. Offering a smooth, smoldering atmosphere, the band sews together a handcrafted musical mixtape that fans of any genre can get behind.
RIYL: Television, Jaco Pastorius, John Patitucci
2 p.m. // The Breeze Band with Youthful Talents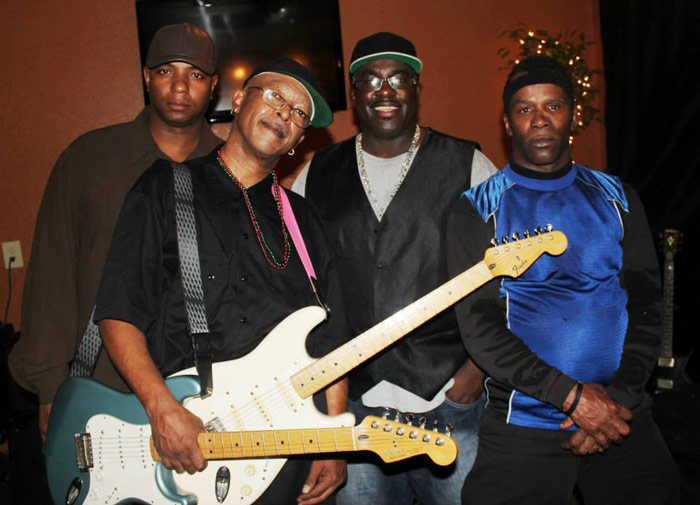 Home Base: Erie, PA
One of our area's most versatile and best-loved groups, the Breeze Band will get a little help from some friends for this particular set. The octet consists of vocalists Pam Davis, Rasia Crockett, and Tim Cook, along with bassist Maurice Troop, lead guitarist Kenny Hollis, drummer Clarence Jennings, trumpeter Kevin Sapper, and guitarist Barry King. For the first segment of the performance, the Breeze Band will be joined by several young performers who will lend their talents to the group's already impressive flair. Keep watching, because you might just spot one of our region's next big stars among these guest collaborators: vocalists Nick Cacamo, Courtney Cook, Nevaeha Hudson, DeAzhane Matthews, and Annalise Vaugh, with guitarist Elijah Lyons, keyboardist Hudson III, bassist Vince Cacamo, dancer Sky Davis-Muzofa, and drummer Ja'donovan Hobson. The band draws from the spirit of Motown greats, rhythm and blues legends, and rock and roll icons. Pulling it all together, the band's primary goal is to simply get you dancing!
RIYL: Earth, Wind & Fire, Stevie Wonder, Chaka Khan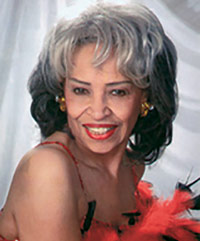 4 p.m. // Mary Alice Brown Quartet
Home Base: Erie, PA
Erie's undisputed "Queen of Jazz," Mary Alice Brown will return to the stage of the Blues & Jazz Festival. One of the featured performers on the inaugural bill, Mary Alice has appeared at the festival more than any other artist. The fortune of that cannot be overstated, as she has been enchanting audiences all over the country for decades. Hear her lush, beautiful voice and absolute expertise on the piano and you'll know instantly why she's such an important part of our community. An invaluable and highly respected teacher, she has influenced generations of musicians across the community and the world. Joining Mary Alice on stage will be drummer Joe Matczak, bassist and brass player Becky Matczak, and conga player Tammy Johnson.
RIYL: Ella Fitzgerald, Les McCann, Mary Lou Williams
6 p.m. // Russell Malone Quartet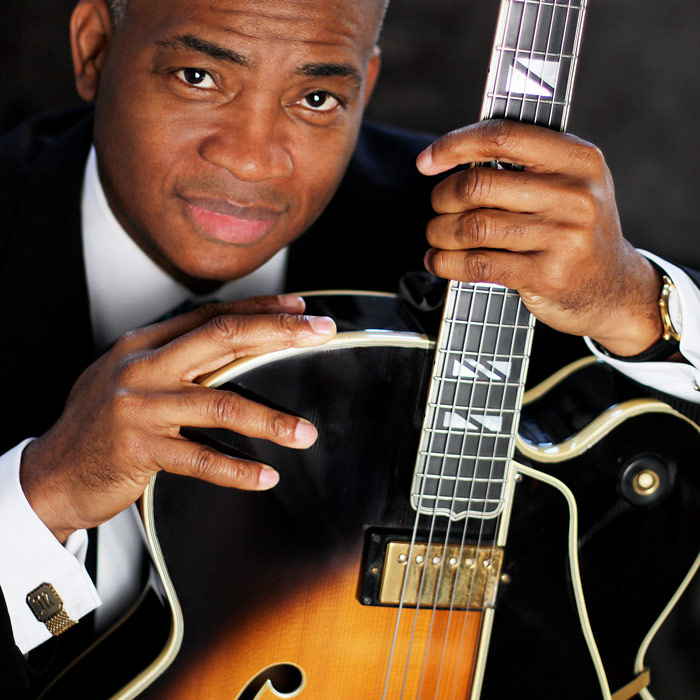 Home Base: Albany, Ga.; Englewood, NJ
A giant of modern jazz guitar, Russell Malone has worked extensively with some of the biggest names in jazz. Malone was a member of the Diana Krall Trio for five years, the Harry Connick Jr. Big Band for six years, and Jimmy Smith's band for three years. In addition, he's played with the likes of Hank Jones, Bill Frisell, Branford Marsalis, Ron Carter, and Sonny Rollins. While an unquestionably accomplished sideman, Malone as a bandleader exhibits grace, control, and measured mastery. With his smooth, lyrical tone, this gifted guitarist makes even the most virtuoso passages dance with ease. Malone's quartet includes the talents of pianist Rick Germanson, bassist Luke Sellick, and drummer Willie Jones III.
RIYL: Wes Montgomery, Kenny Burrell, Kevin Eubanks
8 p.m. // Trio 3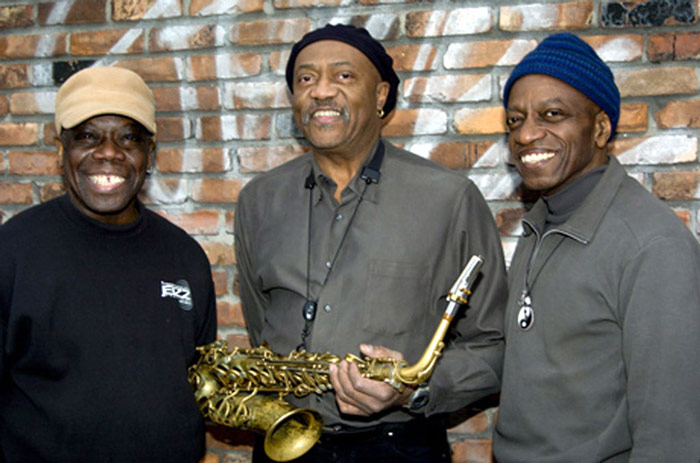 Home Base: New York, NY
With their unassuming moniker, Trio 3 barely needs an introduction. The avant-garde group consists of drummer Andrew Cyrille, saxophonist Oliver Lake, and bassist Reggie Workman. For lengthy stints, Cyrille played with vibraphonist Walt Dickerson and free jazz pianist Cecil Taylor. Lake has a storied career as a bandleader, releasing 38 albums under his name since 1971, as well as 20 albums with the World Saxophone Quartet. A well-known name unto himself, Workman has (among many other credits) cut three iconic albums with Wayne Shorter in the mid-1960s, five with Art Blakey, and three with the man himself, John Coltrane. The unparalleled expertise exuding from this trio is nearly unfathomable, and this is sure to be a set you won't want to miss. The band ventures out, expertly navigating the nether regions of jazz, coming back with exquisite gifts from afar.
RIYL: John Coltrane, Pharoah Sanders, Wayne Shorter
Nick Warren has been faithfully attending the Erie Art Museum Blues and Jazz Festival for over ten years, and hopes to one day grace the stage himself. He can be contacted at nick@eriereader.com