The Benninghoff Heist: The Wild West of Pennsylvania
Boomtowns beget treachery, intrigue
October 20, 2023 at 8:00 AM
The history of Pennsylvania's Oil Region is as enthralling as it is deeply layered. Locations such as Titusville, Oil City, and Pithole along with people such as Edwin Drake, Coal Oil Johnny, and Ben Hogan have been immortalized into the region's historical canon. It's a history brimming with quirky characters, intense rivalries, and a perpetual conflict between order and chaos that rivaled western counterparts like Deadwood and Dodge City.
Each place had its own distinct people and stories, including the sometimes overlooked localities of Rouseville, Plumer, Pleasantville, and Petroleum Center. The last of these was a boomtown in Cornplanter Township located halfway between Titusville and Oil City alongside Oil Creek. Newspapers in 1868 marked it as "one of the richest [locations] in the world." One resident was Samuel A. Woods, a young man who lucked into a "princely income" after striking "liquid wealth." The Erie Daily Times described how he "lived high" sporting fancy suits and expensive diamonds. He also adored gambling. He'd play dice any time of day and it wasn't uncommon to witness his $1,000 bets.
Petroleum Center was infamous for this gambling. There was no central hub. Games sprung up all over town: saloons, offices, engine houses, even private homes. "[A] rickety table, a greasy writing desk, or a board laid across the head of an old barrel answered as well as the equipment of a gambling palace," explained the Erie Daily Times.
In the winter of 1869, Woods found himself in a pickle. He was at the Rochester House when he engaged in a betting war with another wealthy oil producer named Colonel Brady. The encounter would later be described as "the greatest game of dice on record in the oil region."
What started with $50 bets soon spiraled out of control. By morning, Woods was down $32,000 to the colonel. He wrote out the check, held it up, and made a simple proposal: one throw each and double-or-nothing. The colonel accepted and rolled a nine. Woods rolled an 11. The two agreed to continue playing and Woods won all of the colonel's cash by morning's end: about $3,000. He handed his opponent a $20 bill before departing. "I can't see a man go away dead broke," Woods quipped.
Needless to say, there was a lot of money floating around Petroleum Center and it attracted some interesting characters. In 1892, the Erie Daily Times noted that the "remarkable happenings" from the "old bonanza days" were as entertaining as any chapters from Arabian Nights.
One of these happenings involved a German American farmer named John Benninghoff. Known to locals as Old Benninghoff, he found himself, as one 1910 newspaper described it, at the center of "one of the most remarkable robberies ever perpetuated." As was common during this time though, accounts differed slightly (and sometimes not-so-slightly) from newspaper to newspaper. Much was clearly sensationalized or not vetted for accuracy. Names varied from paper to paper. Truth and fabrication blended. All the same, it was unquestionably quite the heist.
John Benninghoff was born on Dec. 25, 1801 in Lehigh County, Pennsylvania to German immigrants. In 1825, he married a young woman named Elizabeth and a decade later, the family (which eventually included 12 children) moved onto a 57-acre farm on a tributary to Oil Creek (later named Benninghoff Run). The house was small and on a quiet road, about a quarter-mile from the nearest neighbor. They eventually expanded their property to nearly 300 acres. In these early years on the farm, Benninghoff and his wife earned a modest income selling produce in Titusville transported on an oxen-pulled sled.
When the oil rush erupted in the 1860s, the children were already grown and the couple lived on the farm with their niece Eliza. Petroleum Center sprang up nearby with 3,000 residents. This was smaller than neighboring Pithole's 20,000, but it still had all the boomtown staples: hotels, stores, churches, saloons, a theater, and a bank.
Benninghoff, now in his sixties, struck oil on his property. It was a lot of oil. The family was earning a staggering $50,000 per month — nearly a million dollars adjusted for inflation. The Erie Observer referred to him as an "oil king." They hired two men to assist with the operation, working as help and night watchmen: Henry Geiger, blonde and expressionless and still learning English, and a fellow by the name of Elbridge.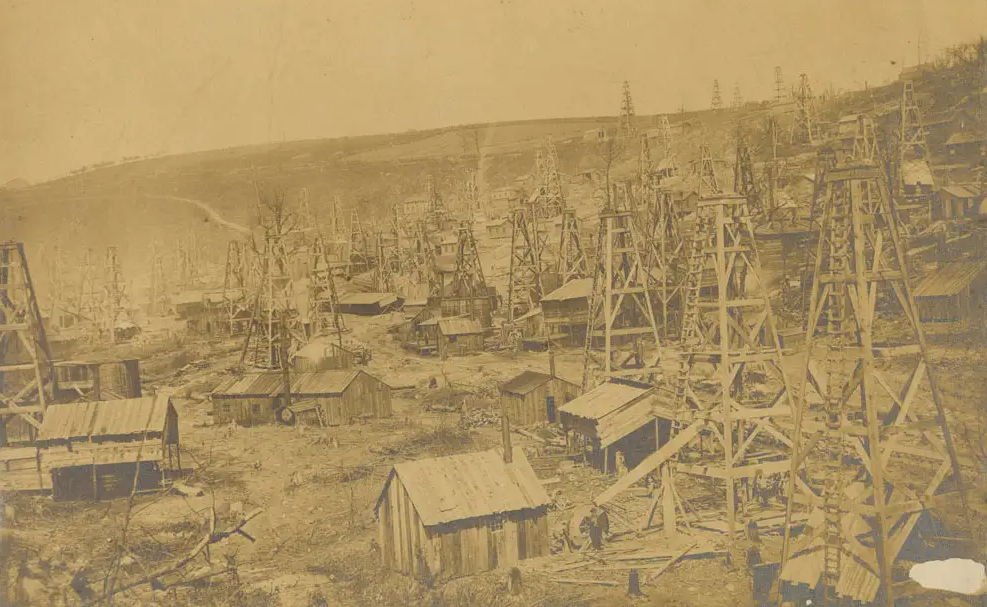 The historic photo from Source Sketches in Crude Oil by John James McLaurin shows the Benninghoff Run Oil Wells that were erected on the property of John Benninghoff, a 57-acre farm on a tributary to Oil Creek in the 1860s. 
"But wealth brings trouble," noted the Pittsburg Dispatch, "and John Benninghoff worried as never before in his days of poverty."
He didn't change much otherwise. The Pittsburg Commercial wrote that he continued to live as a "plain, hard-working farmer" and his "sudden and dazzling fortune never made a fool of him." His dress didn't change, they lived humbly, and he worked even harder than before.
This thriftiness rubbed some the wrong way. In the Franklin Evening News, John L. Hunter wrote that Benninghoff was an "exemplary citizen" but that "nature had endowed him with a greed for money and a distrust for his fellow men." Still, Hunter argued, there was something admirable about his restraint. "The glamour of city life … failed to appeal to him," he wrote.
It's uncertain what everyone thought of Benninghoff. The editor of the Mercer Republican called him a private, quiet, and inoffensive citizen. Conversely, the editor of the Pithole Record criticized him for his frugality, calling him an "injury to the human race." He was even worse than the "reckless, extravagant, foolish, and corrupt" Coal Oil Johnny, who famously (and drunkenly) blew through his family fortune. "A miser is infinitely worse than a spendthrift," he alleged, "for while the latter may injure himself, he benefits the community by circulating his cash."
Indeed, Old Benninghoff didn't even use any of the local banks. He trusted banks less than he trusted people, having lost money years earlier when a Franklin-based bank failed. Instead, he purchased numerous large safes for his home in which he kept the majority of his money. It also seemed to be common knowledge.
"Friends warned him of the risk he ran in keeping so much money about the house and advised him to place it in a bank," wrote Hunter. "This he refused to do."
Three strangers stopped at the house at dusk one evening requesting milk and whisky. Benninghoff was immediately suspicious. He didn't invite them in and wouldn't give them whisky, but did offer some milk. Later that night, the family awoke to a sound and discovered someone prying open a window. Benninghoff grabbed his rifle, his son Joseph grabbed a revolver, and they began shooting from the front porch. Multiple figures returned fire before scrambling away. Fortunately, nobody was injured.
On the evening of Jan. 16, 1868, Benninghoff, Elizabeth, Eliza, and their hired hands, Geiger and Elbridge, were winding down for the night. Joseph was attending a dance and wouldn't be back for a few hours. There was a knock at the door. Geiger moved to open it as Benninghoff objected, but it was too late. Three armed and masked men burst through the door and pushed past Geiger. A fourth stood as a lookout. As described in the Titusville Herald, Benninghoff, a considerably strong man for his age, physically engaged the assailants but was thrown to the ground and punched and kicked into submission. They bound his arms and legs and tossed him into a bed. If he didn't comply, the men threatened, he and the others would all be killed.
Meanwhile, Elizabeth had secured a revolver and handed it to Geiger, but he cowered in a corner of the room. One of the masked men took the gun with ease. They then led Elizabeth to another room and tied her up. Eliza was taken into a third room. "You are rather a pretty girl," uttered one of the assailants. "Someday I may come back and marry you." He then tied her to a chair.
According to an account in the Pittsburg Dispatch, the men tortured Benninghoff for information by burning his feet. Eventually, they found a key, quickly located the safe, and began ransacking it. For about an hour, they searched the home and helped themselves to their food. They then slipped a noose around Geiger's neck and demanded that he take them to the barn to secure horses and lead them to Meadville.
Eliza was able to loosen her ties. She frantically unbound her aunt, uncle, and Elbridge. By that point though, the masked men were gone along with Geiger. Elbridge left to alert the authorities. When Joseph arrived back from the dance, he was shocked by the sight of the home and his beaten father.
In the morning, Geiger returned. His face was bruised and battered. He'd resisted their demands, he said, but they left him no choice. Benninghoff was despondent. Joseph went to neighbor William Spence's home to inform him of the armed burglary. Spence listened closely, then asked about the two hired men.
"[Y]ou will think as I do," seethed Joseph. "[Geiger] knew all about it beforehand." It was Eliza who'd noticed that they hadn't bound Geiger like the rest of them. In fact, they barely seemed to notice his presence at all until the end. And why hadn't he at least threatened to shoot them?
The four men had made away with $260,000 — the equivalent of $5.5 million today. Fortunately, they had missed one of the safes.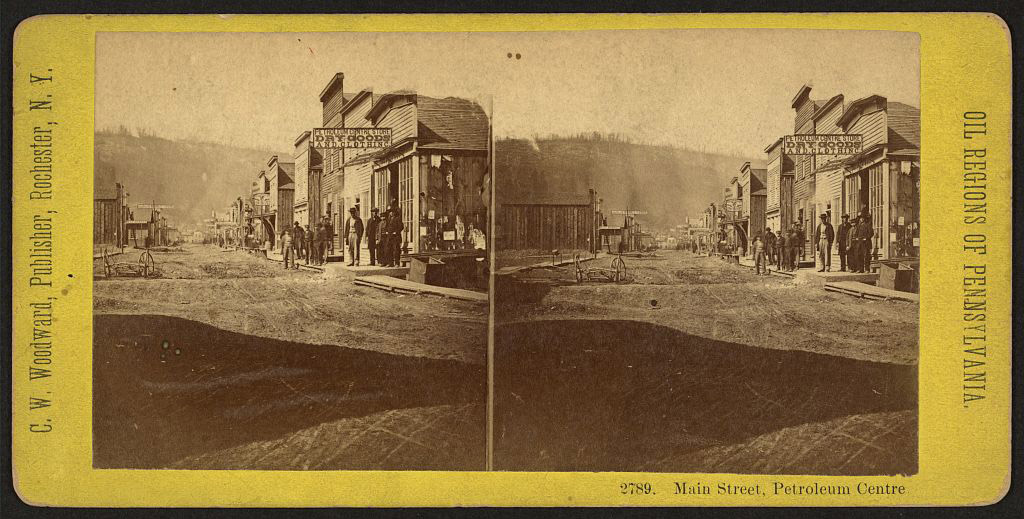 This antique stereoscope photograph shows the oil boom town of Petroleum Center in Cornplanter Township located halfway between Titusville and Oil City alongside Oil Creek.
The next day, the Franklin Evening News called it "the greatest robbery in the annals of oildom." The Beaver Argus referred to it as the "most daring and successful affair" done by villains with "coolness and deliberation" in a theft that "has seldom been equalled." National and international news picked up the story.
"[H]e had taken the notion into his head to be his own banker," the Titusville Herald stated. "And now he has paid the penalty of very foolish and short-sighted temerity." The Pithole Record outright blamed Benninghoff. The Erie Observer published that locals didn't have much sympathy and spoke of his misfortunes with sarcasm.
Benninghoff, still physically recovering from his attack, hired armed guards. It was rumored that he moved the rest of his fortune off the property completely, presumably into a bank. Encouraged by his son Joseph, he initially offered a $10,000 reward, eventually increasing it to $50,000 (around $1 million today). Allan Pinkerton personally offered the services of the Pinkerton National Detective Agency. Detectives from all over the country poured into the region.
Whispers of Geiger's involvement circulated. There were also rumors about two men who'd been bragging around Meadville mere days before the robbery that they were about to strike it rich. Savvier detectives secured names: a Civil War veteran and merchant named Jim Saeger and a farmer and brewer named Louis Welde (sometimes printed as Welby or Wardle). In the days following the robbery, they were also seen spending money quite openly at Saegertown saloons. Two other names also circulated: shoemaker George Miller and cooper Jacob R. Shoppert (or Shoppord). If that wasn't suspicious enough, after three days of decadence, Saeger and Shoppert simply disappeared.
These tips were correct. In the months before the heist, Saeger, Welde, Miller, and Shoppert were spending their free time drinking and gambling throughout Saegertown and Meadville. According to the Titusville Herald, Saeger's father (for whom the town was named) had left him $60,000, which he subsequently burnt through, leaving him a "vagabond on the earth." It was after Saeger took a short trip to the oil region that he returned to his friends with an idea.
"Boys, I have a scheme that can easily be worked by which we can make a pile of money," conspired Saeger. He swore them to secrecy, then divulged what he had learned about Benninghoff. "The money will do us more good than it will him," he reasoned. He asked if they were on board. If they preferred though, they could drop the idea right then. All three agreed. Their shares in the fortune would be equally split, but Saeger would hatch the plan that they all had to agree to follow.
Saeger next hired two expert safecrackers from Philadelphia: John McDonald and George Elliot. Their fee was a non-negotiable $25,000 each. Saeger accepted. On Jan. 14, 1868, the six conspirators met at Welde's home. After an hour of discussions, McDonald approached Saeger privately in another room. He had instincts and Shoppert and Miller were not reliable. He didn't trust them to keep a secret either. He suggested that they kill the two, cut a hole in the ice of nearby French Creek, and dispose of the bodies. They wouldn't be found for weeks and, by then, they'd all be long gone.
Saeger was shocked at the suggestion. It turned into a heated argument. Had he underestimated his new associate's callousness? McDonald suggested killing only Miller. After all, it was clear he was a spineless drunk with loose lips. Saeger refused. If this involved murder, he was out. They found a compromise. Shoppert and Miller would each be offered $1,500 to drop out of the plot and never speak a word of the plan — if they wanted to live, added McDonald. Perhaps sensing McDonald's nature, they accepted.
So, two nights later, the four remaining men boarded a livery rig and headed towards Petroleum Center. They walked the last mile by foot. Welde provided eyes outside while Saeger, McDonald, and Elliot burst through the door. The plan worked brilliantly.
Just before arriving back to Meadville trailing Geiger, McDonald and Elliot demanded their share. Saeger stated they could have part of their share, but they needed to count the entirety of their bounty before splitting. They drew their revolvers. It was money now or they'd kill both of them and take the entirety of the fortune. Saeger conceded. They parted ways and he and Welde returned to Saegertown. Within a few days, they left too.
According to John L. Hunter's almost certainly embellished account, Miller, who'd pocketed his hush money, was drinking whisky dejectedly that summer at Foglebaugh's Saloon in Saegertown when a homely tramp entered. Over the following few days, sometimes with a Meadville resident by the name of Wegefarth, the tramp took up odd jobs around Saegertown during the day, returning to the saloon each evening. Miller and the tramp ended up in a friendly game of cards one evening when a drunken Miller slapped his cards onto the table. "I am tired of this hand-to-mouth way of living," he declared, pulling out a thick wad of cash. "I didn't have to work for that and there is more where it came from."
The tramp's expression changed and he drew a revolver. He pulled back his coat to reveal a silver star. Miller was stunned. He asked the tramp who he was.
"Around here, I am called a tramp," declared the stranger. "[Elsewhere], I am known as Detective [Robert] Hague." Hague, a future police chief of Pittsburgh, was already accomplished, referred to in the New York Times as "one of the most skillful detectives in the country." Miller inquired how the detective found him. Hague was vague, but it seemed Geiger told him where he'd taken the men. Hague simply followed the lead. Miller was arrested as an accomplice. He confessed everything.
Before long, Welde was arrested in Akron, Ohio. He was operating a distillery and hotel. He refused to talk. Shoppert was apprehended too. He had ended up in St. Louis where he was supposed to meet Saeger, but Saeger never showed. Shoppert blew half of his money before losing the other half in a hotel fire. As for Geiger, he was arrested too, but maintained his innocence. It was revealed in court his connection to Welde and several witnesses testified seeing him with Saeger, but he was acquitted. Welde was sentenced to five years. Shoppert earned 18 months. Miller did one year. The hired safecrackers were discovered in Canada, but escaped extradition.
That left Saeger. According to some reports, he'd fled to New Orleans, Cuba, and then Brazil. Eventually he returned to the states with a new pseudonym, T.L. McGee, and operated a prosperous cattle ranch in Texas. A few years later, he brought his cattle to market in Denver. A bartender who'd known Saeger personally from their Pennsylvania days recognized him. They had a pleasant reunion. In one version of the story, the bartender later contacted the local sheriff himself. In another, he wrote home to his family in Meadville about the encounter and they contacted authorities. Regardless, Saeger was eventually arrested. His notoriety (and the potential reward) were well-known, even out west.
Some accounts state that Titusville Chief of Police M.R. Rouse and Joseph Benninghoff then traveled to Denver where Saeger intimidated the men into letting him go. Later in life though, Rouse told the Petroleum Gazette that wasn't accurate. He showed documents demonstrating that Saeger had indeed been jailed, but eventually, for a variety of reasons, was able to prevent his extradition through some conniving with the help of apathetic local detectives who lost interest once they realized a reward was no longer being offered. An 1889 account in the Pittsburg Dispatch claimed that Saeger told them his money was tied up in cattle, so they'd have to travel to Texas to settle the matter. When Rouse refused this — Texas was too dangerous and they'd be on his territory — there were negotiations. Joseph eventually agreed to settle the dispute and move on for a modest sum. "[Saeger] was soon at liberty and under another name [McGee] is one of the most respected and substantial citizens of the great West," wrote the Pittsburg Dispatch.
Hague, along with three others, eventually received rewards from the Benninghoffs (although it involved the courts).
Not long after the heist, the still considerably wealthy Benninghoff sold off his farm. The family moved to Greenville, Pennsylvania. Elizabeth died on July 16, 1872, around the same time that Petroleum Center became a ghost town. Benninghoff died on March 20, 1882 of pneumonia at the age of 81. He was buried with Elizabeth in the Shenango Valley Cemetery. The estate was left to their children. His obituary ran in the New York Times. "[T]o see him on his farm," they eulogized, "one would never have picked him out as a millionaire."
Jonathan Burdick runs the public history project Rust & Dirt. He can be reached at jburdick@eriereader.com
An original Benninghoff safe (one that was not stolen) is on display at the Drake Well Museum and Park, 202 Museum Ln., Titusville. They can be found at drakewell.org. According to museum records: The safe was handed down to [Benninghoff's] eldest son, George, in 1868, who moved it to Meadville and died in 1908. His daughter, Mrs. E. L. Affantranger, Meadville, gave it to Mr. William Minnium. The Robinson Bros., publishers of the Cochranton Times, were the next owners who donated it to Drake Well Museum.