The Eighth Annual Troika Russian Festival Opens at the Church of the Nativity
Erie's Russian Orthodox community is ready to share its culture, and have fun doing it, too.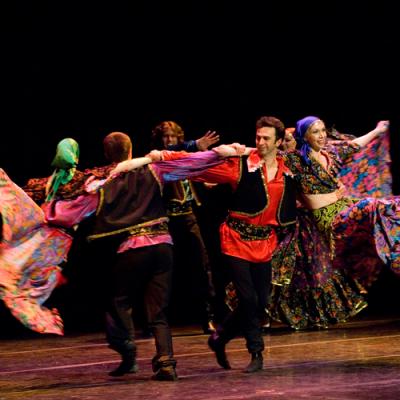 Friday, May 27
It's that time of the year to converge upon the great golden onion dome. The Church of the Nativity will host its annual Russian Festival over Memorial Day weekend. The event will feature celebrations of Russian heritage, food, and culture for all ages.
Russian Fest has taken its place as one of the most popular kickoffs to Erie's summer events, including a handful of other ethnic celebrations. Dating back centuries, these traditions are still new adventures to the uninitiated. 
There will be feasting and dancing all weekend while the festival is underway. 
Globally renowned folk ensemble, Barynya, will be the featured performers. Founded in New York City in 1991, the group has grown into the premier Russian folk ensemble outside of Russia itself. Led by accordionist Mikhail Smirnov, Barynya has performed everywhere from Carnegie Hall to The Today Show. The ensemble blends acrobatic Eastern European dances with colorful authentic costumes and musical virtuosity. They will be performing several times each day throughout the weekend, invigorating audiences with their energetic program.
Authentic hand-made dishes will be served, including hearty Items with names like vareniki, borscht, and golubtsy. Treats like matryoshka and skansi should peak your interest, as well as your taste buds. Diners can also enjoy a chicken Kiev dinner, a fan favorite.   
A beautiful gem along our eastern bayfront, the Church of the Nativity is easily identified by its iconic golden poppy head. If you've ever wondered what the inside of the church looks like, this weekend is your chance. Self-guided tours will be available all weekend. You'll be able to see the captivating Byzantine iconography by Erie native, Theodore Jurewicz. A world-renowned fresco muralist, Jurewicz has hand-painted churches throughout the country. 
You can sip on an imported beer, or grab a shot at the vodka ice bar. Or, if you're so inclined, there's even a "Run Through Little Russia" 5K taking place on Saturday morning. – Nick Warren
4 to 9 p.m. Friday, May 27; 9 a.m. to 6 p.m. Saturday, May 28; and 8:15 a.m. to 9 p.m. Sunday, May 29 // 109 German St. // churchofthenativity.net/troika/