The Future of Our Music Venues
COVID-19's devastation of the live music industry and the narrow path forward
January 13, 2021 at 11:15 AM
Over the past 10 months, the COVID-19 pandemic has wreaked havoc on people and businesses all over the world. One of the hardest-hit sectors has been the live music industry, including our local and regional music scene here in the Erie County area. 
With heavy restrictions on traditional live concerts over the past 10 months, some artists have been hosting virtual performances with mixed results. Some more well-known artists and promoters have been having moderate success hosting reduced capacity, socially distanced drive-in concerts. However, for these events to prove financially viable, concert-goers have been asked to pay $50 or more per person to see the same band they had paid $20 or less to see before the pandemic. All this comes in a setting that features less than adequate sound and sight lines, with restrictions preventing fans from interacting with other crowd members not in their immediate viewing space. 
While this has somewhat appeased music starved fans, it's also proved to be less than ideal and has left fans eagerly waiting for indoor and outdoor venues to reopen at full capacity. However, while artists everywhere are struggling, music venues are being hit just as hard, if not harder. 
Bars and venues throughout Western Pennsylvania have had their doors shuttered since spring, some permanently such as The Rex Theater in Pittsburgh, one of the region's most well-known concert venues. Here in Erie, Scotty's Cigar & Martini Lounge was one of the last remaining performing spots for local artists still building a draw. The pandemic proved to be the nail in their coffin, as they've since shut their doors and sold their liquor license and bar equipment. Newer venues, such as the 10/20 Collective (formerly the Ballet Haus) chose to pivot, showcasing local art and finding new life as a gallery. The Kings Rook Club, one half of the driving force behind the current local music scene, was forced to cancel all shows booked for spring 2020 and has sat closed for most of the pandemic. Basement Transmissions, the local music scene's other half, has also been unable to open since spring. And there's no sign of the situation getting better anytime soon. 
Many artists, promoters, and fans are holding onto the belief that outdoor amphitheaters and festivals will make their return in spring and summer 2021. Some even believe that normal touring will resume in 2021. However, if you listen to the opinions of scientists and medical experts, then you've likely come to terms that these timelines aren't realistic given the public's track record fighting COVID-19 so far. 
In an article published in Rolling Stone on Dec. 22, 2020, Dr. Dean Winslow, an infectious disease expert at Stanford is quoted saying: "A vaccine is a huge component of getting us through this. I don't see us filling concert halls or theaters until maybe early 2022 before people can feel safe indoors."
Dr. Anthony Fauci, the top epidemiologist in the country has gone on record saying that the U.S. needs 60 to 70 percent of its 328 million person population vaccinated before cases begin to decrease significantly and it would be several months afterward before we stop seeing new cases. Fauci gives a broad timeline of late spring to late fall 2021 before herd immunity will even begin being achieved, provided the public gets vaccinated and in the meantime maintains proper social distancing and hygiene practices and wears masks in public. 
This is devastating news for our local music scene. How will a venue that makes 100 percent of their profits from alcohol sales or paid attendance survive after having been closed for what experts believe will be at least two years, without federal or state aid? 
Unfortunately, this is a question that doesn't seem to have an answer yet. This is a devastating notion that has the potential to hurt and drastically change the landscape of our local music scene. Erie already had a shortage of small clubs where artists still cutting their teeth could perform. The more of these we lose, the fewer places artists will have to play. Of the bars that survive, many will surely step up to the plate and adopt live music but will have to be selective of whom they book. After two years of little to no business, there couldn't be too many nights of hits taken on artist payouts or attendance dropping after asking patrons to pay a cover charge, before the establishment's budget would see red and management would opt for automated DJ software and Spotify playlists instead. 
Larger venues in the region also face challenges. In some rooms, even if a show is at 80 percent capacity, it still isn't enough to be profitable. A 25 percent indoor capacity restriction placed on a room that holds 500-600 is impossible for success unless an inflated rate is charged for tickets. Luckily Erie is blessed with two venues that have alternate sources of income and believe that they're prepared to continue to weather the storm and come out on the other side.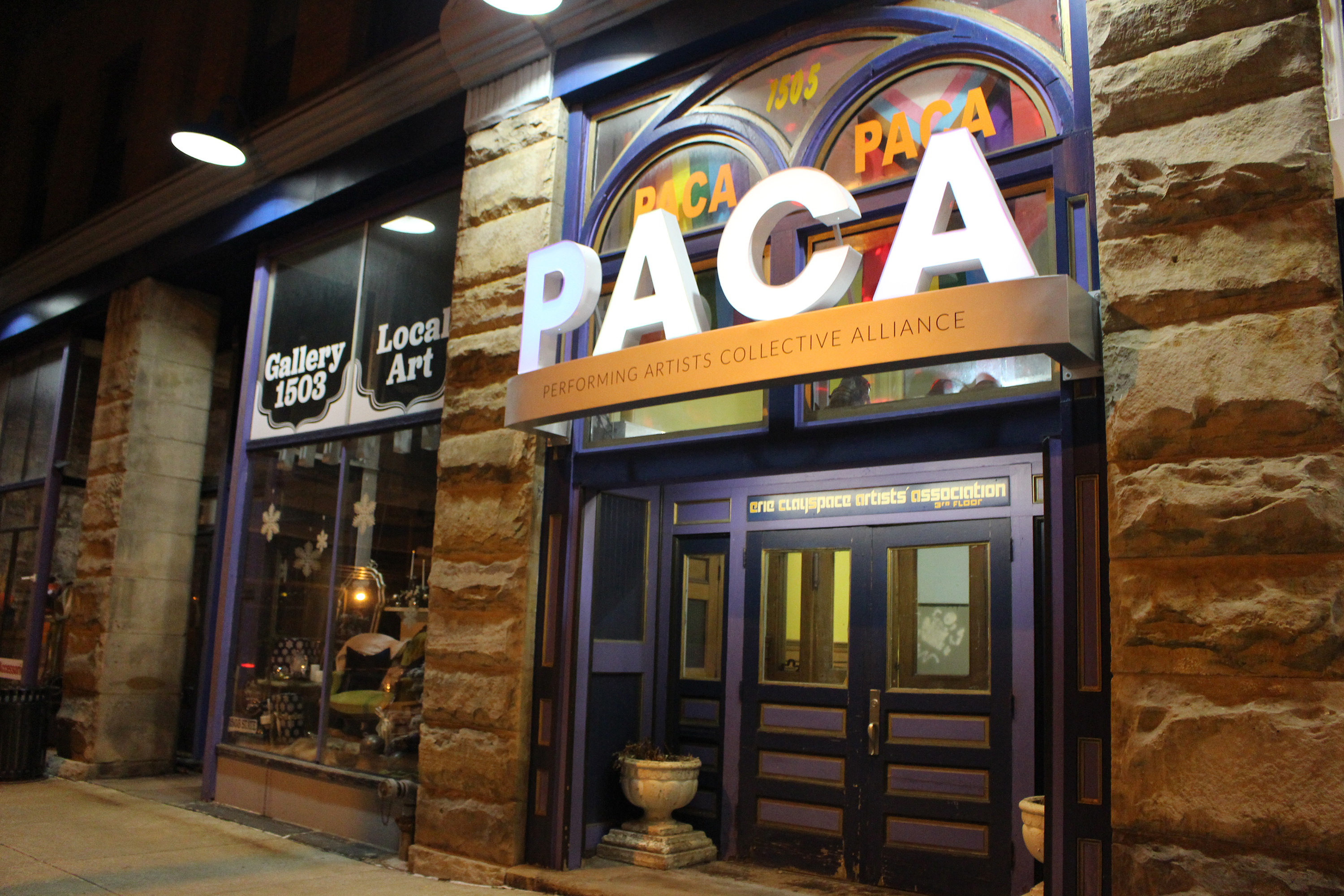 PACA, located at 1505 State St. in Erie, is showing confidence that they will be ready for reopening as soon as possible. "We are fortunate to have 31 art studios which produce some income… we are not solely reliant on ticket sales to remain afloat," says executive director Mark Tanenbaum. But the venue still has no plans on reopening until experts say it's safe to do so. "Safety is our focus," says Tanenbaum, "not financial gain. I really don't want to do anything that is unsafe, unhealthy, or that looks bad in the eyes of the community."
Basement Transmissions, located at 145 W. 11th St. in Erie, is in a similar boat. According to owner Robert Jensen: "Our income has been down at least 50 percent each month. Luckily we have a base income from our studio rentals." However, Jensen knows that this extra income isn't guaranteed. "If times get tougher, artists could decide that it's cheaper to just create at home," he says. "But if things stay exactly the same as they are now, then I think Basement Transmissions is safe to make it to the other side of the pandemic." 
But Jensen doesn't see the other side being free of concern. What he and other promoters nationwide see is an influx of acts fighting for the same gigs and a scramble to make money. This has potential to increase guarantees for top drawing acts and there's only one way to make up those expenses: "I'd like to continue to provide affordable entertainment to young show-goers," says Jensen. "But we have to keep the doors open, so I'd say it's safe to say that ticket prices throughout the country will be forced to go up, however, I think over time they will go back down." This glut of artists looking for work is also likely to have a negative effect on artists still working on building a draw. Playing out and securing support spots for larger bands is the easiest way to do that, yet with businesses shutting doors, these bands will be left with even fewer places to perform and will likely lose out on those coveted support spots to more established bands that guarantee attendance.
Venues aren't the only part of the live music industry suffering or at risk of going out of business. Larger local events such as the Sunset Music Series, Celebrate Erie, and 8 Great Tuesdays who have astronomical budgets consisting of state grants, public donations, and taxpayer dollars and a history of being able to overspend, will likely bounce back relatively unscathed. But what about smaller, independent events that rely on ticket sales to exist? 
One example is local festival Gathering At Chaffee's, known for hosting roughly 900 people and a mix of local, regional and national artists. While other regional festivals such as Great Blue Heron decided to postpone their events, Gathering At Chaffee's moved forward with its 40th annual installment in July 2020, despite attendance restrictions and nearly all of the musical acts backing out. The event received accolades from the Erie County Department of Public Health and the Erie County Executive's Office for hosting a large gathering that followed all recommended guidelines. However, in doing so, the festival seemingly divided its supporters into two groups: those happy a festival was happening in 2020 and those who felt it irresponsible for a festival to be held during a pandemic. Even with the entertainment expense being nearly erased, the event's added expense of meeting CDC guidelines without the aid of an extra 700 tickets sold depleted most of the budget for future events. Time will tell what the long-term effects will be after taking hits in 2020 and possibly not being able to have a full capacity event in 2021. 
Given the lack of clarity and knowledge of the future, it's impossible to know exactly when the COVID-19 pandemic will be over and musicians, bars, music venues, and festivals will be able to operate at full force again. What is clear is that it doesn't appear as though things are changing or ending any time soon. All that we can do in the meantime is work together by following all CDC safety and social distancing recommendations, stay home as often as possible, refrain from gathering in groups, wear a mask when within six feet of other people and get vaccinated as soon as possible. The speed at which we get our live music back and the ability to save our stages lies heavily on us as a community and society and as it is now, we're failing. 
Ryan Bartosek has been the talent-buyer for the King's Rook Club, and has booked numerous shows there, at Basement Transmissions and the Crooked i, also working with the Sunset Music Series and The Gathering at Chaffee's. He can be reached at ryan.bartosek@gmail.com