The i shuts
The crooked i goes out with a bang, not a whimper.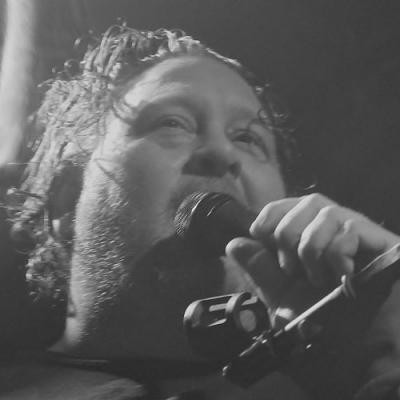 A fair bit of freakiness. A whole lotta booze. A bunch of totally crazy devils onstage, throwing down a jubilant fury, stirring everybody up into a sweaty, knockabout frenzy.
That's just the way the crooked i opened some years back.
And, man oh man, is it ever just the way it closed.
"I love all of you," Marty Schwab, smiling deep, said as he introduced The Goddamn Gallows (the first, and, four years later, final band to headline the i's fine stage) to his last packed-to-the-gills Gem City crowd, already well beyond amped up by fiery opening performances from Potwhole and The DredNeks.
"Thank you so much," Schwab said to everyone, most sincerely, before the start of the Gallows' set. "This scene" – the one that Schwab's venue has done so much to root and to boost, to highlight and to support – "was here before me," he said, and "it'll continue on" even after the i, as it were, closes itself.
In the meantime – in those last couple of hours – there sure was no stopping it.
Now, going in to this last show, and after having heard the recently-announced news of the i's planned closing, I'd honestly more than half-expected there to be some palpable sense of sadness – or at least of glumness, you know, of ho-humness – in the air there that Sunday night.
But I didn't feel that. What I did feel was this: a whole big mess of people (from the feet on the floor, longtime i supporters to first-time showgoers; to the ones who make it happen, Schwab to his barkeeps to his people at the door; to the band itself, pouring it out onstage) all fully embracing the chance to really live in and experience that last night, not wasting valuable time, at least right then, anyway, on feeling sad, on being all down, because something that's been good – so good – is, it seems, going away.
Hell, with the gutterbilly champion Gallows providing a booze-soaked, profanity-laden hell-ride of a soundtrack (something, to these ears, like Motorhead meets Man Man meets Merle Haggard) as the i's swansong, I don't think anyone could've been down, or at least not for long, even if they'd planned on it.
There was furious, fun energy all through the atmosphere there, and plenty of it to spare. There was stomp-stomp dancin' and monstrous moshing, and beer (and more) flying all through the air. There was, in short, a real, good time had by all.
It went on that way, like it always had before, until the lights came on, until last call, until the last song was fired out and it was finally, and actually, all over and done.
And when it that happened, Schwab said just a few more words, and just as sincerely as the ones before: "What time is it?," he asked. "It's 2:06?"
Well, then, "get the f--- out," he said, still smiling deep.
That's the spirit, right there.
The thought to catch Schwab, then, for a last few words on the record had crossed my mind, but I quickly thought better of that. No need, because he and his venue – like always – had spoken for themselves, with no need for prompting. When I was able to catch him for a second, we just shared a quick handshake and a hug.
"Thank you, man," I said. "Seriously, thank you, for everything you've done. And happy travels to you."
"Thank you for being a part of it," he replied, just like he'd told everyone there that night.
And that, like everything Schwab's done with his time and talents and energy here in Erie, was more than good enough for me.
Stepping outside into the night, I caught short bits of peoples' end-of-the-night conversations. A few words, asked from some girl to some guy a ways behind me, poked up above the rest:
"What're you gonna do now?" she asked.
The answer to that – for the future, for the scene, for the city – is as open as the question itself.
Ryan Smith can be contacted at rSmith@ErieReader.com, and you can follow him on Twitter @RyanSmithPlens.