The Pros of the Erie Library Comic Con
The second annual Erie Library Comic Con will give fans of all ages oodles of exciting things to marvel.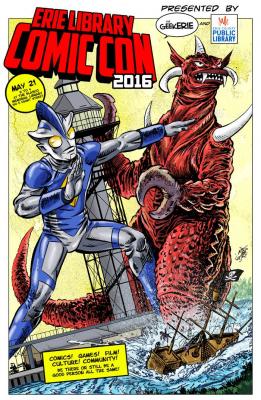 Saturday, May 21
The event is presented by the Erie County Public Library and The GeekERIE, a non-profit organization promoting literacy and engaging learners through a personal connection with media. They're proud to be geeks, and rightfully so.
Last year's inaugural event was a great success. GeekERIE's founder, Sean McGrath, reported that "according to the library, it was the most attended event they've ever hosted. There were somewhere around 3,000 raw entrances and exits. That's around 600 unique visitors, as I understand. For our first outing it was way bigger than anyone anticipated. Which to me says that: A., we have a huge geek community in Erie, and B., a local event is just what people have been waiting for."
Comics have clearly struck a chord in our popular culture. Out of the top 10 highest grossing movies domestically, nine of them appeal to "geek" culture. The other one's about a boat. Geek culture is not fringe; it's pop culture, plain and simple. Things like Star Wars, Batman, and The Avengers have become part of our national conversation, and they're here to stay.
Several aspects of comics will be highlighted. In the library's atrium, you'll learn to make some of your very own. McGrath, along with local artists Mark Welser and Jude Shingle, will each host a hands-on clinic. Attend all three, and you'll walk away with your own one-page story starring characters you created.
Outside the library, you can witness and take part in some live action roleplaying. Dagorhir players use foam "boffer" weapons to land blows on enemy combatants. Play is welcome to anyone over 18 (or under 18 with a parent's consent).
Panels will take place in room 219. Mord McGhee will read a scene from his novel Old Flames and Heroes, which even has scenes set in the Blasco Library. There will be a crowdfunding presentation on how to use platforms like Kickstarter and Patreon. Andrew Copp will host "Multiverse of Awesome," detailing the Star Wars "ring theory," which illustrates a unifying theme throughout both trilogies.
Cosplay is a vital piece of any Comic Con, so expect to see all manner of superhero or anime characters walking around. Two panels will center around the art of cosplay.
The convention will also feature dozens of vendor booths, and you can interact with creators about their work.
Tabletop and roleplaying game demos will be featured throughout the day, as well as collectible card games and more.
Hirt will also feature Lovecraft Live: A Radio Drama of Mythostic Proportions. The show harkens back to old-timey radio shows of the golden age. Actors (including yours truly) will voice multiple characters as they illustrate the macabre world of H.P. Lovecraft. The show is written by McGrath, and directed by Kate Copp.
Copp, who works closely with McGrath at the GeekERIE, exclaimed that "Lovecraft Live will be the first of many productions The GeekERIE hopes to bring and that we are always excited to have new people join us."
So drop in on the Erie Library Comic Con and join in on the fun. – Nick Warren
9 a.m. to 4 p.m. // Blasco Memorial Library, 160 East Front St. // www.thegeekerie.org/?p=334