The Renaissance of American Industry
How collaboration in the local craft brewing movement is revamping local industry on a national scale.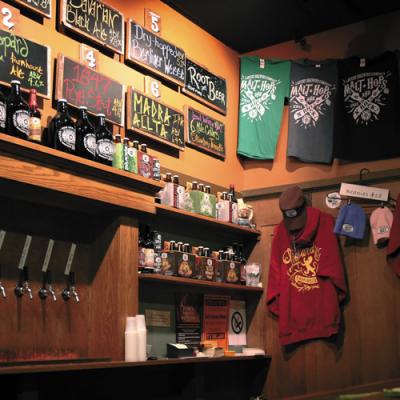 Before World War II, American industries operated in centralized patterns. Topography, transportation routes – primarily water and railroad – and access to raw materials determined where and to what scale industries built and expanded production facilities. It's the reason that the American auto-making industry rose from the banks of the Detroit River and it's the reason that Silicon Valley is in the suburbs of Palo Alto and not Escondido.
To fully understand the concept you don't need to look any further than the affordable single-family housing in Lawrence Park with foot bridges that lead to the front gates of GE Transportation, which had access to main rail lines, the Port of Erie, and once utilized regional manufacturers to procure specialty resources. It was the epitome of topographic industrial centralization.
But after the Great Depression, the federal government initiated policies that forever changed the literal and metaphorical landscape of American industry. It funneled money into the southern U.S. economy, which still reeled in many ways from the effects of the Civil War and the loss of slavery as an economic model; it encouraged regional development of expressways that became the backbone of the federal interstate system in the 1950s; and it sponsored technological innovation that allowed the U.S. to cultivate the era of Pax Americana, providing the nation an unbridled advantage in the Cold War during the second half of the 20th Century.
The precipitous change that followed these federal policies, while good for some, led to the decentralization of American industry and posed a challenge to the American labor force. In Erie, this meant that large corporations like GE didn't need to utilize local support systems to acquire raw and specialized materials, and homespun businesses like Kohler Brewery were challenged by national competitors, many of which built loyal followings by supplying troops during the war. National brands maintained and expanded their customer bases by utilizing production automation and distribution networks that were inconceivable before the war. For those that succeeded, it was the apex of American exceptionalism. For those that failed, it was an unintended consequence of the new American century.
That new American century of geopolitical commerce and dispersed national markets initiated an era of rust and decay that only began to recede in the past two decades. Here in Erie the industrial renaissance is taking a variety of forms. That's one reason why it's difficult for people to understand what progress should or will look like in the 21st Century. Unlike Pittsburgh or Cleveland – much larger Rust Belt sister cities – Erie's industrial portfolio is wildly stratified. Some parts of the industrial sector appear to have strong roots and work from established brands. Others have adopted something more akin to 19th-century industrial ideals of apprenticeship, soft competition, and strong regional collaboration.
In this way, Erie's brewing culture has experienced a boom over the past decade. When Erie Brewing Company popped up as part of Hopper's Brewpub at Union Station in 1993, it was a novelty, not an industry. It remained that way for more than a decade. But that inauspicious start laid the foundation for the regional craft brew movement that now seems poised to help redefine local manufacturing, not only in terms of its products, but also in the way that it operates and manifests growth within the Erie economy.
"When we opened in 2006, the only brewer in the region was Erie Brewing and they were a production facility," says The Brewerie at Union Station owner Chris Sirianni. "There was no brewpub, no restaurant. They produced beer, and they distributed it."
Sirianni interned with Erie Brewing to gain an understanding of the marketing and sales side of running a brewery. As an enthusiastic home brewer, Sirianni had a plan to create a craft beer-based business, but there was no model, no handbook, for creating a sustainable and scalable brewery, restaurant, and distribution enterprise.
"Erie Brewing was a good big brother to kind of foster some ideas even though we were working on completely different scales," Sirianni says.
In 2006, after five years of research and business planning, Sirianni opened The Brewerie. The bones of Hoppers Brewpub and Erie Brewing still remained and Sirianni was a champion for its resurrection under his brand and his vision for that space. The following year, The Brewerie hosted its first Brewers' Cup. That inaugural event brought together just a few home brewers who began a conversation about their trade and their vision and the potential for future collaborations.
"It's a unique set of science and art that only some people are drawn to," says Jason Lavery, president and owner of Lavery Brewing Company, "so it forms this fraternal bond with these guys who want to do the same thing as you. And it's alcohol, so that helps too."
Lavery attended that first Brewers' Cup as a home brewer and watched the event grow substantially over the past eight years. The feedback that he received from other home brewers and the general public led him to approach Sirianni about an apprenticeship at The Brewerie to learn about large-batch brewing and pick up tips on building a pub and a brand.
"The Brewers' Cup has become the community's farm system for craft beer," says Sirianni, "because there's minimal crossover from homebrewing to running a brewery. The ingredients are the same, but that's where it ends."
The collaboration of established and emergent brewers was a byproduct of the Brewers' Cup that yielded some of the region's most notable breweries, including Lavery Brewing Company and Erie Ale Works in Erie, Timber Creek Brewery in Meadville, Millcreek Brewing in West Erie, and even it highlighted Tate Warren, the head brewer at The Brewerie at Union Station, who took four of six awards at the Brewer's Cup the year before stepping into the brewer's boots for Sirianni.
That "farm system" model helped build industries in America from steel and coal to microchips and semiconductors. As the industries scale, competition becomes fiercer. But Lavery believes that type of competition is most problematic for national brands.
"When you think about the history of American brewing, the big three – Budweiser, Miller, and Coors – have always fought each other because they're basically making the same style of beer," Lavery says. "Now you have 3,000 small brewers making 18,000 different styles of beer and doing whatever we can to promote each other's quirkiness and working together whenever we can to better our industry. We're still the small guy. Craft beer has 7 percent of the market share, so 93 out of every 100 beers is still Bud, Miller, or Coors. The Brewer's Association's official goal is to have 20 percent of the market by 2020. The only way you get to that goal is by working together."
That collaborative spirit led to the inaugural Erie Craft Beer Week, which begins May 13 with the launch of a collectively brewed Pear India Pale Ale. It's the love child of Erie Brewing Company, The Brewerie at Union Station, Lavery Brewing Company, Erie Ale Works, Voodoo Brewing Company, Timber Creek Tap & Table, Sprague Farm & Brew Works, and Blue Canoe Brewing, and it's intended to raise awareness of the industry as well as the brands behind it.
While Erie may never see plumes from old smokestacks in its industrial future, the craft brewers' movement reminds us that authentic regional collaboration will trump artificial competition as a seed for innovation and growth in the rising tide of the 21st Century.
Jim Wertz can be reached at jWertz@ErieReader.com, and you can follow him on Twitter @jim_wertz.