The Way I See It: USPS and the Burden of the Postal Reform Accountability Act
Re-examining the impending consolidations or closings United States Postal Service Branches.
November 26, 2014 at 4:30 AM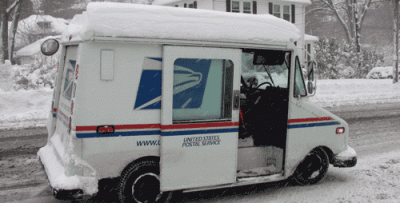 Two months ago, I penned a column on the imminent consolidations or closings of branches of the United States Postal Service. I cited facts and figures directly from the USPS website and included my own personal thoughts on the situation, but wasn't supportive of this shrinking, rather mentioning that given the looming timeline and deficit, "without a complete 180 of the operation, the facility will eventually close, and we are just prolonging the inevitable."
Readers offered quick rebuttals, which is great, because that is the intent of the column – to provoke discussions regularly. Most of the arguments against the piece cited the Postal Reform Accountability Act as the main source of post office's issue (which I did not mention previously, so I'll address it here). For what it's worth, though, I must note that with the exception of one gentleman, every single person shared their thoughts via email.
In 2006, the Postal Accountability and Enhancement Act required the USPS to make a payment of more than $5 billion annually from 2007 through 2016 to build up a retirement fund in order to prefund 50 years of estimated costs. According to the Government Accountability Office, this payment was intended to reduce possible liabilities on future taxpayers. Prior, the USPS employed a "pay as you go" approach to pensions, paying the pensions and health care benefits out of each year's profits. 
As a result, the USPS is now the only enterprise in America that is required by law to pre-fund future retiree healthcare benefits – which in essence, is not a bad idea and something all government entities should have to do. 
But that's the reason we're here. 
The USPS was once the United States Post Office Department – a heavily government-subsidized agency. In 1970, in response to widespread postal worker strikes based on requests for additional pay, Congress compromised with the Postal Reorganization Act of 1970, which replaced the United States Post Office Department with the United States Postal Service. This new organization was quasi independent and allowed to set its employees pay. Also as a result of the reorganization came the United States Postal Regulatory Commission (or PRC), an independent regulatory agency, which from 1970 through 2006 had oversight authority over the USPS. And in 2006, this Act came to be.
But due in part to the payment, shortly thereafter, USPS revenues started to decline – so much so that back in 2011, the looming default on payments called for drastic measures. Offices around the country shuttered their doors to avoid default on this $5 billion annual obligation. In the round of cuts ending this year, Americans will see 229 processing plants close and 28,000 jobs lost. Locally, our East 38th Street branch is slated to close in April 2015, and if that happens, nearly 120 jobs in Erie could be lost or displaced.
This is truly only part of the problem. According to Quora.com, the Postal Service labor rules and lack of innovation have also prevented them from becoming competitive. For FedEx and UPS, labor is 50 percent of their expenses.  For the USPS, it is 80 percent. The group is also not allowed to offer any new products or services in an effort to keep them competitive.
Conversely, while Congress does impose these costs and obligations, it also protects the Postal Service from all competition. According to the Government Accountability Office, the Postal Service has a legal monopoly over first-class and standard mail. It is mandated by Congress to provide each American with "universal service," which includes uniform prices, access to services, and six-day delivery nationwide, irrespective of where they live or the costs of serving them. To ensure this, Congress grants the USPS a statutory monopoly on the delivery of first-class and standard mail and restricts mailbox access to mail delivered by the USPS, preventing other companies from delivering such services. The group also benefits from other privileges, by being exempt from vehicle licensing requirements, sales taxes, and local property taxes. They don't have to pay parking tickets and have eminent domain powers. 
So, while Congress requires this mandate, it also provides USPS all the abovementioned privileges. The Act accelerated this process, and financially stressed the system, but like most other businesses (government, for profit, or non profit), the group is also at the mercy of its consumers. 
We have had declining mail volume over the years due to the use of new technology that doesn't have the same strict laws. Additionally, bloated operating expenses, and constant congressional meddling have all added to USPS' current state of affairs. And companies like FedEx and UPS are also gaining ground, literally, by offering expansive ground service deliveries that the Postal Service can't, due to limited weight restrictions. 
Ultimately, with or without the mandate, the USPS still needs an entire overhaul to stay afloat.  
Love? Hate? Agree? Disagree? I want to hear from you. Email me at rStyn@ErieReader.com and follow me on Twitter @rStyn.