Three Businesses Owned by New Americans
Local refugees and immigrants show a true entrepreneurial spirit.
April 26, 2017 at 2:15 PM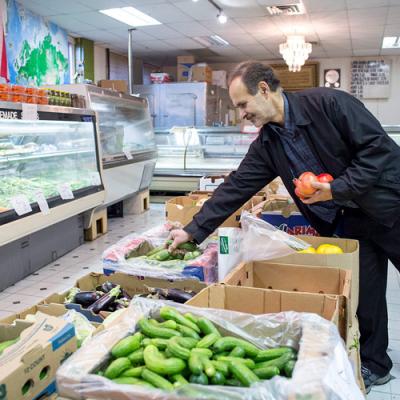 Kadim Muhsin, 53, is the owner of two New Sara's Markets, one on 12th and Reed streets, and one on 12th and Wallace streets. Both markets offer a complete variety of Middle Eastern food, from Halal meat to pita bread to fresh produce, attracting customers of many ethnic backgrounds. On a recent visit, I conversed with customers from Syria, Iraq, Congo, and Somalia. I even met students from Allegheny College who were buying items to take back to school.
On a recent visit, I conversed with customers from Syria, Iraq, Congo, and Somalia. I even met students from Allegheny College who were buying items to take back to school.
In order to run a successful business in Erie, Muhsin stated, "You have to have passion and determination. Some businesses will fail, but with the right attitude, you can make it in Erie."
Muhsin's determination in running a successful business goes back to his younger days in Iraq. He was a medical lecturer at a private hospital but found this was not adequate to support his family, so he opened his own private clinic. For eight years, he taught students the science of medicine and also treated the sick.
In 1997, he had to give all that up and fight for his life. Saddam Hussein's regime was after doctors, lawyers, and anyone who opposed the regime. Muhsin's two brothers were killed, and he was interrogated multiple times. He knew his time was running out. He gathered whatever he could and escaped to Jordan with his wife and three children.
Muhsin and his family arrived in America in August of 2011, two weeks prior to the 9/11 attack.
He knew the process of starting over was going to be difficult.
Becoming a doctor in America was on top of his list. Through the Multicultural Resource Center (formally known as The Hispanic-American Council), he was advised about where to go and what to do.
For four years, he studied for his doctoral board exam while working multiple jobs to make ends meet for his family.
In 2008, he successfully completed his board exam and applied to numerous hospitals throughout the U.S. for residency. Although he had extensive medical experience in Iraq and many interviews, the denial letters seemed endless, so he had no choice but to change career plans. He opted to go into business and ended up purchasing New Sara's Market.
His two stores are very successful. The continual arrival of refugees in Erie has meant more and more customers for his business. Now he is looking to expand and add a Halal sandwich shop to one of his stores.
Muhsin sounded very optimistic about Erie: "It provides many resources for new arrivals to help them with job placement and provides them with training on how to start a business."
This New American business owner also mentioned that local government could do more to make the general public aware of ethnic markets available to everybody. Immigrants already know about these businesses by word of mouth.
The New Sara's Markets are only one of many businesses in Erie operated by New Americans, bringing a sense of diversity to the city. We need to welcome them, help them, and invest in them.
***
"To be an entrepreneur you must be able to run a functional and stable business." That's what Gyan Ghising replied when I asked him what entrepreneurship means to him. Ghising is the owner of My Way Bar and Grill on East Lake Road.
Ghising's life as a refugee started at age 11 when his country of Bhutan became a war zone. Many had to flee, including Ghising, his two younger brothers, and his parents.
They arrived in Nepal without a plan or a place to live. They had to survive in the woods using tree branches to make a place to sleep. "It was rough; people died from starvation and disease. We didn't have anything, not even water," Ghising recalled.
With the help of the Red Cross and international journalists, their situation came to light. The United Nations became aware of the issue and refugee camps were built, where Ghising spent the next 20 years of his life. During those years, he received permission to go out of the camp to seek employment, but he had a better idea. Instead, he collaborated with locals and opened up a private boarding school outside of the camp.
In 2011, he and his family were resettled in Erie; but without his parents or his two brothers, who didn't want to go through the lengthy and stressful resettlement process.
After 26 days here, Ghising received his first job as a cashier at a lower east side gas station. Through this position, he learned customer service and about local lifestyles and customs. He knew right away that in order to survive in America he must work. With a night shift at the gas station, he took on a second job as an interpreter during the day. Through the next five years, he worked many different jobs – at times three at once just to make ends meet and to save. He got little sleep and had little time for his children.
In 2016, he became the owner of My Way Bar and Grill. He wanted to have a place where people could enjoy entertainment; and to appeal to customers from everywhere – not just the Bhutanese community. 
Running his own business can be tough, and he emphasized that strongly. Building a clientele could be challenging, given My Way Bar and Grill's proximity to downtown. But it has the potential to grow.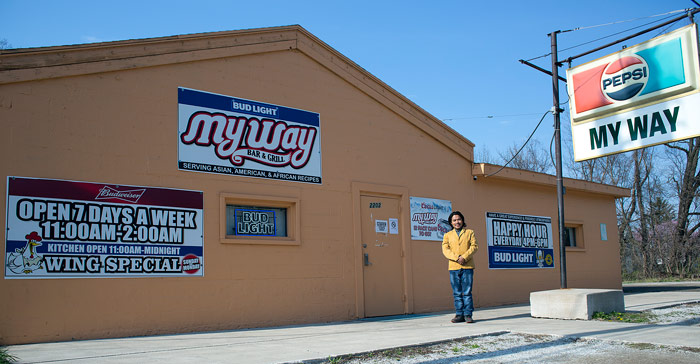 ***
Elhafiz Abdalla, 61, is an immigrant from Sudan and a Muslim imam. He moved to Erie in 2001 from Morgantown, West Virginia, after completing a master's degree in forestry. The Pennsylvania Department of Corrections offered him a position as a Chaplain at SCI Albion. He took the position without hesitation due to its pay and the opportunity for self-growth. This position allowed him not only to educate the inmates about their faith, but also to inspire and advise them on their long-term life decisions. One former inmate is now a successful businessman in Delaware.
After several years of governmental work, Abdalla chose to retire but continue to live in the city of Erie, which he has described as a receptive and welcoming community. He became the imam of a local mosque and was invited to speak in churches and at events to educate people about the Muslim faith.
In October of 2016, he became the owner of Lake Erie International Market on Brown Avenue, a small corner store that provides a variety of international food. He knew right away he took on a big risk because the store is far from its customers, most of whom come from the east side. The loss of population among immigrants in Erie has affected his daily business, as many New Americans have moved on to other states like Minnesota and Michigan. With two kids in college and one nearing college age, he hopes his business will be enough to cover college tuition for all three.
Despite the challenges he faces, Abdalla is optimistic for a bright future for his business and the Erie community. Even though the population has dipped below the 100,000 mark, the arrival of recent Syrian refugees promises to make up for that loss. However, Abdalla sees the need for a strong effort to keep new refugees in the area.
Maitham Basha-Agha can be contacted at Maitham@eriereader.com.