To Buffalo and Back Again
Like the Grateful Dead, Ben and the boys recently went truckin', up to Buffalo. What did they bring back?
December 12, 2012 at 12:45 PM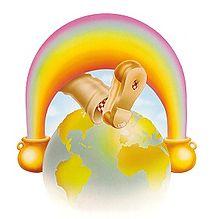 If you never get away, you can never bring anything back.
This mantra served as a guide, as five of us packed into my Subaru Impreza and set off for Buffalo on a cold and damp Friday. We were on an excursion, a mission to go on a tour and explore the cultural happenings of the third of the larger cities that surround Erie in hopes of seeing what we could bring back to The Gem City.
On the drive up – with Brian Graham riding shotgun and Jordan Held sandwiched between the Adams Calfee and Welsh in the back – we took turns swapping prior Buffalo stories.
I've mostly just caught shows here before, rolled up from the back. Yeah, I've seen a lot of concerts there too, came from the front. I used to go up there to go rowing in high school, someone else chimed in.
Then we swapped perceptions. It's Rust Belt… Pittsburgh's Rust Belt, but it's got an Austin-feel going on… Cleveland's Rust Belt, but it's got the Rock and Roll Hall of Fame… Buffalo's, well…
Crossing the New York state line, it hit us: we really didn't know Buffalo all that well. And that's exactly why we were headed north on I-90 that grey Friday. But this wasn't a trip made on a whim because five guys were looking to escape Erie and decided Buffalo offered the best getaway. This trip had a beginning rooted in an introduction a month prior.
In late October, we received an email from Peter Burakowski. Peter handles PR for Visit Buffalo Niagara, an organization that markets the Buffalo-Niagara regional assets to attract visitors for tourism and leisure to benefit the city's economy. Peter told us that he would be in Erie in a few days, and that he wanted to introduce himself to give us an update on what's been going on in Buffalo. He wanted only a couple minutes out of our day for coffee and a chat.
He had our interest. Hey, this guy's trying, and we like coffee. So we agreed and set up a meeting. Soon, we met Buffalo Pete for the first time. But before he told us about Buffalo, he asked about Erie. A lot. He had just come in from touring our streets and getting a taste of our town, but he wanted to know more.
So we entertained his questioning, rattling off all the reasons we believed Erie to be growing, changing, and evolving. Before we could realize, his smile told us all: we actually liked where we lived and actually wanted to share it with others.
Turns out, the same goes for Buffalo Pete. After rifling through event after event – National Buffalo Wing Festival, National Garden Festival, Taste of Buffalo, Allentown Art Festival, Dyngus Day Buffalo – he paused, caught his breath, and told us we should just come up. So who would we be to tell him no?
***
We pulled up to the historic Hotel Lafayette just after noon. We dropped our bags in our rooms – which looked more like swank urban apartments – and headed off with Pete into the city.
Our first stop was lunch. We parked our cars and took off on foot, hoofing it a couple blocks over to The Larkin Filling Station in Larkin Square. There, we munched on the likes of salmon BLTs, prosciutto, fig jam, and Gorgonzola pizzas, and an avocado jerk sandwich while we talked with Leslie Zemsky, who – with her husband Howard, managing partner of Larkin Development Group – fervently supports the Buffalo region as a place to not only live, work, and raise a family, but as a place to thrive and develop culturally and artistically.
Leslie spoke in vibrant bursts about her city, discussing how a dilapidated building across the street is being converted into a gastropub, how different seasonal events draw people into the Square, how art is flourishing, how people are returning to the city, how creative types are looking for outlets to express themselves, and how all of this makes her a very, very happy person happy to be in the center of change.
But change isn't just happening in the Larkin Square. After finishing out lunch and pausing our discussion for another time on another day in the not too distant future, Pete took us to Canalside.
Built up out of post-rustbelt industrial boom, the Canalside came to be at Buffalo's historic former canal district. An effective mixed-use space that's as aesthetically pleasing as it is effectively house – here's looking at you, GAF! – Canalside combines entertainment, retail, residential, and beyond – and people visit it.
After a quick drive through the city – and to visit some grain silos of Buffalo's proud milling past that now play home to outdoor film series and shows, as well as Ani DiFranco's Babeville – Pete took us to the Albright-Knox Gallery and Buffalo's Museum District.  There, Maria Scully-Morreale, the Albright-Knox Art Gallery's head of marketing, corporate and public relations, gave us a tour through room after room where we witnessed everything from Picassos to Dalis to O'Keefes, as well as some pride of Erie with Richard Anuszkiewicz, and a new installation being mounted in celebration of the gallery's 150th anniversary.
With our palates satisfied by palettes, we set off into the city again – this time for Buffalo's Elmwood Village and Allentown neighborhoods where we concluded with Frank Lloyd Wright's Darwin Martin House before returning to our hotel well after 6 p.m. In just six hours, we saw Buffalo from an insider's perspective – a guy who literally wears this city on his sleeve, proclaiming Buffalo For Real on his jacket. So as exhausted as we were, we did the only sensible thing: we hit a local brewery.
At Pan-American Grill & Brewery, we grabbed a corner booth, ordered some brews – Roosevelt Red, to be specific – some pizza and Buffalo wings – what trip to Buffalo would be complete without them?! – and caught our breath, as we soaked in the warm hues of the room with a décor pretty much as the title would have you think. We also soaked in the day, still swirling from Larkin Square to the Albright-Knox Gallery, and found it hard to put words to everything we had seen and experienced.
But the night was young and so were we. And we were hungry – not that the pizza and wings didn't satisfy – we wanted more of Buffalo. How better to close out our night then head to where we started: a little bit of Larkin, a healthy dose of Albright, and some homegrown Erie goodness. So after a Scotch or four at the prohibition-style bar in the Lafayette, we headed down to Mohawk Place to see The Larkin Plan, The Albrights, and Erie's own Falling Hollywood.
Similar to Erie's crooked i – although the crooked i rightfully serves PBR by the pound instead of only by the 12 ounces – Mohawk has a bar upfront, the stage in the back, and an eclectic scene of folks looking for good times and music. The Larkin Plan – fronted by none other than Buffalo Pete – took the stage and opened the night.
Somewhere between the growlings and stomp-pacing of Modest Mouse mixed with the lyrical storytelling of The Decemberists, The Larkin Plan drew the crowd away from the barstools and to the stage, us included. The same guy who led us through the city spilling out Buffalo knowledge at a robotic clip now howled in baritone, rousing the crowd and warming it up for The Albrights (read: Erie, get this band down here soon).
Heralded as one of Buffalo's biggest bands, The Albrights brought a grunge-inspired sound with blocky, chunky guitar riffs, poetic lyrics, driving rhythm section that swelled as the crowd grew thick around us. Enough pop with catchy hooks but enough rock to make you feel good about the can of beer in your hand, The Albrights didn't disappoint (read: they're coming to Erie in January).
Maybe it's the familiarity. Maybe we're a bit proud of our city, the talent coming from our own backyard. Maybe it's something else entirely. Regardless, Falling Hollywood headlined and stole the show. Reeling out favorites, like "Sand Dollar Sky" and "Sell You Short," to deeper cuts, like "Brown Hat," Falling Hollywood did Erie – and us – proud (read: they're the ones opening for The Albrights come January).
But as all good things often do, our night came to an end – well, not after a trip to a few more spots and a late-night round of steak sandwiches. So we turned in – hearts, ears, minds, and bellies full, ready to greet the morning when we'd take I-90 southbound back to Erie with all the things we could bring back: the sense that a city cares about itself, is working to reinvent its image, is investing in its arts and culture, and wants to shake off the Rust and emerge anew...
All things fitting and appropriate for Erie, as it decides whether to march forward like Buffalo, or sit back and do nothing at all to shake off the rusty shackles of the past. All we five can say is that we've got hope.
Ben Speggen voluntarily lives in Erie. He's also glad he had the opportunity to visit and experience Buffalo in order to lose his preconceived notions of it as just another floundering Rust Belt city. He believes he brought back something of value. And he can be contacted at bSpeggen@ErieReader.com, and you can follow him on Twitter at @ERbspeggen.