To-Do List
Introducing the To-Do List! Let Alex Bieler take you on a tour of the events you just can't miss.
September 5, 2012 at 10:00 AM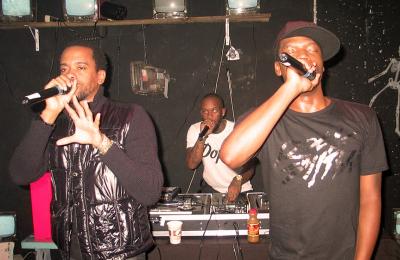 Dead Prez (Live Music)
Back in 1991, M-1 and stic.man met in Florida. In support of different political power groups they started, the two began Dead Prez. Fast forward over 20 years, and the critically-acclaimed rap duo is set to come to the crooked i Thursday, Sept. 13. I got a chance to speak to M-1 about what inspired him, the state of rap music, and what he loves about music.
Alex Bieler: Have you ever played in Erie before?
M-1: No, we never played in Erie. It will be a brand new experience, and I can't wait.
AB: What inspired you to start Dead Prez?
M-1: Dead Prez started out of pure necessity to create and procreate life. When I say that, I mean two young guys, Africans, struggling in America to make sense of the way things have been configured. Dead Prez emerged from our thoughts, our minds, and just being adamant about not losing, about not going to jail, about not being on crack. It's not a formation that happened immediately to be a rap group, it started out to accompany our ability to be revolutionaries.
AB: So you would say that music's ability to act as a vehicle for social commentary is important to you?
M-1: Definitely. I know music has its place in people's lives. It can make people feel good, bad, sexy, or murderous. For me, I'm influenced by people like Peter Tosh, like Fela [Kuti], people that have taken the chance to make music more than just music. Music as a vehicle for social change or self change is very important.
AB: How do you feel about the current hip-hop and rap scene?
M-1: It's been manipulated. I think that artists are desperate to find a solution economically, and I can't blame them for jumping at an opportunity to work for a company, but it ultimately intends to exploit them. When we have nothing, something matters. Now, there are just stories about what life could be, and we're not dealing with making social commentary about the way things really are. I'm disturbed by that.
AB: After all these years in the music business, what keeps you going and do you still enjoy it?
M-1: The business of the music is what helps to feed myself and my family. Do I enjoy that? Sometimes, and sometimes not so much. What I do enjoy is engaging the people. I enjoy the vibe of the shows, I enjoy the lightning bolt of the creation of ideas that can move the spirit or add on culturally. I'm addicted to that, as a matter of fact. That's what kept me around this long. I didn't think that I'd be inside music this long. Some days, I feel like culturally there are ways for me to add on other than rapping. I think that's what artists have to do, to tap into creativity at whatever point it is, so that when it resonates, you can add that into the music, whether it's your community, church, or just listening to your kids talk. I'm still here, and I think Dead Prez definitely has 20 more years left.
AB: What would you say to the people of Erie to get them pumped up for this show?
M-1: Attending a Dead Prez show is more than just a concert. What you are attending is a dress rehearsal for the revolution, a trial which will hold the government responsible for everything from destroying the bodies and minds of African youth to taking the wealth out of our communities. So when I see you in Erie, you're going to come out feeling more alive than when you went in.
Arts & Drafts (Live Music, Art)
Creativity shows up in the best of places, whether it be on screen, on a canvas, through some speakers, or in a pint glass. While the various art forms will each get a chance to shine at various events, The Brewerie at Union Station's Arts & Drafts Fest looks to bring them all into the same spotlight.
"A lot of people just say 'wow' [when they visit Arts & Drafts]," said Chris Sirianni, owner of The Brewerie. "I guess it's been around long enough that a lot of people on the scene who have been here know what to expect, but people that walk in for the first time, especially people from out of town, they see that this is an awesome hodgepodge and a great sense of the fabric of Erie for the arts scene."
A staple for the creative community over the last six years, Arts & Drafts will enter its 10th rendition starting Thursday, Sept. 6. The three-day biannual event packs a variety of local musical favorites up until the joint closes Saturday, with acts like Shotgun Jubilee, Zack Orr, and Eric Brewer and Friends headlining a group of over 20 musical acts.
In addition to the many musical acts, various art exhibits will be on display, ranging from paintings and sculptures to live glassblowing and graffiti art throughout the event. This year also marks a first for Arts & Drafts; film has been added to the creative slate with Griswold Park – located right in front of The Brewerie – playing host to a slew of local short films starting at 8 p.m. on both Friday and Saturday.
Of course, The Brewerie will have its own craft beer flowing on tap while folks stroll about, taking everything in.
"Part of it from day one was the art and the draft, both of our crafts in town having a moment to shine," Sirianni said.
With all of these creative minds congregating in one place, Arts & Drafts provides an opportunity to interact with the entertainers putting their abilities on display.
"There's a lot going on, the hustle and bustle and who's who in the local art scene, which is really cool networking within the culture community downtown," Sirianni said. "There have been a lot of bands and individual artists that have had their beginning here."
Whether you're a veteran among the creative population or a newcomer wishing to see the sights, you can kick back with a cold drink and witness local talent all in one place. With art, music, movies, and beer on the docket, you'd have to be daft to miss Arts & Drafts.
Rockin the Wave (Live Music)
One Thursday afternoon in downtown Erie, Marcia Lillis-Tome hands me a sheet of paper. Immediately, the bolded and italicized opening lines grab my attention.
Cancer does not discriminate. It has touched, and will continue to touch, every individual in some way.
Whether it be through personally surviving cancer, knowing someone who has, or losing a loved one, we are all connected by the search for a cure to over 200 forms of the disease. With all the people that have united to create Rockin' the Wave, a grassroots event at the Burger King Amphitheater Saturday, Sept. 8 benefitting the Kanzius Cancer Research Foundation, Lillis-Tome is having trouble coming up with all of them.
"My biggest fear is that I'm going to forget to thank somebody," she says, drawing names from memory. Lillis-Tome, the Erie School District grant program manager for General Electric and cancer survivor, was inspired to start Rockin' the Wave by another benefit – Courtney's Cause for Cancer. The success of that event quickly led to initial stages in Rockin' the Wave's development.
According to Lillis-Tome, once word about the event got out, bands started lining up to help out.
"The people we had to turn away, by virtue of the date or whatever reason, it was overwhelming," she says. With all the musical interest, Lillis-Tome hopes to expand to two stages in what she hopes to become an annual event.
In addition to bands like The Romantic Era, Shotgun Jubilee, and Next of Kin taking the stage, a variety of carnival food, pitas, and ice cream will be available, all for a $5 donation that helps the Kanzius Cancer Research Foundation. Not feeling a certain band or want to head elsewhere for some grub? Once you pay, you're good to go.
"It's for the whole day," Lillis-Tome says. "You'll get a tag and you can leave and come back for a $5 donation, which is pretty reasonable, if you ask me."
While there are a lot of people and businesses to thank for Rockin' the Wave, there is one group in particular that Lillis-Tome wants to praise.
"I'd like to say that the Erie community is getting credit [for this event], because it's not about any particular organization or anybody grandstanding," she says. "The Erie community is wonderful. This is where [Rockin' the Wave] should be, because John Kanzius was a native of Erie and this is where the foundation is and the Erie community is really the place to start."
While cancer does not discriminate, we can help touch those that are affected by the disease. For the price of a small donation, not only can Rockin' the Wave provide us with entertainment, but it can also help bring our community together in aid of a great cause.