To Do List
A movie, and a band. Chasing Ice, and Strangers and Liars. Which is which? Read this to find out.
"Chasing Ice"
While many of us grumble and moan about winter's extended stay into what – according to the calendar – should be the spring season, there are others that aren't quite so eager to see everything melt away. In fact, when it comes to the issue of climate control, the idea of losing the ice and snow seems much less than ideal.
Yes, a few piles of snow here and there in our town might not seem so huge, but the people of Erie will get a chance to see the shrinking of glaciers at a not-so-glacial pace on the big screen when critically-acclaimed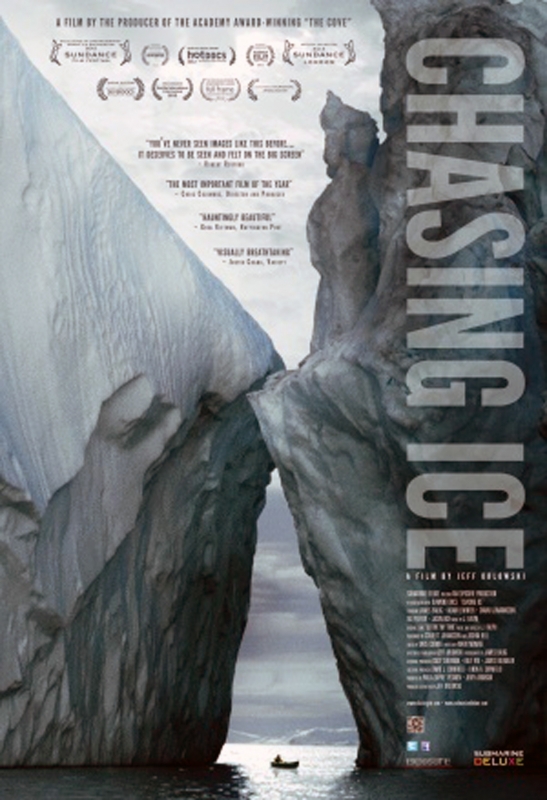 documentary "Chasing Ice" comes to FILM at the Erie Art Museum Wednesday, April 10. Part of FILM's weekly Wednesday series, which has brought in big-buzz movies such as the Academy Award-nominated "Beasts of the Southern Wild," "Chasing Ice," which was also nominated for an Academy Award (Best Original Song), chronicles environmental photographer James Balog's mission to provide evidence of climate change and the disappearing glaciers he and his team come across.
The night, which is sponsored, yes, Reader readers, by the Erie Reader itself, promises to bring more than just director Jeff Orlowski's hauntingly beautiful images to the Art Museum. In fact, it will help bring the director himself to the screen. After the documentary, which starts at 7 p.m., the Reader's own Managing Editor Ben Speggen will lead a Q&A with a Skyped-in Orlowski to discuss a documentary that has won awards at Sundance Film Festival, South By Southwest Film Festival, and other reputable film destinations.
If the post-documentary Q&A isn't enough discussion for you, then we've got something in mind for you conversationalists out there. Following the Q&A following "Chasing Ice," the Reader will be hosting "Breaking Ice: A Meet and Greet with the Erie Reader," where you can congregate with the lovely people behind our fine paper at U Pick 6 Tap House whilst having some fine adult beverages.
Whether you're a cinephile, an environmentalist, or stalking one of our Reader writers, "Chasing Ice" nicely offers the gift of film at FILM, as well as the chance to hang out with some cool characters in real life.
Strangers and Liars CD Release
A couple of Erie Reader issues ago, you may have stumbled upon that fine Music Review section of ours and laid your eyes on four 150-word blocks of descriptive goodness. One of the four musical musings happened to be dedicated to "Five Seat Concert Hall," the debut album by local quartet Strangers and Liars. Well, as much as we try to use our words to try and lead your ear toward what you could hear, we can't just get up and play the music for you.
Now, if only there was an official show where you could get to hear "Five Seat Concert Hall," why that would be… wait, what's that convenient voice in my head? It's telling me that Strangers and Liars will be playing an official CD release party with Scarlet Ledbetter that starts at 10 p.m. Friday, April 5 at the crooked i? How swell!
Tommy Link, the de facto leader of the Gem City jammers, said to me that he is quite excited for the event, and understandably so. Not only is "Five Seat Concert Hall" the Strangers and Liars' first album, it's Link's first with a band, as he had previously recorded only as a solo artist. After the band, which consists of guitarist and vocalist Justin Anderson, bassist Russ Straub, drummer Tom Hitt, and Link on guitars and vocals, gelled quickly, they took to the studio and were pleased with the results.
...it's a good place to start and give people an idea of what we're about.
"We were happy with it," Link said. "There's a good foundation. We've really only been playing together for a little over a year now, and we got into the recording process pretty early on and it kind of developed from there. In the end, it was really good – it's a good place to start and give people an idea of what we're about."
It doesn't take too long to hear influences of Tom Petty in Strangers and Liars' music, something that Link readily admits. While the leader of the band – a position Link says the rest of the group placed him in when he wasn't looking – wrote several of the songs on "Five Seat Concert Hall" as solo pieces, the rest of band also shared his affinity for some of the premier performers of yesteryear.
"That was what really drew me and Justin together in the beginning, and that's who inspired me as a songwriter – people like Tom Petty, Billy Joel, Paul Simon, Bob Dylan, George Harrison, all those really good storytelling songwriters who write with a kind of accessibility," he said. "That was what we always wanted to pull out, the idea of something people can relate to, whether it's a story spelled out with names and details or the Tom Petty stuff where he can paint a scenario and you fill in the blanks."
With the upcoming CD release show at the crooked i, you can see some of Erie's own storytellers on stage and form your very own review of "Five Seat Concert Hall" – the live edition.
Alex Bieler can be contacted at aBieler@ErieReader.com, and you can follow him on Twitter @Catch20Q.