To Do List
Read Alex Bieler's latest, then fill out your social schedule!
November 14, 2012 at 2:30 PM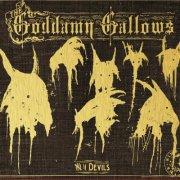 Goddamn Gallows
Let's all come clean; sometimes it feels good to get dirty. Whether it's trekking through nature, working in the dirt, or just about whatever you're into, a little grittiness can be a rather wonderful feeling.
If you were to take this primal, earthy urge and try to imagine it expressed through music, you might have just heard The Goddamn Gallows. A migrating mix of musicians, The Goddamn Gallows have traveled across the United States to play their special blend of bedlam.
"It's a mix between punk rock, bluegrass, and like some country kind of twangy shit," said the bass player for The Goddamn Gallows, who goes by the stage name Fish-gutzzz. "It's pretty fast, pretty chaotic. There are six of us up there, like seven different instruments, like four different singers, pretty much non-stop mayhem."
The musical madness is set to take the stage at the crooked i Sunday, Nov. 18, along with rootsy openers Jayke Orvis & the Broken Band, which is fronted by Jayke Orvis of The Goddamn Gallows accompanied by other fellow members. Folk-country solo artist James Hunnicutt will also open on the night. Although the twanged-out gutterbilly headliners play roughly 200 days a years during one of their typical nine-month road trips, the Flagship City ranks as one of the favorite places to play for the members of The Goddamn Gallows.
"We've played [in Erie] three or four times now," Fish-gutzzz said. "We always play at the crooked i, [Proprietor] Marty [Schwab] and [General Manager] Tracy [Evans] treat us like family – they're incredible to us. It's one of our favorite cities to play. It's a really good time and everyone's really into the music."
Fans of the band will also have a chance to catch some new tunes when they come and visit, since the sextet has busted out a pair of songs on their current tour, which ends in Erie. After the show at the crooked i, The Goddamn Gallows will be recording a brand new album this upcoming January, giving Erieites a chance to get a sneak peak at the eventual release.
Even for those unfamiliar with the crusty roots-rock of The Goddamn Gallows, the band's live circus act of honky-tonk grit and carnivalesque rock 'n' roll promises to be an exciting experience that will make for a memorable night. After a night with The Goddamn Gallows, you'll be happy that you decided to get your hands dirty.
Thanksgiving Eve
As some of you may remember, I've gone on record before saying that drinking is an unofficial pastime here in Erie. Much like my voyage on St. Patrick's Day, the night before Thanksgiving promises a night to, well, not always remember.
As the biggest drinking night of the year, the night before Thanksgiving, also known as Black Wednesday, kicks off a trio of practices in excess: more booze, more food, and more spending. With a deadly combination of no work the next day and people coming home for the holiday, November 21 is ripe for an explosion of inebriation. Of course, this notable day also leads to an increase in special shows that normally wouldn't be seen on a regular Wednesday, and Erie is no exception.
"It's pretty much insanity," says Eric Brewer, who will be performing on Black Wednesday. "You always get a slightly different crowd than usual."
All across town, bars are holding events in order to help you enjoy Black Wednesday a little more.  Here's a rundown of four different shows local establishments have planned for Wednesday, Nov. 21.
the crooked i – Eric Brewer & Friends
How appropriate to bring out a Brewer for the biggest drinking night of the year. Eric Brewer & Friends will be taking the stage at the crooked i at 9 p.m. Black Wednesday, treating you to the tunes of Brewer, one of the finest guitarists in the area, and his rock-solid group of bandmates.
Basement Transmissions – Blameshift
If you don't go out and see Blameshift this Black Wednesday, you won't have anybody but yourself to blame. The nationally-touring alt-rock act is leaving Long Island to play an all-ages show starting at 6 p.m. at Basement Transmissions.
Sherlocks – Wild Turkey Wednesday
Sherlocks is ready to transport this Black Wednesday back into the '90s, as the I-90s will please the crowd with tunes made famous by Pearl Jam, Radiohead, Nirvana, and more. TJ the DJ will be in house to help populate the dance floor all night, as well.
The Brewerie at Union Station – The Great Pumpkin Jam
What better way to celebrate the biggest night of drinking than with some locally crafted brews?  With singer/songwriter Clair Stuczynski and local rockers East Ave on the docket for The Great Pumpkin Jam, The Brewerie is ready to pair your pint with some choice tunes.
Molly Brannigans – Third Annual Wasted Wednesday Bash
Acoustic guitars and vocal harmonies take center stage at Molly Brannigans as Zack Orr and Tim Sul team up for a free show starting at 8 p.m. Originals, covers, and plenty of drinks will be flowing as the show goes on until midnight. While you'll end up snoozing after Thanksgiving dinner and complaining about the crowds on Black Friday, Black Wednesday is just the night to truly celebrate. Hopefully this list can help you support the holiday.
 
Alex Bieler can be contacted at aBieler@ErieReader.com

[Editors' note: this story has been modified to correct a misprint. Originally, Tracy Evans, general manager of the crooked i, was listed as Tracy Lyons. The Erie Reader regrets this error.]