Touring the Rothrock Building
An inside look at Velocity.net's new headquarters
Unlike my old man — who was a heavy machine operator, tippleman, and coal miner throughout a career for which he wore mostly shirts with blue collars — I don't wear a hard hat to work every day. But on March 13 I did. —
I was there to get a tour of the Rothrock building, perhaps better known as the future site of the new Velocity Network headquarters. Rothrock's been a centerpiece of conversation in Erie for the last couple of years — more specifically, the renovation thereof.  
"The current construction at the Rothrock building runs through the building with celerity," I wrote in an Erie Reader feature focused on three hubs of innovation with a look at what's happening at Velocity Network, Penn State Behrend, and the Erie Innovation District.  
This piece was a follow-up to my 2016 feature, "The Path of Innovation," which first discussed Velocity's move downtown led by its President and CEO Joel Deuterman and caught the attention of The Atlantic's James Fallows, who wrote about the response mid-sized Rust Belt cities were having to challenges of the 21st century, and Brookings Institution Senior Fellow Mark Muro, who focused on the evolution of advanced industries and the role they are playing in Erie vis a vis "Erie's Rust Belt Activism."  
The March 28, 2016 feature for the Reader, in terms of Velocity, focused more on the vision behind the move, the impact of that decision on Erie, and brief notes on what's happening inside of the building, including the push to make the location a fully smart building — chiefly the desire to facilitate interaction between employees and clients and ensure the free exchange of ideas in the age of the anti-silo mentality.
Of course, over the stretch of an hour-and-a-half walkthrough and other interviews along the way, not everything can make it into a print feature. But while real estate is limited in the printed pages of the Erie Reader, ErieReader.com has yet to run out of space.
So here are some of the tidbits that didn't make the print piece but are still an exciting part of the Velocity story. To see some cool video shot by MenajErie Studio to capture the updates to the Rothrock building, check out Velocity's YouTube channel here.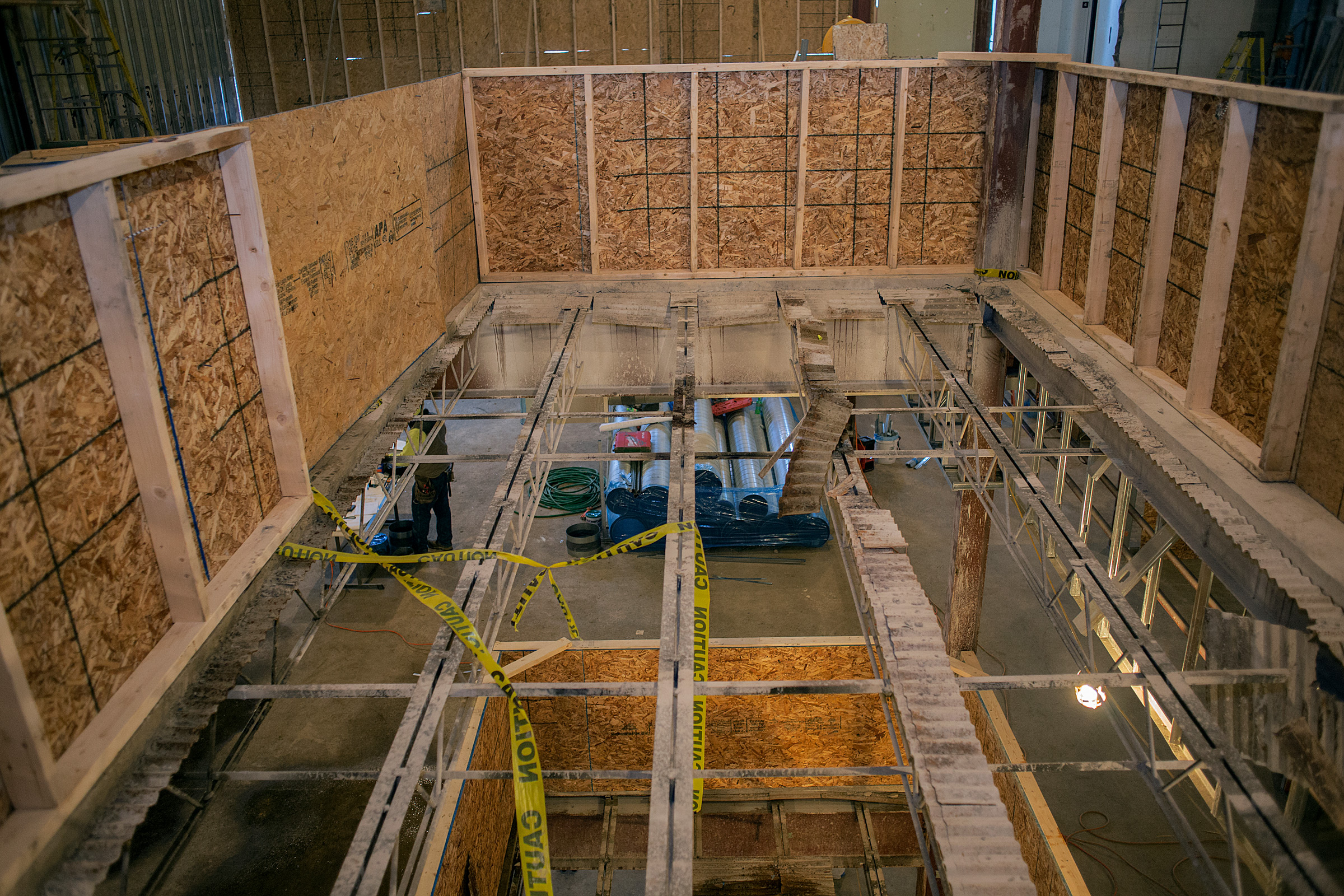 First things first: It's worth noting Kidder Wachter Architecture & Design and Kidder Wachter Jefferys Construction, LLC:
Kidder Wachter Architecture & Design put pens and pencils to paper to draft the plans for Velocity Network's new headquarters, and Kidder Wachter Jefferys Construction, LLC. has since rolled up their sleeves to see that those plans become reality.
Thanks to Mike Jefferys, President of Kidder Wachter Jefferys Construction, LLC., here are some quick data points for those wondering just what's happening inside of the walls of the 34,590 square foot renovation of 121 W. 10th St. in Erie, Pennsylvania:  
First Floor, going up:

more than 2,000 square feet of gathering space for casual meetings, product rollouts, public functions, and more — all serviced by an adjacent kitchen and demonstration areas — will be the first thing visitors get to witness upon entering VNET's new space.
Higher Level Data:

The Second Floor will house

a state-of-the-art data center — the digital server field that is the backbone of the VNET fiber data business;
The Third and Fourth Floors

will be office spaces and more (and more on that in a bit);
Climbing the Stairways to Innovation:

Aside from the code-required exit stairs at the north and south ends of the building, the structure will be altered to accommodate a freestanding, wall-less, intercommunicating stairwell through the center of the building running from the gathering areas on the first floor to the executive offices on the fourth floor, capped with a 240 square foot rooftop skylight;
Thinking in and out of the glass boxes:

The 10

th

 street elevation will get a new "glass box" curtain wall wrapped addition that adds a reception area on the first floor, a large conference room on the second floor, office space with conference on the third floor, and a 480-square foot roof deck for outdoor gatherings on the fourth floor;
But that's not all!

The lower level will have a large meeting area for group and client training, a VNET digital production facility, and fitness areas with adjacent locker rooms;
To top it off:

Renovations include complete new state-of-the-art HVAC and lighting systems; new interior office space with both conventional and glass wall areas; over 1000 square feet of new windows and glass curtain wall;  complete exterior masonry restoration and painting.
On that March 13 walkthrough, the Rolling Stones' "Gimme Shelter" pipes through the speakers of a construction site boombox. Brad Wiertel, Velocity's Chief Operating Officer, and I — along with Reader photog Maitham Basha-Agha, get started on the first floor.
"If you had seen this four-and-a-half weeks ago, you'd really know how fast these workers are flying," says Wiertel as we walk the floor south to north, cracks and pops of metal being reshaped echoing throughout the building.
The end of the timeline is November 2018, Wiertel notes, adding that thankfully the "structure is sound" in terms of the bones of the building that sat vacant for decades. 
We descend to the lower level, which as of March 13, is unassuming. But that's where a gym, in-house production studios, and client training rooms are likely going — something that was on the potential chopping block when initial rounds of the budget came in much higher than originally anticipated. But through some some value engineering with the architects, Velocity got the budget back down and began the construction in earnest — with the ability to keep the gym.
"I've always said: When you wake up and get out of bed, I want you to want to come to work," says Deuterman, who joins the tour after attending Erie Mayor Joe Schember's first meeting of the newly fomented Business Council, a 13-person committee Schember's assembled to advise the city on business issues.
That statement lies at the core of the culture Deuterman and Wiertel are continuing to build for Velocity, a company with the tagline "built for Erie" that is putting an emphasis on building for its employees.
"A lot of our work is project-based and not necessarily 8-to-5," Wiertel adds. "We do have 8-to-5 work, but if people can break up their day — come in early, stay late they can break up the monotony we have the space to do it."
Wiertel adds that WiFi will run the entirety of the Velocity campus, recalling an experience he had with a software company Velocity works with in Tampa.
"Employees were outside sitting on benches working," he says. "There's no reason why you can't open up a laptop and work wherever."
That flexibility for employees not to be chained to a desk or confined to a cubicle "just makes for a better work environment," he adds.
As "Shine on You Crazy Diamond" begins playing in the background, a construction worker passes us on the third floor, where Wiertel's office will be.
"Hey how you doing?" Wiertel asks, adding in: "We have heat!"
"Great!" the worker replies, "got it cranking yesterday!"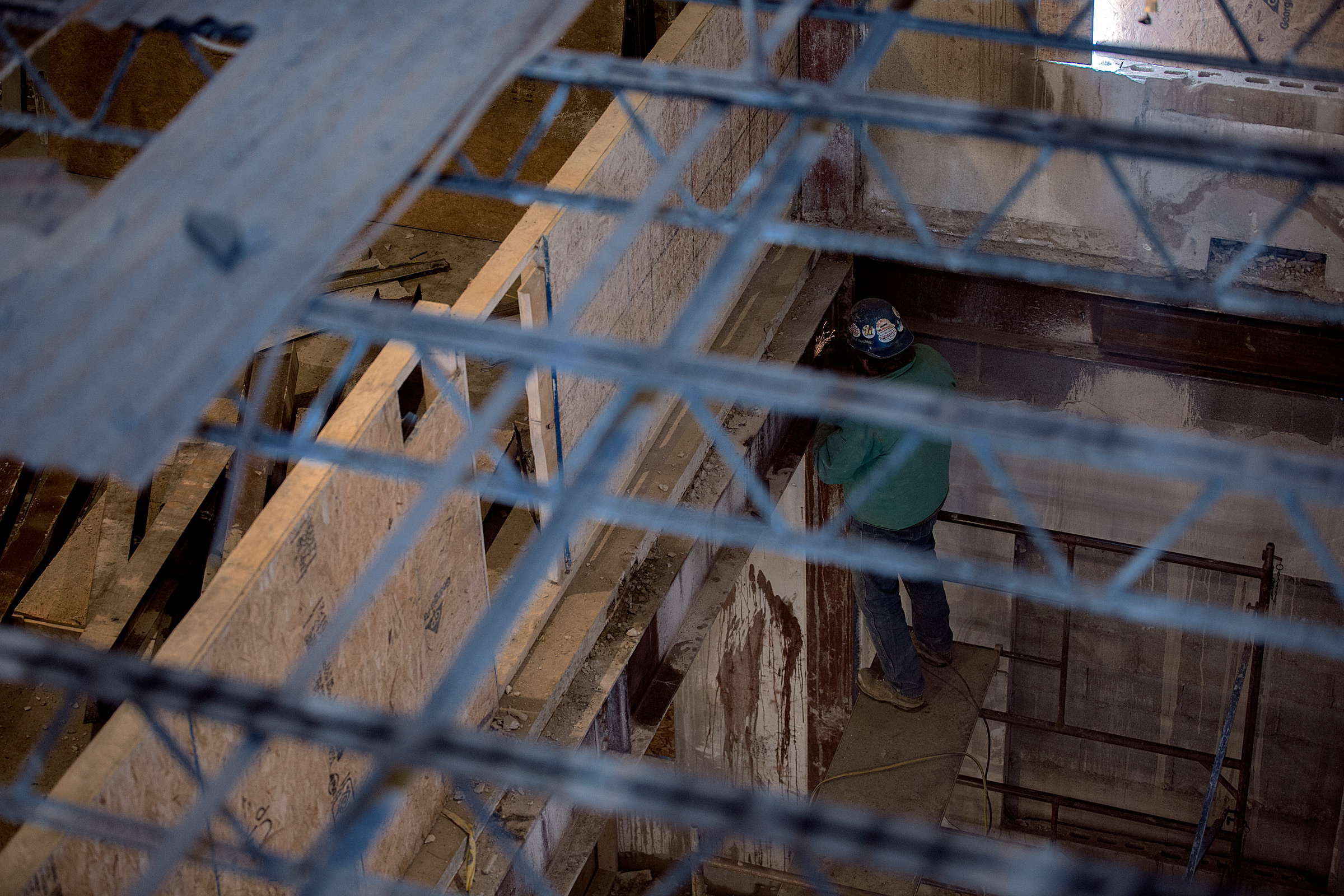 We head up to the fourth floor, where Deuterman's office will be. Rather than having the glass-box bump-out as part of his office (like Wiertel plans to do on the third floor), Deuterman's office will be set back with an entrance to an open-space patio (including a fire pit!) for outdoor meetings and gatherings.   
We walk the length of the floor, stopping midway to peer down the wall-less, interconnecting staircase as Steve Miller Band's "Jet Airliner" comes over the airwaves.
Deuterman goes on to discuss the impact of smart cities and how Velocity is positioned to play a critical role, leveraging data through the Internet Of Things. He talks about his vision of placemaking, adding outdoor tables with outdoor chess sets. He says he's impressed with not just Erie's new mayor, but the team he's building around him.
Wiertel, the chair of the Erie County Technical School, adds he's excited for Velocity's proximity to educational institutions downtown, noting that he wants Velocity to be able to offer flexible internships so that students can get the experience in the tech sector they're looking for. He wants to ensure that people seeking a trade — namely one in tech — have the opportunity and have the pathway to education.
"To Brad's point, we need to be giving students who may not be going on to a four-year degree — and there's a lot of them — hope," Deuterman adds.
"Parents of incoming sophomores at the Erie County Technical Schools were asking 'can my kid make a sustaining wage and not go to college? I don't know if I can offer to send my son or daughter to college to do IT, but he or she loves it,'" Wiertel recalls. "I said 'absolutely!' but you need the programs in place to do that, and industries like Velocity saying 'it's okay to go to a tech school or a trade school or a community college' and you can come out of there with the knowledge and come in and make a family-sustaining wage'"
"Easily," Deuterman adds.
Ben Speggen can be contacted at bSpeggen@ErieReader.com, and you can follow him on Twitter @BenSpeggen