UN Art Ambassador Speaks at BLOOM
Award-winning Nigerian artist Ibiyinka Alao returns to Erie.
February 19, 2014 at 7:12 AM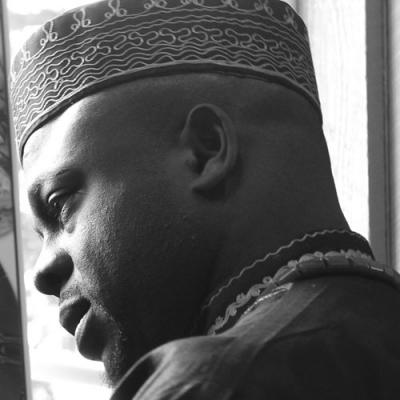 In Ibiyinka Alao's world, art – and color, its nonverbal, universal language – is everywhere. It's in every thing.
It is everything.
"I draw, paint, and write about whatever I'm able to find, feel, and sometimes understand," Alao, the award-winning Nigerian artist, who serves as Arts Ambassador to the United Nations, says of his work — bold, bright, organic pieces that speak of – and to, and through – themes of hope, peace, and love.
Big, lofty ideas and ideals, larger than himself. Larger than any one of us, as big as all of us, as all of everything.
"I feel it is healthier to look out at the world through a window than through a mirror," Alao says. "Otherwise, all you see is yourself."
When I first looked at Alao's smile-lined face, his gladness-filled, bright-sparked eyes, I could sense he really lives what he speaks. Gracious and immediately honestly friendly, without any hint of fakeness, he carried a palpable sense of wonder, of warmth, right with him when he walked into the BLOOM Collaborative's front doors during a two-day visit to Erie a couple of weeks ago.
"You're here, my friend. It seems like you've been on the road for days! Come on in," BLOOM Director and Erie-area artist Lee Steadman, who invited Alao to revisit the Gem City, said as the ambassador arrived following a cold, snowy, hours-long drive on that recent Thursday afternoon.
"It's beautiful," Alao said, looking around the East 26th Street arts center's lobby after he was greeted by the other creative minds that make up the rest of BLOOM's staff.
And that was before Steadman and the others took him further inside, up the stairs to see the public studio space where BLOOM – through mediums that transcend barriers of culture, language and class – grows arts in, of and for Erie, and invites everyone to participate.
"What's this?" Alao, always smiling in that wide-open space, asked of everything he came across – paintings, drawings, and mixed-media projects in various stages of completion, awaiting the next session with their makers.
"I see...That's beautiful," he remarked repeatedly.
Alao even saw something ("What's this?" he asked with interest) in a paint-covered scrap, apparently having been placed only to prevent a mess during some previous project.
That he saw something there – art there – is telling of the artist, of his intent, of his vision. And also of his reasons for thinking Erie, its arts, and its artists (especially those from the community-at-large) were worth a special trip from New York City.
Through a routine, open schedule offering an array of low-cost, easy-access classes and workshops, BLOOM (formerly Center City Arts) "uses art as a healing tool, a wellness tool, a way to bring people together," Steadman told me.
Among other things and in direct keeping with its mission, BLOOM is now also the home of the Bhutanese Cultural Center for Erie, the city that houses more Bhutanese refugees than any other city in the state of Pennsylvania.
Steadman said similarly, but on an international scale, Alao "uses art to break down barriers in culture and language."
And that works, Steadman said, because art and the act of creating it – in all of its color, all of its language, all of its wonder – is truly universal.
"That's true whether you're from Erie or Nigeria," said Steadman.
Ryan Smith can be contacted at rSmith@ErieReader.com, and you can follow him on Twitter @RyanSmithPlens. To follow this story or comment, scan the QR code or visit http://erirdr.com/1yxoq.