Updates from the Governor's Office: March 25, 2020
Briefings from Tom Wolf and Dr. Rachel Levine following Erie's stay-at-home order
March 25, 2020 at 3:07 PM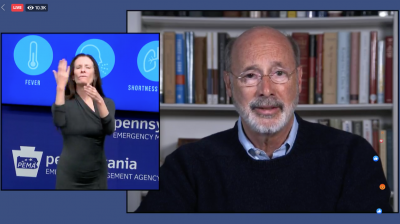 In his now-daily live address, Governor Tom Wolf and PA Secretary of Health Rachel Levine warned of hospital crowding. Both Wolf and Dr. Levine repeated the need for residents with the catchphrase "stay calm, stay home, stay safe." 
276 new positive cases were reported yesterday, with 11 deaths so far in The Commonwealth. 
In addition to the counties that currently have a stay-at-home order, Lehigh County (Allentown) and Northhampton County (Bethlehem) also received this order.
In response to the order being issued for Erie County, Levine noted that her office was in close communication with Erie County government (Kathy Dahlkemper's office) and the Erie County Department of Health – the latter being a key resource that has kept Erie on the forefront of caution – providing reasoning why Erie was issued that order while still having a relatively low rate of reported cases in comparisons with other counties across Pennsylvania.  
"We want to buy time," Wolf said when asked about the piecemeal approach for the stay-at-home order. 
On Trump's statements that he wanted the county "opened up and just raring to go" by Easter, Wolf remained ambiguous. When asked if he would follow or defy orders from the federal government, he noted Pennsylvania's good working relationship with them and underscored his office's caution during this time.  
Citing a report based on cell phone towers, wolf noted that "a recent study places Pennsylvania at the top for social distancing," commending the actions of PA residents while still urging these habits to mitigate the spread. 
Wolf talked about the newly formed COVID-19 Working Capital Access Program (CWCA), with more information available on the commonwealth's website. Though the fund utilizes over $100 Million, Wolf assessed that he is "not going to pretend that this is going to cover the devastation." 
With the large surge of unemployment claims being made, Wolf asserted that "it's not making me reevaluate my order. The thing we are all trying to avoid is a surge in disease that overwhelms our healthcare resources." Wolf noted that many elements of the unemployment compensation process were either waived or streamlined (such as a waiting period or additional company liability) in order to expedite the process, with hundreds of thousands of claims being made during recent events. He explained that they are working with the federal government to make the process as smooth as possible.