Upfront: Apocalypse again, and the Knights of the Road
It?s time for the apocalypse... again. Cory?s prepared this time. And he?s got some symbols for us to learn before the world falls apart.
October 20, 2011 at 10:00 AM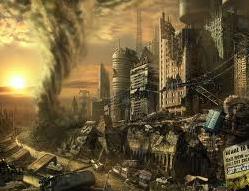 Regular readers of this column will remember the mathematically-challenged preacherman Harold Camping who earlier this year scheduled the apocalypse for May 21. A whole bunch of us figured he was right ? well, OK, just me ? so I burned all my earthly bridges, especially with my credit card companies, and awoke the next day to a splitting hangover and a non-rapture. Yeah, that was really cool, Harold. Really cool of you.
The illustrious Harold also awoke the next day, quite shocked to have been non-raptured. He abruptly suffered a stroke, then promptly reissued his recalculations for the next apocalypse; I think he?s on to something this time, despite the diminished flow of blood to critical portions of his brain. Mark your calendar with ?apocalypse now? or, rather, ?apocalypse again,? for October 21 ? just two short days after the publication of this issue.
Harold and I aren?t alone in our belief that this is the time ? Harold?s recalculated assumptions are also supported by such reputable sources of information as the apocalyptic commercials between segments on the Glenn Beck radio show. Glenn wants you to own gold, on the assumption that once the shit gets real, paper money will be revealed for the sham that it is, when, in some wild-westy way, no one accepts paper currency any longer, only solid gold doubloons. Ditto for those 50-year rations they?re peddling.
Everything nowadays is all downturn, downfall, depression, despondency, doubloons, and dumbasses; couple all these apocalyptic signs with the Commonwealth?s reduced educational spending, and soon American civilization will consist only of vagabondery. Or vagabondage. Or whatever; I?m assuming it includes roaming bands of ne?er do? wells who can neither read nor write.
Oh, wait, did somebody say illiterate hobos? In anticipation of the impending apocalyptic collapse of our society, I proffer the following: let?s begin to follow the way of the Knights of the Road. You may know them as ?hobos,? but I see them as experienced survivalists with lessons to teach us about life, love, and living off a can of cocktail weenies a week. Additionally, they?re organized and they?re good communicators, which are skills that come in handy?from the boardroom to the boxcar. Hell, these guys still hold a national convention, every year in Iowa. If you think this convention is just a jungle of roustabouts cooking Mulligan stew and swigging a little of the old coffin varnish, well, you?re partially right. They do, nevertheless, get some productive work accomplished at these conventions, however, in accordance with their true hobo nature, the last time that happened was apparently in 1889 at the National Hobo Convention in St. Louis. During that convention, the duly authorized representatives of Hobo Nation (hereafter referred to as ?HoNo?) adopted a moral code for all members of HoNo to follow. I found the moral code on Wikipedia (so you know it?s 100 percent accurate) reviewed it, and I find it worthy of adherence ? HoNo is green, they?re anti-drama, and they?re pro-freedom, but they also express a strong social conscience, and, they?re anti-child molestation! I?m all of those things. Once the next apocalypse strikes, this code will form the very fabric of our new HoNo. It?s too bad we haven?t been following it since the last apocalypse.
1. Decide your own life, don't let another person run or rule you.
2. When in town, always respect the local law and officials, and try to be a gentleman at all times.
3. Don't take advantage of someone who is in a vulnerable situation, locals, or other hobos.
4. Always try to find work, even if temporary, and always seek out jobs nobody wants. By doing so you not only help a business along, but ensure employment should you return to that town again.
5. When no employment is available, make your own work by using your added talents at crafts.
6. Do not allow yourself to become a stupid drunk and set a bad example for locals' treatment of other hobos.
7. When jungling [setting up temporary camp] in town, respect handouts, do not wear them out, another hobo will be coming along who will need them as bad, if not worse than you.
8. Always respect nature, do not leave garbage where you are jungling.
9. If in a community jungle, always pitch in and help.
10. Try to stay clean, and boil up [boil one?s clothes to kill lice, fleas] wherever possible.
11. When traveling, ride your train respectfully, take no personal chances, cause no problems with the operating crew or host railroad, act like an extra crewmember.
12. Do not cause problems in a train yard; another hobo will be coming along who will need passage through that yard.
13. Do not allow other hobos to molest children, expose all molesters to authorities, they are the worst garbage to infest any society.
14. Help all runaway children, and try to induce them to return home.
15. Help your fellow hobos whenever and wherever needed, you may need their help someday.
16. If present at a hobo court and you have testimony, give it.
In addition to a moral code, hobos also had a secret, graphic language similar to graffiti that they used to inform and warn those who would come behind them on the never-ending road of suck. This code, however, had to be less than obvious, as finding ?good place for a handout? spray painted on your neighbor?s garage door may provoke negative repercussions at the next homeowner?s association meeting, not to mention queering the deal for the next hobo to come along (see hobo code No. 7, above). Written in charcoal, chalk, soap, or other cheap, semi-permanent implement on nondescript locations like the backs of buildings, signs, fences, private homes, or on railroad property, these symbols from the stylus of a mindful hobo would thoughtfully display local conditions for HoNo members still to come. Below, some examples of this ancient Runic language of wisdom, with their meanings.
| | | |
| --- | --- | --- |
| Safe to camp here | Good water here   | Railroad |

Yes, HoNo, in anticipation of our country?s plight reverting yet again to another John Steinbeck novel, we?ll need something similar. Being helpful and respectful towards others, especially fellow Knights of the Road, means effectively communicating; unfortunately, we require slightly different things than the HoNo of the early 20th century. Like DVR. Below, I propose some symbols for a modernized apocalyptic hobo code.  Now, I know the apocalypse isn?t here yet, but we only have a few dozen hours. Grab a piece of chalk, keep it on your person, and start coding. Remember kiddies, the hobo code implicitly prohibits shenanigans, implicities made explicit in numerous hobo court rulings ? MacGillicuddy v. ?Underbritches Bob,? 384 H.N. 436 (1966) ? as well as malarkey ? ?Missoula Mike? v. Hobo Nation, 249 H.N. 211 (1919), and the HoNo court of final appeal has also set precedents (too numerous to name here) against defacing private property, so get your parents permission before you tag. Below, a guide.
Free wi-fi here

No unsecured wireless networks

Charge tablet device here

No unsecured electrical outlets

GPS true

GPS lies

Red light cameras

Big brother nonexistent

Fair trade, locally-owned organic coffeehouse ahead

Starbucks ahead

Dry County

Open container privileges

Mediocre lattes in this town

Chai tea and Tai Chi in this town

Tap water safe to drink

Fracking near here

Red Bull

Vodka

Red Bull and Vodka  

Decent local band here tonight

Cover band playing tonight

Erie Reader distributed here

Showcase distributed here

Erie Times News distributed here

Marketplace Gazette distributed here:-0

Art for art?s sake

Art for hotel room walls

Death penalty state

Death penalty moratorium

Conceal and carry state

Handgun/assault rifle ban

Teaches evolution

Teaches creationism

Medical marijuana state

 

Assisted suicide state

Gay marriage state

Stone-age conservatism


Cheap gas

Expensive gas

Hot soccer mom lives here

Suspicious jealous husband lives here

Here be zombies

Here be Abercrombie & Fitch

 
 

What do you think of the modern HoNo symbols? If you have any to recommend, email them to me. Or chalk them up on a wall somewhere. Also, drop me a line and let me know where you?ll be spending the apocalypse. I again propose we hold an end-of-the-world-as-we-know-it party on Friday night, October 21st at some local establishment, preferably one that allows smoking and has REM on the jukebox. Drop me a line in the comments section and let me know where you?ll be on the night of the 21st, and we?ll ride this sucker out like Slim Whitman rides the bomb in ?Dr. Strangelove.? Again.

Cory Vaillancourt is a brilliant writer/complete hack and can be complimented/heckled at cVaillancourt@ErieReader.com.