Upfront: Debate Recap
On Monday, May 13, we held the third Erie Reader Downtown Debate Series at the Jefferson Educational Society. The debates focused on the race for the Erie County Executive, and were, as Erie Reader Editor-in-Chief Adam Welsh said in his opening remarks, "a big deal."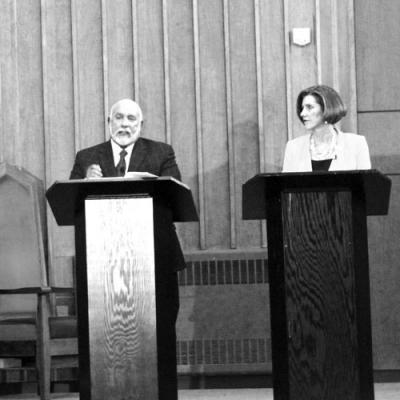 On Monday, May 13, we held the third Erie Reader Downtown Debate Series at the Jefferson Educational Society. The debates focused on the race for the Erie County Executive, and were, as Erie Reader Editor-in-Chief Adam Welsh said in his opening remarks, "a big deal."
The Democrats
Just before 7 p.m. Democratic challenger Kathy Dahlkemper and County Executive Barry Grossman took their places on the stage and began with their opening statements.
Dahlkemper went first, and led by trying to answer the most-asked question of the campaign:
"Why?"
Dahlkemper's decision to challenge an incumbent from her own party had a lot of people scratching their heads.
"I love Erie County. I was born and raised here," she offered. "My number-one priority as your county executive will be jobs and economic development."
Grossman followed her by emphasizing the team he built during his time in office. "On May 21, you're not only going to return me to office, but also a talented, veteran team," he said.
The first question also went to Dahlkemper, as debate panelist and JES associate program director Sara Breese asked the former U.S. Congresswoman to define the role of county executive.
"There are many important roles delineated in the county charter," Dahlkemper said. "But what I see is a much bigger role than what's written on paper," she continued, stressing her relationships in Washington, D.C. as one of her strengths. "What we need is a county executive who is leading and acting as an ambassador," she opined.
But the position of county executive is not about politicking and deal-making; it is about administering, and Grossman schooled her. "I can tell you from sitting in that seat every day that things come in at 100-miles per hour," Grossman responded. "This is not about caucuses or meetings."
The next question came from social media. Ben Speggen asked both candidates if they believe they kept their pledge to run a positive campaign.
"Yes, I have," she said, despite the eyebrow-raising TV ad she ran attacking Grossman right out of the gate, blaming him for GE's recent decision to potentially fire almost 1,000 people. Grossman, in a gentlemanly gesture, declined to hammer her on this point.
At this point in the debate, Dahlkemper seemed to lose certain sections of the crowd's interest. Her message seemed muddy and undefined, while Grossman, in his blue-collar, managerial way, rattled off all his in-office accomplishments citing the overhauled emergency call center, improvements in hotel and food-industry safety, and producing a balanced budget three years running.
The Republicans
Once Democrats cleared the stage, Republicans Tom Loftus and Don Tucci took their places at the podiums.
Tucci led with the assertion that he has always been a Republican – a direct dig at his opponent Tom Loftus, who used to be a Democrat. He also lashed out at those who preceded him on the stage – Democrats Dahlkemper and Grossman – who, in his words, "are not united, or they never would have encouraged another candidate to run." And, interestingly – for a man who has never held elected office – he demonstrated that he still has a solid understanding of the job, being administrative in nature.
When Loftus' turn came, he ran through his resume – highlighting his service as a Lawrence Park Commissioner – and seemed to hold "good government" in high regard, stressing transparency. However, economics dominated this debate, and when Loftus was asked about Destination Erie, he correctly recognized the importance of bayfront redevelopment.
"Our bayfront could be our biggest commodity," Loftus said. "If the city fails, the county fails."
Tucci agreed, but put a strange twist on the issue. "One of the problems I see is that the gentleman from WRT [Principal Eric Tamulonis, who was invited by Destination Erie: A Regional Vision to delivered a presentation at the Blasco Library Tuesday, April 23 regarding an Erie Bayfront master plan] was promoting the way Baltimore flourished. Number one, we're not Baltimore…we're a poverty-stricken area."
Tucci went on to press for the development of industry as a solution to poverty, and seemed to suggest that the GAF site should revert to its former industrial uses.
Both candidates emphasized their fiscal conservatism throughout their debate, drawing stark contrasts between themselves and the liberal Dahlkemper and the moderate Grossman. Loftus' focus seemed to be on property taxes and assessments, while Tucci's seemed to hover around refining the budget. However, neither candidate really seemed to differentiate himself from his opponent to the extent necessary for an electoral victory – one candidate had a three-word answer, and the other, Loftus, called for an underwater tube. Yes. An underwater tube. In the bayfront. As the key to our economic success.
And one candidate, Tom McGahen, declined to participate in the debate, leaving this primary wide open for the Tuesday, May 21 primary elections.
So, as the debates ran their course, we learned a little about each of these four candidates; some looked good, some looked bad, and some looked just plain absurd. Hopefully, these debates will make clear to voters who, exactly, deserves to advance to the general election in November.
Because this election is – honestly – a big deal.
Cory Vaillancourt is a brilliant writer/complete hack and can be complimented/heckled at cVaillancourt@ErieReader.com. Find him on Twitter @VLNCRT.