Mixtape: My Erie Valentine
Fourteen local songwriters weave tales of love and loss.
February 1, 2017 at 3:45 PM
For songwriters, love is a well-worn road. Practically every aspect of a relationship lends itself to a handful of songs. That's no less true in the case of Erie's lovelorn troubadours. Reaching out to 14 different artists (since Valentine's Day is the 14th, and all), we were able to trace the ups and downs on the path of the hopeless romantic. Go to eriereader.com/article/vdaymixtape to hear every one of these tracks.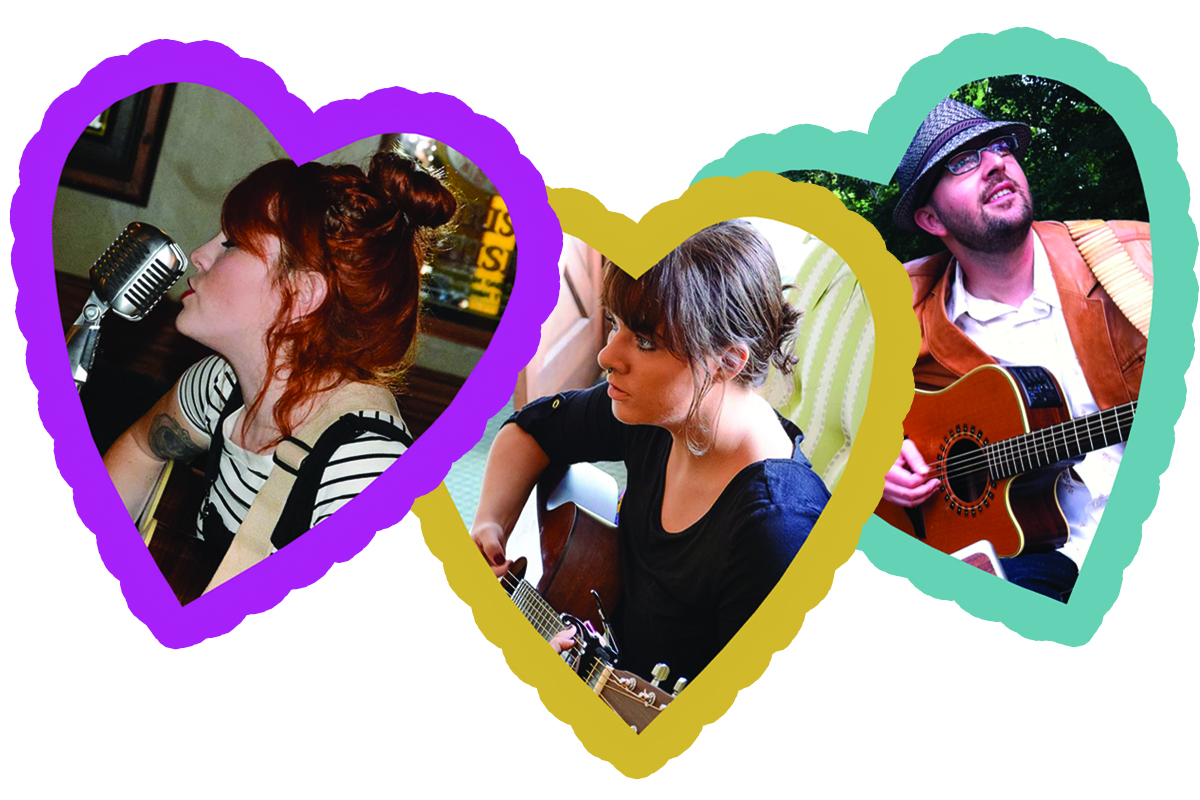 Brooke Surgener
"Some Sort of Special"
Previously unreleased (3.4 MB)
First, there's that tingle when you meet someone, the butterflies. The melodies of Brooke Surgener's adorable soprano evoke that feeling perfectly.
"Playing on my banjolele in the cabin behind my house, I wrote 'Some Sort of Special' while stuck inside on a rainy day. It has been a long time since I've been in a relationship or written about being in one, and daydreaming as I do, I wrote this song imagining meeting the right person for me. It's a simple song about patience and waiting for a real love instead of pursuing something insignificant." – Brooke Surgener
Eli Way & Ian Ewing (feat. Naji)
"Happy With U"
Single (4.0 MB)
Then there's that moment when the butterflies are released and the world is open. It's the time of romance, of winning that special someone over. This lush R&B track underscores that instance when you know you really want to be with someone.
"This song represents the love I have yet to feel. It's a fantasy about the girl I may or may not have met yet. Simple, sweet, and smooth, just like that love should be. <3" – Naji Adamson
Jess Royer
"No Stranger to Love"
Previously unreleased (4.3 MB)
Things start to get a little more invested. Maybe the "L" word gets thrown around. You make yourself vulnerable, hoping that the object of your affection will feel the same. Singer-songwriter Jess Royer conveys that hopeful uncertainty abounding in a new relationship.
"I'm a big sap, so writing love songs is easy for me. I've been inspired by the theme of love itself, and I choose to fill my life with it. Music makes it easy to express this." – Jess Royer
Zack Orr
"Niagara Falls"
From the album Francisco the Man (5.2 MB)
You know that one defining day when you know things are truly special? That's what indie artist Zack Orr has detailed here. With a wonderful instrumental buildup, Orr's wistful tenor weaves a beautiful scene.
"There are similarities between attraction and songwriting. You can't choose who you are attracted to and you can't choose what songs you write. 'Niagara Falls' was written about one particularly beautiful day I shared with someone at one of the cheesiest love destinations on earth. Lyrically, I wrote it as if the falls itself was the woman and a man was falling for her." – Zack Orr
The Sex Blossoms
"Valentine"
Demo (4.1 MB)
You're together now. Inseparable, just like the young duo of Andrew Henderson and Madeline Genest. This raw, delicate recording illustrates an adventurous, inventive (and perfectly named) love story.
"We recorded 'Valentine' at Frontier Park during the first wondrous thrust of summer. The feeling of escape and togetherness was captured amongst the merry din of sweet pollen-thick wind, scampering bare feet, and the calm gossip of tall wheatgrass. I sometimes think that you're never more free than when you're alone together, wading through the rush-and-bustle." - Andrew Henderson
Planet Claire
"Biggest Fan"
From Split 7" with This American Song (4.7 MB)
Things begin to get a little more comfortable. You develop inside jokes and pet names. This quirky, fun track hides how things might begin to be unbalanced, with obsession and jealousy starting to peek out.
"She describes her point of view, of who she thinks Cary Grant was from seeing him in the movies … and she's his biggest fan." – Sue Martin
This American Song
"Dark Star"
Previously unreleased recording, originally appeared on the Hitting the Wall EP (4.1 MB)
You have your first real fight. There are plenty of unanswered questions but you're still ultimately happy, despite the cracks starting to emerge. The honeymoon is over.
"Sometimes love exists away from the light." – Larry Wheaton
Tony Kellogg
"Don't Give Up on Love"
From the album Don't Give Up on Love (4.2 MB)
Despite any small doubts, you remain resilient and positive. Commitment is important to you, and you're not about to forget that. This is where "side B" of your metaphorical mixtape starts.
I wrote "Don't Give Up On Love" 10 years ago, inspired by a friend who'd been dumped. Years later, it's been a song that has meant a lot to many people's lives, as well as mine. My mom even has a tattoo of the title on her shoulder. These days, love is the last thing we should give up on. – Tony Kellogg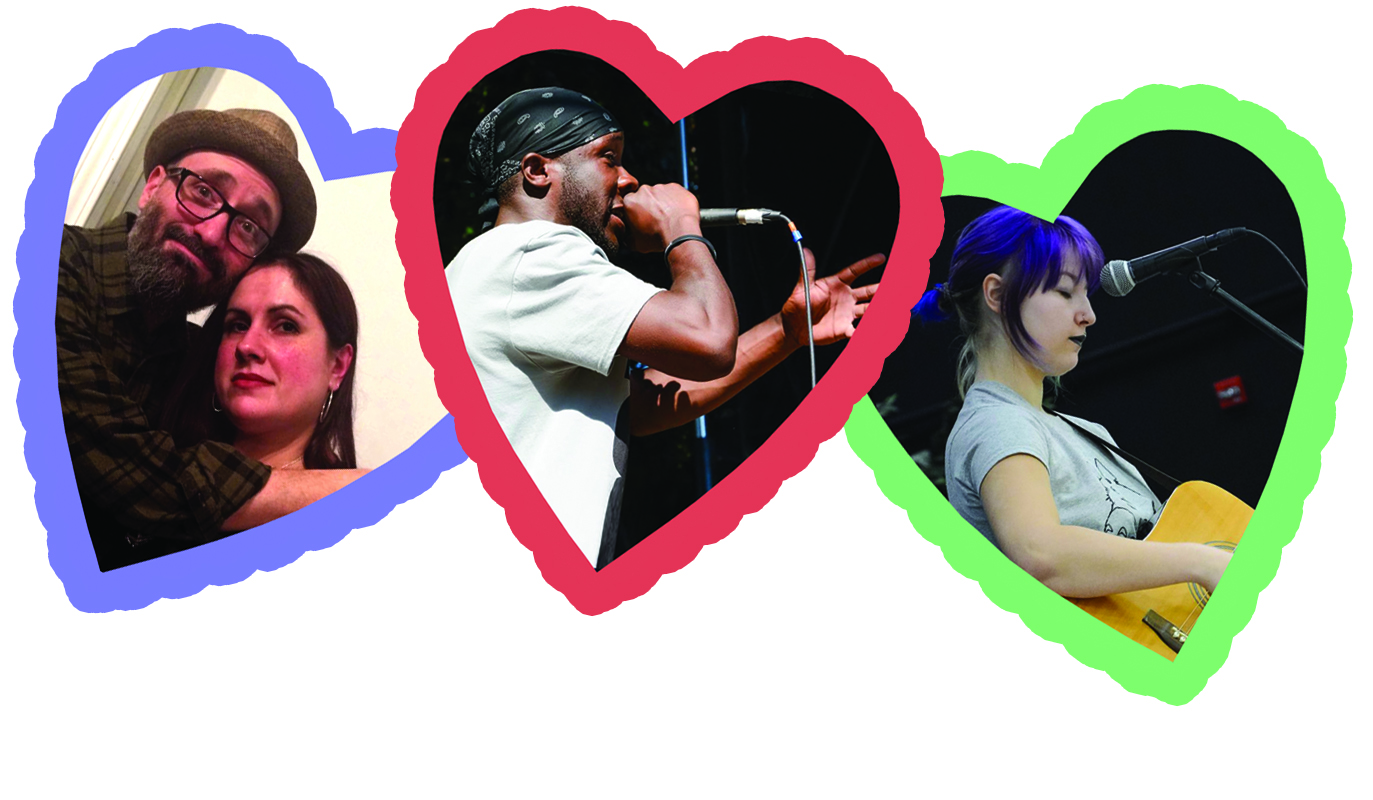 The Honest Mistakes
"You Were Wrong"
Previously unreleased, from the upcoming album The Honest Mistakes Burn it Down (4.2 MB)
Despite your best efforts, things aren't working out. You get introspective and try to figure out what went wrong.
"A distressing amount of our music seems to be about the problems inherent in finding someone, and then somehow making things work. This song concerns the end of a relationship, with the narrator basically saying 'told you so – told you I'd screw it up.'" – Chris Ehrich
"Love is a blind spot. We don't always see people for who they are, but who we want them to be. We don't always see ourselves honestly, either." – Joylene Ehrich
C.Brown
"Lose Me At All" (Prod.by C.Brown/Mixed by Nick IamADon)
From the album The Feels EP (3.3 MB)
Things get a little bleaker. The breakup is here. Erie emcee C.Brown empathizes, his emotions bubbling up to the surface.
"The song is about people not being afraid to lose you. In the first verse, I speak of a girl who could care less about me walking away from our relationship. It's a true story, so she's the inspiration behind the concept. In the second verse, I speak from the voice of 'opportunity.' If it could talk, this is what I think it would say to the people who pass it up daily." – C.Brown
Optimistic Apocalypse
"The Mind"
From the forthcoming album The Art of Love (3.6 MB)
You feel much more somber. You blame yourself at first, and get lost in your thoughts on a regular basis. The haunting indie tones of Optimistic Apocalypse help you through your darker times.
"Sometimes things don't work out with people, and that is okay! Be productive and make something positive out of it – like I did with this song. Much love." – MacKenzie Lee Sprague
Strangers and Liars
"Love Sick"
From the album A Little Bit Stranger (3.4 MB)
Love has hurt you by now. But you've accepted it and know it's important to move on. Blaming the other person helps. Strangers and Liars' feel-good classic vibes have that bite you need.
"As with any other sickness, if you don't take steps toward getting better, it's going to be that much harder to kick – and love is no exception. Most of us have found ourselves in relationships that we're better off not being in, but we keep falling back into them. Besides, when has knowing something is bad for us ever stopped us from doing things we shouldn't?" – Tommy Link
The New Morning Sunrise
"Morning Train"
From the album The New Morning Sunrise (4.7 MB)
You begin to think of what might have been. You dream about someone else, someone new. Even though you're a tad jaded, you're hopeful. The dark folk ruminations of The New Morning Sunrise help you look ahead.
"I got married too young and it didn't work out. By 22, I had been married and divorced and found myself single and lonely with no idea how to start over from something like that, so I tried an online dating site. I ended up meeting a girl who was nice and funny. We would talk on the phone and email, but it never led to anything romantic. She lived a thousand miles away and was focusing on building a career. I was finding a new path for my life, writing songs and enjoying the bohemian life with few responsibilities and lots of open mic nights followed by 24-hour diners. But we had a connection. Eventually, we talked less and less, then not at all, and life continues to diverge down new roads. This experience led my imagination to form the story in 'Morning Train,' about two people who had a connection, but it was never meant to be anything more, and that's okay. Sometimes love doesn't have to be romantic, just a brief connection with another soul." – Gabe Poland
Tyler Smilo
"Elliott Song"
Previously unreleased, from the forthcoming album Burn the Rivers (2.3 MB)
Eventually you move on, realizing that romantic love doesn't have to be the most important thing. Your family grows, and your heart grows along with it. You focus a familial love on these new people in your life, swearing to give them the best pieces of your heart forever.
"I wrote this for Elliott Smilo, my son. I needed something to leave him on record for when I pass on. You never know when it's time to go." – Tyler Smilo
We hope your holiday is a bright one. And hey, if it isn't, maybe you can write a song about it.
DOWLOAD ALL 14 SONGS AS A .ZIP FILE (54.1 MB)
Huge thanks to John Johnston of This American Song for mastering these tracks for online streaming. Extra special thanks to Steve Leitzinger for providing artist photos. Nick Warren can be contacted at nick@ErieReader.com.