Watch Kristen Schall Play Natalie Imbruglia in Mikal Cronin's "Turn Around"
The Kurt Braunohler-directed music video takes Imbruglia's video for "Torn" and adds a dash of crazy.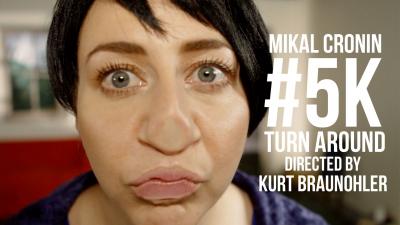 I've been rather excited about Mikal Cronin's latest album MCIII ever since it was announced back in January. To start, Cronin's 2013 album MCII was one of my favorite releases from that year thanks to its insanely catchy, fuzzed-out jams. The San Francisco musician's follow-up is no disappointment, either (you can expect an official review in our May 13 issue), which makes me quite pleased.
Of course, artists do more than just release albums these days, so Cronin has been treating us to things like a killer rendition of "Turn Around" on Conan. While that live performance was great - I do love a live string section - it might not have been the best "Turn Around video" of the week thanks to the official music video directed by comedian Kurt Braunohler.
So, remember that song "Torn" by Natalie Imbruglia? If you don't, you probably still do, but just know it as that song that causes everyone to sing along to the line "lying naked on the floor." Yeah, that song. Well, it's the inspiration for Braunohler's music video, with the wonderful Kristen Schall of Bob's Burgers, The Flight of the Conchords, and The Last Man on Earth fame standing in for Imbruglia.
If you think that the concept already sounds riduculous, just you wait! Pretty soon the shot-for-shot remake gets derailed by a litany of increasingly amusing situations, including an appearance by the Kool-Aid Man. The music video was made possible by Jash, a comedy network made up of Sarah Silverman, Michael Cera, Tim Heidecker, Eric Wareheim, and Reggie Watts that gives artists $5,000 to make what they want. In this case, Braunohler wanted a Imbruglia's "Torn" with a whole lot of crazy in it, which is perfectly okay by me. Check out the music video below and make sure to keep an eye out for the Reader's official review for MCIII (hint: it's good).