Watch Steve Buscemi and Gilbert Gottfried Make 50 Shades of Grey Truly Sexy
Steve Buscemi and Gilbert Gottfried, sex idols? Maybe not, but they both star in a pair of 50 Shades of Grey videos.
February 10, 2015 at 9:20 PM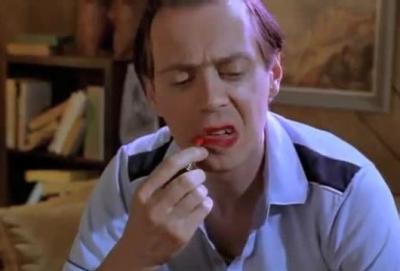 Steve Buscemi is a great actor, but I'm not sure if anyone would confuse him for a sex idol. Then again, perhaps there is something enticing about the famously bug-eyed actor that might drive some people over the edge... Okay, maybe not. The same goes for comedian Gilbert Gottfried, a person who's voice could drive a man's testes to ascend back intpo his body. Of course, that means that Buscemi and Gottfried are logical choices for 50 Shades of Grey, the erotic novel-turned-book that will open in theaters this weekend.
Buscemi turns on the heat as businessman Christian Grey is Boo Ya Pictures' 50 Shades of Buscemi (NSFW warning for language and Buscemi-based partial nudity) a fake YouTube trailer that is exactly what it sounds like. Buscemi isn't exactly a model of male beauty (although some people who claim that he used to be a "mega babe"), there is something oddly alluring about the way Buscemi says "You can bet your keester I'm going to get a piece of that pie." It really makes you think that the producers of 50 Shades of Grey dropped the ball when they cast Jamie Dornan as Grey in the actual movie.
Of course, there are always going to be some people who prefer the book to the screen adaptation. If you're such a person, perhaps Gottfried's reading of 50 Shades of Grey may entice you. The screechy voice actor and recent visitor to Jr's Last Laugh teamed up with College Humor to provide some extra power behind a few choice sections of E. L. James' novel. There are some particularly squirm-inducing lines - I never thought that I'd hear the voice of Iago from Aladdin read aloud about fisting - so I'd stay away if you're prone to visualizing things. Unless you've always wanted to imaging Gottfried and Buscemi in the buff, which means that this is your lucky day! Check out both videos if you're feeling in the mood.