Way Off Track
Weighing profit vs. public safety in wake of East Palestine train derailment
April 11, 2023 at 8:00 AM
Huntington, West Virginia is a city of 50,000 residents only a few short miles east of Kentucky and just south of the Buckeye State, the Ohio River serving as its northern border. In June 1998, 30 freight cars of a 148-car train derailed on its northeastern edge, less than a football field's distance away from the river. From the overturned cars poured 30,000 gallons of formaldehyde, a chemical that the Centers for Disease Control and Prevention describes as being a "highly toxic systemic poison" that can severely burn the eyes and skin, cause dizziness, and even lead to suffocation.
Fortunately, there were no serious injuries. The spill was also contained before it entered the river. Still, questions remained. How could evacuees be certain it was safe to go back home? What if other substances on board — sodium hydroxide, hydrochloric acid, molten sulfur, and chlorine — had spilled too? What if there had been an explosion? Moving forward, just how safe were they? How prepared were they?
In the wake of the Norfolk Southern freight train derailment in East Palestine, Ohio in February, which exposed the community and first responders to dangerous vinyl chloride, these questions have entered the public conversation once again. What exactly comes through our communities — whether by rail, road, or waterways? What plans are in place if such a disaster were to strike our neighborhoods? Are we taking a more preventative or reactive approach with our safety measures and plans?
"The fire service as a whole in the United States is woefully under-trained and woefully under- equipped to respond to a large-scale hazmat (aka hazardous material) incident like this," a member of the International Association of Fire Fighters who trains firefighters on hazmat incidents told NPR in March. This aligns with what was reported following the East Palestine derailment: most of the hundreds who were initially on the scene to assist lacked proper training and even the most basic of hazmat equipment. What appeared to locals like a lack of transparency in the days that followed (and the decisions being made that put East Palestine in the national spotlight) did not help with perceptions either — many left wondering who was even calling the shots. The local fire chief? Norfolk Southern? The Environmental Protection Agency?
Speaking to the Senate Commerce Committee, Norfolk Southern CEO Alan Shaw stressed that safety was a corporate priority and even pledged to voluntarily create a training center for dealing with hazardous materials, but he notably stopped short of endorsing proposed bipartisan legislation on rail safety.
His comments also did not seem to inspire much confidence in communities wondering whether they might be the next site of a dangerous derailment, an incident such as in Graniteville, South Carolina in 2005 when two Norfolk Southern trains collided, exposing hundreds to toxic chlorine and killing nine. South Dakota News Watch referred to the chemicals that come through its state each year as the "11 billion-pound mystery." A number of fire chiefs and health officials have publicly pleaded for railroads to provide more transparency on what is being transported through communities, a concept that railroad companies have pushed back against for decades. Amanda Garrett, writing for the Akron Beacon Journal wrote, "People in East Palestine, like others who live near rail tracks across the country, don't know what's on the freight cars and tankers passing through their town."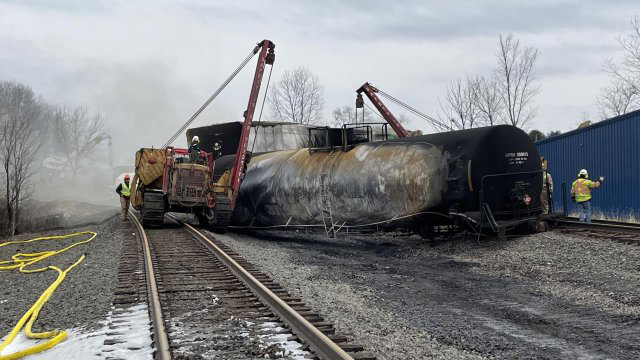 This photo from the Environmental Protection Agency shows crash site recovery operations in East Palestine, Ohio where a Norfolk Southern train derailed in February and spilled toxic vinyl chloride into the surrounding environment.
There are 28,000 locomotives to carry 1.6 million railcars across 140,000 miles of rail lines in the United States.  The U.S. Bureau of Transportation data shows there have been over 50,000 train derailments across the country over the past two decades. With freight railroads so essential to the nation's supply chain, speculation and assertions continue as to the inevitability of such derailments as well as to what degree past derailments have been preventable.
The Association of American Railroads, whose members include Amtrak, Norfolk Southern Railway, and Union Pacific, among others, highlighted in its recent March 2023 newsletter (notably without mentioning East Palestine) that the last decade has been the "safest ever" for railroads, and that accidents requiring a hazardous material response have been at an "all-time low." They note that more than "99.9 percent of all hazmat moved by rail reaches its destination without a release caused by a train accident" and that hazardous material rail accidents have decreased by 78 percent since 2000.
Indeed, dive into pre-2000 newspaper archives reporting about pretty much anywhere throughout the United States and one will likely see story after story covering derailment after derailment, year after year. Chemical spills. Explosions. Evacuations. Bridge collapses. Close call after close call.
Sometimes derailments were more inconvenient than dangerous, such as when plywood was dumped in the center of Union City, Pa., tying up traffic for two days or outside of Lake City, Pa. when beef and USPS mail were scattered across the countryside.
In other cases, the danger posted was much more significant. In Ashtabula, Ohio in 1963, 55 cars derailed at 50 miles per hour leading to the explosion of a tank carrying an unreported chemical. In Irving, New York in 1965, mere feet from the shores of Lake Erie, a train derailed with cars that included primarily passengers and mail — but the conductor alerted authorities that other cars included explosive and even radioactive material. A "special crew" dispatched by the Atomic Energy Commission was sent to assist with cleanup.
The same year near Conneaut, Ohio, 17 cars derailed, spilling deadly hydrogen cyanide, which, according to the Centers for Disease Control and Prevention, "affects the body's use of oxygen and may cause harm to the brain, heart, blood vessels, and lungs." Fortunately, according to reports at the time, the winds worked in their favor and didn't send the toxic fumes into the nearby populated areas. Elsewhere in the United States, derailments were also frequent. One 1973 butane explosion in Georgia was described as being "like an atomic bomb."
Lack of communication and coordination following a crash sometimes exacerbated the problem. In February 1975, in Harborcreek, Pa., a Norfolk and Western train derailed resulting in the need of a salvage crew. During this process, cars caught fire sending "black smoke billowing over the area," the Erie Daily Times reported, infuriating Harborcreek officials, including the fire chief who filed charges against the railroad and salvage company, only to find out that they had been given permission to burn the cars by the Pennsylvania Department of Environment Resources (which in 1995 was split into the Department of Conservation and Natural Resources and the Department of Environmental Protection). The fire chief responded that he strongly objected to "outsiders coming into Harborcreek and violating the laws township people live with."
In May 1980, in the middle of the night, a Conrail train derailed by a housing project near Pittsburgh Avenue in Erie, rupturing a tank that the conductor initially reported was leaking the extremely toxic vinyl chloride. Fortunately, according to reports, the conductor had misread his chart and the tipped tanker had spilled over 10,000 gallons of the non-toxic, non-flammable propylene glycol instead.
Still, it was enough to get the attention of Mayor Louis J. Tullio, who stated that while preparations for such disasters were ultimately the county's responsibility, he wasn't opposed to the city having a plan as well. "The potential exists for a major disaster," he noted. "We should be prepared."
In 1987, Pennsylvania U.S. Senator Arlen Specter spoke before the Senate Commerce Committee arguing that trains carrying hazardous materials simply should not go through populated areas. "These accidents are occurring more frequently and are an increasing peril to residents of our cities," stated Specter.
In response, Erie County Executive Judy Lynch noted it wasn't that simple. Specter was well-intentioned, she believed, but despite significant concerns, Erie County industries also relied on many of these dangerous chemicals. It was knowledge Lynch desired, not necessarily an outright ban. "We have to understand what is coming through the county and being used by industries here," she told the Erie Daily Times. "[W]e have to have plans."
The county was simply ill-equipped. The only hazardous material response team were volunteers that were "understaffed and under equipped" and operated out of an "old van," she said. This was especially a concern, director of the Erie County Emergency Management Agency Nick Sleptzoff told the Erie Daily Times, as on Interstate 90 alone he estimated that around 800 shipments of hazardous materials crossed Erie County each day — not including what passed through by freight or water.
"If we knew about some of the stuff moving on I-90, it would probably curl our hair," Sleptzoff told Jack Grazier of the Erie Daily Times the following year. "[B]ut unless something happens involving one of those shipments, we have no knowledge of what's going on." He added that Erie had been lucky so far, but the luck wouldn't last forever. "It will happen," he stressed. "We will have one. … [T]he potential for disaster increases each day."
It almost happened near Elgin, just outside of Corry, Pa. in 1988. A train tanker carrying 36 tons of the explosive, toxic, and carcinogenic toluene diisocyanate broke away from its train. The conductor, who was aboard, tried to stop it from rolling, but the hand brake failed. He had to jump from the tanker before it tipped off the rails. Fortunately, the tanker did not rupture and there was no spill.
"It's frightening when you think about that particular chemical," Sleptzoff told the Erie Daily Times afterwards. "We might have had to evacuate the entire Corry area."
Around this time, Erie Congressman Tom Ridge had his office attempt to get details from Conrail on what was coming through Erie, but Conrail officials stated it simply wasn't possible. Moving into the last decade of the 20th century, the newspapers continued covering derailments and close calls: an Akron, Ohio fire involving four cars carrying butane, leading to hospitalizations and citywide school closures. Twenty-nine cars derailed in Craigsville, Pa., a rural community between Butler and Kittanning, in April 1990 resulting in an explosion and fire and crude oil dumping into their town's primary creek.
And so on.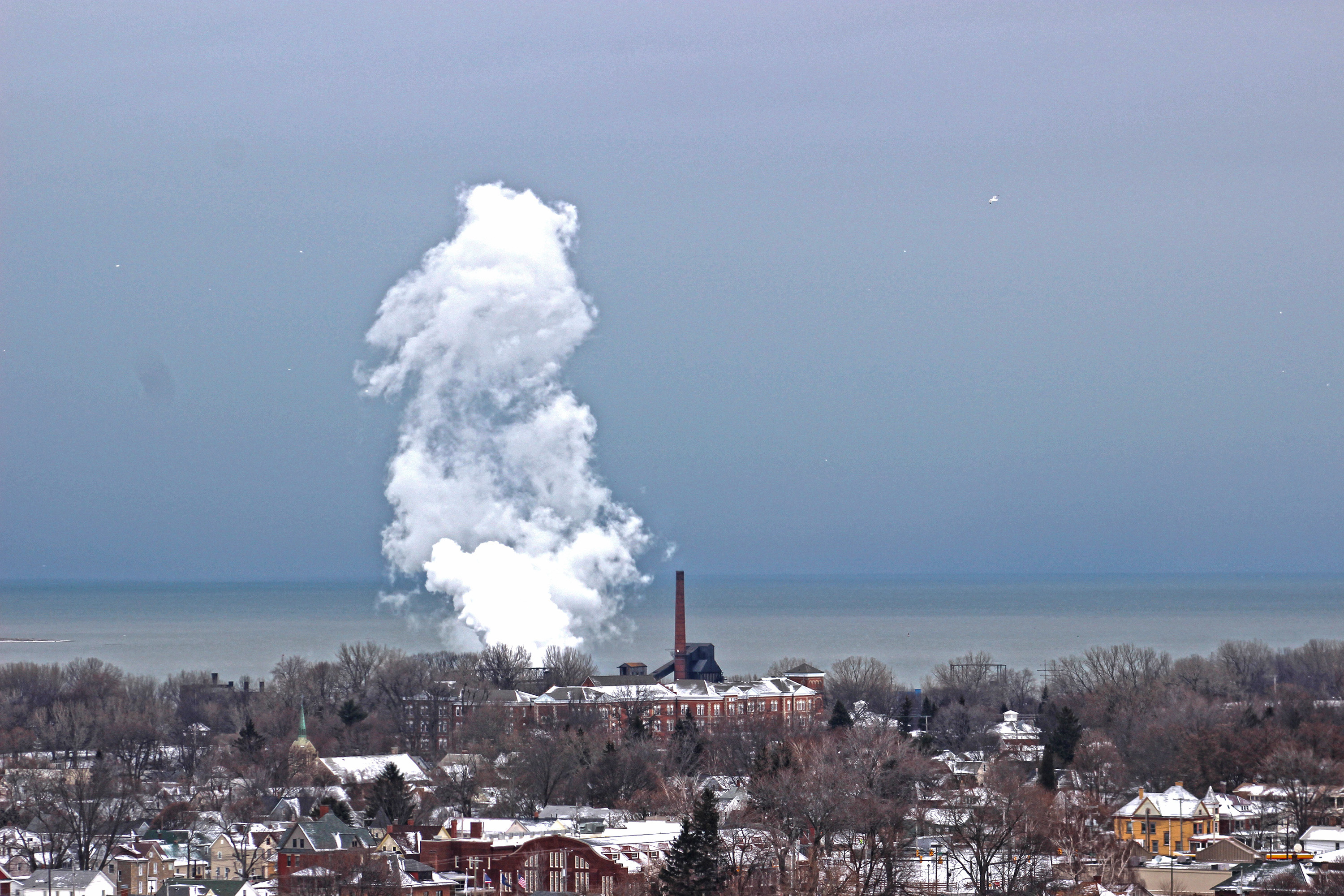 Disasters like East Palestine can be avoided in the future with better regulation, which can be a politically charged concept. In Erie, the power of regulation was demonstrated in the shutdown of the Erie Coke plant, after years of Clean Air Act violations. Credit: Nick Warren
Of course, time and time again, fingers have been pointed at railroad companies having significant freedom to self-regulate — sometimes referred to as "performance-based regulations." This allows the railroads to set their own performance goals and plans for achieving them, rather than having a government regulation that, for example, all freight trains must have a certain type of braking system (which could, naturally, eat into corporate profits).
It's the age-old battle between those who wish to regulate and those who see regulation as a financial hindrance to business. In Erie, the power of the regulators was demonstrated in recent years with the Erie Coke plant, which was sued and shut down outright by the state after years of defiant Clean Air Act violations. In other cases, regulations fell short, such as in 2016 when it was reported by Ed Palattella in the Erie Times-News that the federal government had approved 150 trucks of "high-level liquid nuclear waste" to travel from Ontario through Erie County on Interstates 90 and 79 on its route to a processing plant in South Carolina.
The reality is that the term itself, regulation, is politically-loaded, like most things in the public discourse. Regulations should not be viewed as a simplistic collective ("regulations are bad!") and should instead be viewed individually. What purpose does a regulation serve? Who benefits (and who doesn't) from an active or proposed regulation? If given the option between profits and doing the right thing, what choices will a corporation make? These are conversations that hark back to the Interstate Commerce Act of 1887 and continued throughout Franklin D. Roosevelt's New Deal, the regulatory laws of the Nixon administration, the deregulation under Presidents Carter and Reagan, and through the debates, arguments, and lobbying of today.
Since the East Palestine incident, Senators Sherrod Brown (D-OH) and J.D. Vance (R-OH) have proposed rail safety legislation. In explaining it, Brown argued that fines simply weren't enough of an incentive (those $6.5 billion in stock buybacks over the past two years for Norfolk Southern aren't helping with the perception). Brown and Vance's proposal demands increased safety requirements, new braking system rules, and two-person crews must be made mandatory. Prevention, after all, is preferable to reaction.
Accidents are inevitable. The goal is to ensure that avoidable ones do not occur. When they do happen though, communities must be prepared. Plans should be in place. Proper funding should be provided. Communication will be key.
The Erie County Department of Public Safety did not respond to requests for more information for this story, but the county has a web page dedicated to Emergency Management and another explaining the county's Haz-Mat Team, which in 2021 received a new Freightliner Command Bus. First responders also now have access to an app called CrewForce which provides "access to mission-critical information in real time." With cell phone availability, instructions could also be quickly communicated to the general public faster than in previous decades.
These incidents create understandable skepticism and distrust towards corporations, institutions, and bureaucracies, but they also provide an opportunity for bipartisan cooperation by our lawmakers — as long as citizens continue to put on the pressure, continuously, year after year, and long after the media circus wanes and attention moves elsewhere.
The shipment of hazardous materials via train is nothing new, nor is their frequent derailment. Learn more in this archived Erie Reader story from 2016 by Lisa Gensheimer entitled "Bomb Trains: Pipelines on Wheels"
Jonathan Burdick runs the public history project Rust & Dirt. He can be reached at jburdick@eriereader.com