Whiskey Daredevils Kick-start New Music Venue
The Cleveland Punkabilly band shakes up 'The Local' at Darcy's.
November 9, 2016 at 3:15 PM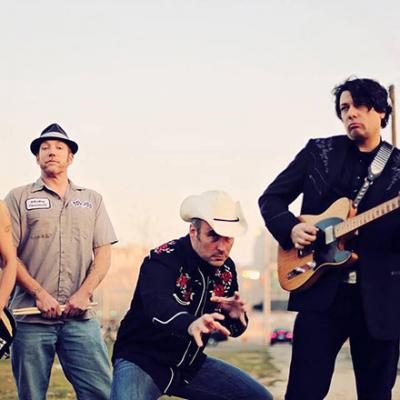 Saturday, Nov. 19
Anyone familiar with the Whiskey Daredevils knows what's in store: loud, raucous fun with plenty of luscious guitar licks. The Cleveland quartet is ready to bring their unique brand of country, rockabilly, and punk rock back to town. Their appearance here heralds the release of their latest full length, The Good Fight.
The band is made up of singer Greg Miller and drummer Leo P. Love formerly of the Cowslingers, joined with guitarist Gary Siperko of Rocket From the Tombs fame and Rebecca "Sugar" Wildman, former bassist for Lords of the Highway.
Throughout their 12-year history, the Daredevils have graced many an Erie stage. Soon, they'll be breaking in an new one.
A short time ago, Matt Boland (of Matty B & the Dirty Pickles, Potwhole, Pine Diary, etc) began hosting an open mic at Darcy's Pub and Grub on West 12th Street. A few conversations later, he was asked to help spearhead a new live music venue. Bruce Hoffman, one of the owners of Darcy's – who also own Bruce's Pub and Grub on Eighth Street – wanted to see what they could do together for the local music scene.
The downstairs section of Darcy's is now known as "The Local." Boland helped renovate the space, setting up a stage with curtains, a PA, and lighting. There's an ancillary bar, and no smoking downstairs, but you can still light up upstairs, where the main bar is located.
Boland explains the venue's intentions: "I'm trying to make it musically unbiased, to avoid cliques, and to have a different crowd every night potentially. For all of October, we had acoustic acts, and now in November, we're having full bands."
There's certainly a variety lined up, with bluesman Rodger Montgomery's band on Nov. 11, and Stephen Trohoske's Art Groupies on Nov. 12. Matty B & the Dirty Pickles will also play on Nov. 18.
"It can go from being an intimate setting where singer-songwriters have a place to showcase their music to a fun place for a full band," adds Boland. "Bands can have a new home where anyone can play." – Nick Warren