Why Franchise?
How chains link together with the local landscape
March 27, 2019 at 10:00 AM
By: Nick Warren
Chain restaurants, for better or worse, are a huge part of the American experience, and in turn, the Erie experience. There's a meme out there that asks a musician "so what's it like going on tour? You must see so many amazing places!" What follows is a bleak quartet of images, including one of a Walmart storefront and another of McDonald's "golden arches." This has become the true landscape of the American highway system in particular, and the familiar names and logos only seem to grow as you reach cities like ours, and the players become increasingly varied as you reach greater populations.
It seems like there's been an ever-present opinion that Erie has too many chains. It's an understandable feeling. Why does it feel that way? Chains do bend over backward to get you to notice them. Taking a glance down a busy street, the signs that "pop" the most tend to be the same, and mostly in red for that matter. Not only are they more ingrained in your memory by the sheer repetitive quantity, but they're systematically designed to do just that.
In 1952, Richard and Maurice McDonald wanted to make their new restaurant in San Bernardino, Calif. more eye-catching, and that catalyzed a series of events that led to a global phenomenon, the world's most profitable eatery, and unfortunately for the brothers, Ray Kroc. Maybe the 2016 film The Founder was right, and it's all really just about the name itself, but Kroc's controversial tactics helped to establish the brand as the global leader over the next few decades.
Now let's set one thing straight, there are chains, and then there are franchises. The aforementioned Walmart, for example, is not franchised; every store is run by the same giant corporation. Most franchises, on the other hand, are licensed to another company, or in some cases, an individual. Each franchisee pays regular fees to use another company's name, image, and more. "Franchises are built on the concepts of convenience, location and as much quality as they can produce at a reasonable or low price," explained Dale McBrier, co-owner of Lyndal Enterprises, the company that operates the region's Little Caesar's locations (18 locations in all, with 11 in Erie County).
Some franchise owners, like McBrier, will own and operate all or most of the locations of a store in a given region. Erie's first McDonald's opened in 1960, and was at the time owned by Albert Covelli. At one time, Covelli Enterprises was the largest franchiser of the restaurant. Today they own none, but they are the largest owner of Panera Bread stores in the world, including all four Erie locations (as well as our O'Charley's and the Millcreek Mall Dairy Queen).
Other franchise owners will run a variety of different brands, most notably exemplified by Erie's Scott Enterprises. Chris N. Scott, vice president of the company, voiced his take on our region's restaurant landscape. "I would say that opposed to people's perception, Erie does not have more franchise restaurants per capita than other cities of similar sizes. People say 'it's only franchises' and that's not correct," Scott noted.
According to citydata.com, he's right. At least as far as one type are concerned, availability of fast food restaurants is just below Pennsylvania's average — 6.48/10,000 vs. 6.72/10,000. For what it's worth, Orlando, Fla. topped the Datafiniti list for most fast food restaurants per capita, with a whopping 20.9 per 10,000 people. Pittsburgh, Cleveland, and Buffalo cracked the top 10 with 9.2, 9.3, and 9.7 respectively, lest we be fooled by Florida's tourist outlier. Of the top 20 largest fast-food restaurants in North America, Erie has 14.
"Erie is a tertiary — or third-tier — market compared to Los Angeles, Chicago, and so forth," Scott clarified. "These franchises try to penetrate all the markets, and it takes longer for certain franchises to get here than it would in bigger markets because they can also put more units up."
Not all restaurants are fast food, of course, though the vast majority of fast food restaurants are chains. Casual dining spots like Applebee's have become one of the main focuses for the Scott family; they own and operate all five locations in Northwest Pennsylvania. The decision of "where" and "what" to open up is one that's given the utmost attention, especially from those lending their name. "When you build an Applebee's for example, they will come in there and do a very exclusive study that says 'the territory of Erie can have up to five franchises,'" Scott explained. "The same thing is done with Marriott, Hilton, and so forth. So basically the amount of franchises in Erie is pretty proportionate to what their corporate strategy is. The franchises have to approve every single location, first of all."
There are certain realities at play when this kind of data is gathered. "There are also some franchises that Erie would never see," Scott noted. "They would never see a Cheesecake Factory, they would never see a P.F. Chang's, they would never see a Ritz-Carlton, and they would never see a J.W. Marriott. There are certain franchises that would not go here because there's not enough volume and the demographics just would not work." Despite how much the public may voice that they want a given business, the truth is that for some things — it's just not in the cards. Others, however, eventually do pop into Erie. In September of last year, it was announced that a Sonic Drive-In was in the works, to be built at the former Sears Automotive location near the Millcreek Mall. Commercials for the restaurant have been airing on our local television stations for years, after all.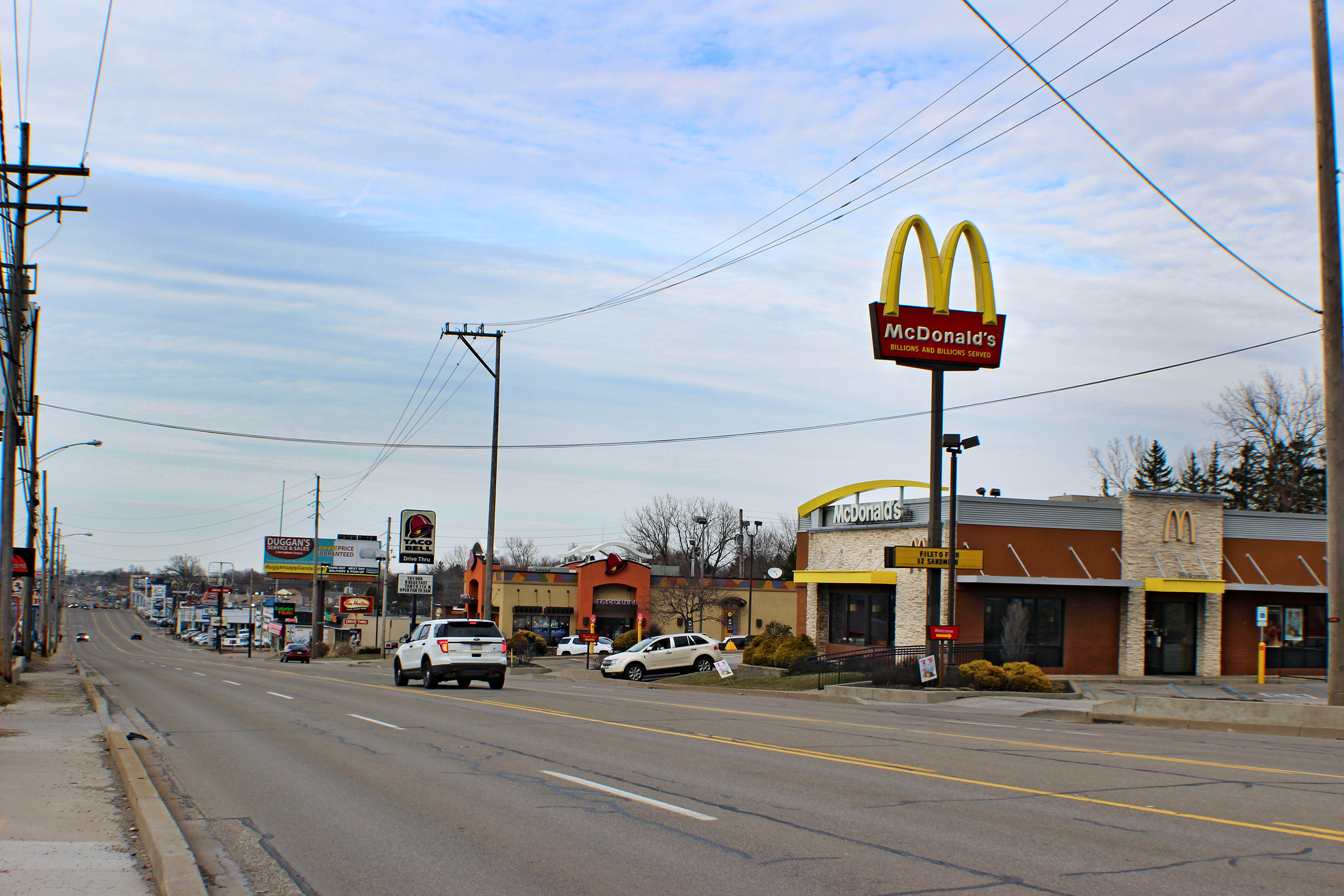 Erie plays host to 14 of the 20 largest fast food restaurant franchises, including Taco Bell and McDonald's, with Upper Peach locations pictured here.
"We get requests every day for that stuff. And interestingly enough, all franchises are obviously different. Some of them are very much easier to work with, and reasonable, and other ones can be more challenging, demanding, and difficult," Scott reasoned.
Christina Vogel went on her own journey when she decided to open up her new business. Vogel got her start at Monical's pizza, a regional chain headquartered in Illinois, working there through grad school. After her husband took a job at Erie Insurance and the couple headed to Erie, she had Monical's conduct a feasibility study to start up a franchise here. Pennsylvania was too far away, the company decided. There were, and are, no stores in all of Ohio. But one small Ohio chain not only seemed feasible, but was also eager to work with Vogel to start an Erie location. Donato's Pizza was founded in Columbus, and though it was owned by McDonald's between 1999 and 2003, it was sold back to the original founder and his daughter. "I really like their focus on community, being an involved part of the community," Vogel admitted.
To someone wanting to open their own business, starting their own franchise carries a lot of benefits. "You're buying an established business that has a track record," wagered Scott.
"By virtue of being tried and tested all over the country, franchises work out the bugs and streamline into efficiency machines. That's what we like about them, and that's what we don't like about them," confessed McBrier. He quickly noted that "even though they are theoretically safer, franchises fail at a large rate all over the country." Scott also pointed out that "when you go into an Applebee's ... they're a national company as everybody knows and the advantage of it is that they have incredible national advertising, they spend hundreds of millions of dollars advertising on the NFL, and network TV, and a local person could never afford that." Vogel agrees, voicing that "I don't have to trip over some things. I don't have to price 85 different vendors." Relieved, she noted that "it does take away some of the frustration of getting started."
Businesses large and small know that community involvement is important to a business' success, especially with the growing proclivity for supporting local businesses. Erie, in particular, seems to hold their locally-run businesses in high regard. "It's more fierce a protection of their own," Vogel articulated. "I feel that 'buy local' isn't as much in the vocabulary of Central Illinois as it is here."
Local franchises around the city host multitudes of community-based events. From the regular live, local music at Dickey's Barbecue, to fundraisers hosted by Blaze Pizza or Buffalo Wild Wings, these places are getting involved with the city around them, and seem eager to do so.
Pointing out their efforts with the MS Walk, the YWCA, the Erie City Mission, the Blue Coats, and the Benedictines, McBriar concluded that these efforts are "not for the advertising, but for the service."
Vogel mentioned Donato's ongoing partnership with The ExpERIEnce Children's Museum, in addition to working with the Lake Erie Arboretum at Frontier and other organizations and nonprofits around town.
Scott clarified that "what they don't realize is that usually, it's a local owner, local employees, local people working on the construction of it, local labor, local snowplows — a lot of it's local food." He was quick to note, "I love to see local restaurants succeed, and I wish we had more."
McBrier agreed, saying that "we want everyone to know that Little Caesars, though a franchise, is local. And so is Dickeys BBQ. Except for franchise fees all the money from these operations stays in Erie and circulates."
"We're grounded here, we live here and we want to see this community thrive," Vogel proclaimed. "We want to be considered a part of it because we are part of it."
Nick Warren's first job was at a Taco Bell, as was his latest meal, probably. He can be reached at nick@eriereader.com.