Why I Traveled to Standing Rock
An account from the front lines of the North Dakota protest  
December 7, 2016 at 3:15 PM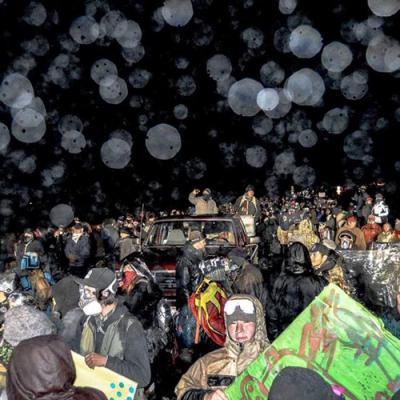 When I first heard about construction of the Dakota Access Pipeline, it was mostly through friends sharing articles and livestream videos on Facebook. I remember seeing a picture of protestors confronted by an array of armored tanks and riot police, and a picture of a Native American man who had been shot in the face and was bleeding profusely from a rubber bullet. All because these people want their rights to be honored, and their water – which is sacred above all – to be protected from what is known as the Black Snake of American corporatism and oil-drenched greed.
Anybody who is familiar with the real history of racism and slavery in the United States of America is aware of the long record of genocide, mistreatment, and general dehumanization of the Native American people, who were the first Americans, and who have suffered the longest under the inextricably cruel "invisible hand of the market." We have so much to learn from them – and yet here we are, in the first quarter of the 21st century, still treating them with the same total disregard for basic human dignity as we did back when we thought that the earth was flat and the edge of the world's oceans were marked by the presence of giant sea monsters.
The fact is, the environment has been suffering from our abuses for as long as the Native Americans have, and we are now living in an age of rapid and unsustainable growth. All because of greed: the greed of oil companies and a handful of extremely rich people (who don't pay their taxes and take huge subsidies from the government, yet villainize poor people on welfare). Decades of environmental abuse, neglect, and unsustainable growth are, naturally, catching up to us. We are all now beginning to suffer those consequences, even at the expense of wealthy politicians and the corporations they lie in beds with. It is not just the Sioux tribes of the Standing Rock Reservation that face the venomous bite of the Black Snake – it is all of us, at some point or another, sooner or later.
Understanding the symbiotic relationship that joins us all, I realized I had enough money saved and time off from my job to donate that money and pay for the gas to get to Standing Rock. I decided, after talking to friends, mentors, and family throughout October, that I was meant to go out there and do my part, whatever that was.
I met many wonderful people during my stay, and the sense of spirit and community was unlike anything I had ever witnessed or been part of before. Strangers became like family. People of all different backgrounds, ages, walks of life, and beliefs came together to work and support one another.
As it turned out, my purpose was to stand with the Water Protectors during the Sunday, Nov. 20 protests which have now gone viral on social media due to the use of water cannons, tear gas, concussion grenades, and rubber bullets against protesters.
I was there, on the front lines. I saw firsthand the use of water cannons against protesters long before any fires were lit. I choked on tear gas as hundreds of people around me chanted "water is life." I witnessed people being shot in the faces and hands by rubber bullets. And I watched as medic trucks on the bridge were targeted while trying to safely remove those who were wounded, and who were suffering hypothermia from the prolonged use of cold water cannons in the freezing North Dakota night.
I did not witness one single act of violence from one single protester – and certainly nothing that warranted the use of such violent treatment at the hands of police dressed for war.
I did not witness one single act of violence from one single protester – and certainly nothing that warranted the use of such violent treatment at the hands of police dressed for war.
I traveled there so that I could share my story, and testify that the statements released by the Morton County Sheriff's Department to the media are blatant lies. I survived so that I could witness the truth and bring it home. I was prepared to get shot that night, if that's what it would have taken to convince people to wake up and do something about this. It could have been me that night who lost my hand to a concussion grenade, forever losing my ability to play a guitar. But I went to Standing Rock and came back to tell you – whoever is reading this – that this is real, and this is coming, and this does affect us all.
Mni Wiconi. Water is life.
On Dec. 4, the Army Corps of Engineers announced that they will not grant the permit for the Dakota Access Pipeline to be drilled under Lake Oahe on the Missouri River. The historic victory has been celebrated by many, but with the understanding that water protectors and supporters of indigenous rights must "remain vigilant" moving forward. 
Corbin Fowler is a local activist, musician, and recent graduate of Edinboro University of Pennsylvania. He can be reached at thebigcorbowski92@gmail.com.