Wickedly Wonderful Feminism Movements
How tales of old protests highlight new changes to be made in feminism
October 25, 2021 at 2:19 PM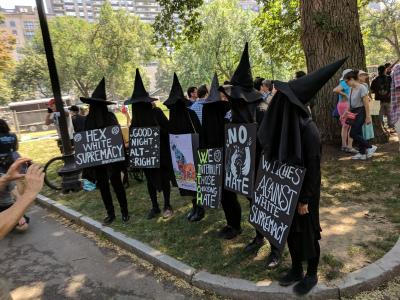 'Twas the Halloween of 1968, and black shadows seeped from behind buildings, pouring into the streets of the city. The shadows became forms, dressed as witches, inspiring terror and awe as they came to a halt. Carrying faux roasted boar heads, the group requested an audience with Satan at the New York Stock Exchange as they ordained:
Wall Street, Wall Street, 
Mightiest wall of all street,
Trick or Treat
The corporate elite
Up against the Wall Street
The first of several performative activism "zaps" to come, this protest united what became known as the Women's International Terrorist Conspiracy from Hell (W.I.T.C.H.)
Throughout history, the "witch" has taken on several different connotations, but W.I.T.C.H. took it to a new level, as part of the fight for gender equality. The group was created from a surge in interest in feminist activism following a Miss America protest, wherein picketers compared the pageant to a livestock competition.
The name serves as a reference to witches throughout history — those scapegoats who have taken the blame for the ills of society, portrayed as the ultimate female transgressor. Although their movement died out fairly quickly, their message continues on through the work of activists today as women find themselves being condemned of faults not their own.
Vying to win a seat on the Erie County Council, Lydia Laythe speaks from both her political experience and her work as a trauma therapist.
"It's easier to blame and scapegoat someone else — particularly someone who doesn't have a voice in the conversation or a seat at the table," Laythe said. "It's the reason why wealthy, conservative white men like Donald Trump blame immigrants or people of color for the ills of the working white poor. It's a lot easier to blame someone who's not there than to take responsibility and take accountability ourselves for the issues we face."
During the 1960s and '70s protests, radical feminists gave power to middle-class white women using the witch as a symbol, doing exactly what its opponents accused it of — distorting traditional values that devalue women.
"These sorts of historical beliefs are still embedded subconsciously in our culture, in our government, and in the ways we operate," Laythe vocalized. "It's really easy to miss how our beliefs and our assumptions have not evolved as our medical and scientific knowledge has evolved. We still hold onto these beliefs that were made out of total fallacy." 
Laythe explained that many of these past beliefs relate back to Aristotle's teachings. In De Generatione Animalium, Aristotle explained the woman was merely a means to incubate the human form that the male created. If the offspring was born female, Aristotle referred to it as "imperfect" and the female was blamed for not properly nursing the offspring in the womb. This theory was adapted into the teachings of famous philosophers such as St. Thomas Aquinas and St. Augustine, affecting religious teachings and the basic understanding of reproduction. 
Joan Chittister, a Benedictine Sister of Erie, addresses these outdated and largely misunderstood religious beliefs in her 2019 book, The Time is Now: A Call to Uncommon Courage.
Chittister describes how male ministers chose rigid compliance with church laws to remain superior, powerful, and primary, when, in fact, Jesus healed the outcast and enemies, and gathered men and women equally to his side. She continues on to say the church to this day disposes of women as secondary to God's plan for discipleship, despite the model of Jesus and his openness to women as leaders.
In her book, Chittister declares: "There is a moment in life … that we begin to understand, too, what da Vinci meant when he warned us, 'Nothing strengthens authority so much as silence.' Then our simpering silence ends and the prophetic spirit in us rises. As it is always meant to do. At that moment, we become free." 
Although new waves of feminism have emerged since the '60s and '70s, many of the issues surrounding reproductive rights and diversity are still present in modern feminism. Many of the movements created in the past were based on the needs of white women.
Jasmine Flores, running to be the first Latina elected to Erie City Council, said she limits her interactions with activism to those who are inclusive of all identities. "We have lots of work to do in Erie to be inclusive and diverse," Flores explained. "I personally limit my interactions with the demographic that practice old school mentalities and refuse to step in line to changing times before they run out of time. I focus on engaging with my community to bring us together to fight for our needs to be met as a unified front."
Laythe commented on the subject as well, saying that today, feminism is intersectional. "I think the previous approaches to feminism were a little biased," Laythe observed. "We need to be doing more to support everyone. As we grow and evolve as a movement, I think it just needs to be bigger. We're learning that everything is interconnected ... and if we are truly trying to empower women, or to empower marginalized people, we have to empower everyone."
As for the kind of performative activism W.I.T.C.H. practiced, Flores believes there's no place for it in today's era as there are many problems in the Erie community that people could put their efforts toward.
The tricks of old are turning to tricks of the new as even the symbol of the witch looks to change the narrative and see women's power as a good thing. From Glinda the Good Witch of Oz, to Disney's Maleficent, to Hermione Granger, and countless more, the movement toward equality is still only growing larger, and as Mike Roeder once said, "It's better to build a longer table than a taller fence."
Tricks and treats aside, make this Halloween a little more magical, no matter witch cause you fight for.
Chloe Forbes can be reached at cforbes@eriereader.com