Wonder of Oneders
At 25, Erie celebrates That Thing You Do!
September 3, 2021 at 2:00 PM
The movie musicians in *That Thing You Do! are proud to be from "Erie, PA!" even though the movie was filmed in sunny California and premiered in Toronto, Canada.
Now, 25 years after Tom Hanks wrote, directed, and starred in the Erie-centric film, we will get our turn in the limelight.
Details about how Erie became the inspiration for *That Thing You Do! are a bit fuzzy. 
In a February 1996 Erie Times-News story, a 20th Century Fox publicist said that Hanks was driving to the Shakespeare Great Lakes Festival in Cleveland in the 1970s when he stopped here to eat. At other times, Hanks said he passed through Erie in 1982 or 1983.
At any rate, Hanks "never forgot the town," the PR woman said. "He remembered it as a piece of Americana."
So what could be more "Americana" than celebrating the quarter-century anniversary of *That Thing You Do!" at an Erie SeaWolves baseball game on Labor Day weekend?  On Saturday, Sept. 4, three of the four actors from The Wonders (Tom Everett Scott, Steve Zahn, Johnathon Schaech*), the one-hit Erie garage band, will reunite at the Erie vs. Harrisburg Senators game.

[Ethan Embry was originally scheduled to appear as well, but was forced to cancel on Aug. 31]
Pulling off this hometown-rich promotion has been a labor of love for Greg Coleman, Erie SeaWolves president. The feat required great attention to detail, in much the same way *That Thing You Do! demanded painstaking work to make Orange, Calif., where much of the film was shot in November 1995, resemble Erie in the summer of '64. 
Hanks finally got very specific about why he set his film in Erie during a press conference at the Toronto International Film Festival in September 1996, after his movie premiered there.
"I spent some formative years in Cleveland, Ohio," Hanks said, according to a Sept. 15, 1996 Erie Times-News story. In October 1982, he drove to Cleveland after making a TV movie in Toronto. "And I was bored and I got off the beaten path. I drove through Erie and stopped at an Octoberfest … I had half a stein of beer. I walked around the grounds, threw some money in the carnie booths, and I just kind of dug Erie, and ever since then, it sort of stayed in my head."
Erie might have been lodged in Hank's brain, but Pennsylvania Gov. Tom Ridge failed to soften Hank's heart when Ridge flew to Hollywood in March 1996 to ask Hanks to host a premiere of *That Thing You Do! in Erie. Ridge pitched the idea as a way to raise more money to restore the Warner Theatre, in addition to the $7 million that Ridge proposed for the project in the state budget. That September, Hanks turned Ridge down, although Erie did receive two sneak previews of the film in October 1996, before its nationwide release – at Cinemark's Tinseltown theatre, not the ornate Warner.
"You've got to be quick with me. I'm from Erie, PA," guitarist Lenny Heise (Steve Zahn) quips in the movie. It's ironic, then, that it's taken 25 years (and $26.7 million) to restore the Warner to its original glory.
But Erieites are generally sincere, not sardonic, so it is also good news that Wonders' appearance at the SeaWolves' game includes a fundraiser. Game-worn jerseys with the Wonders' neon logo will be auctioned to benefit NoticeAbility, a nonprofit that helps young people with dyslexia reach their full potential and gain self-esteem. Johnathon Schaech, who plays singer-songwriter James "Jimmy" Mattingly II in the movie, serves on NoticeAbility's board.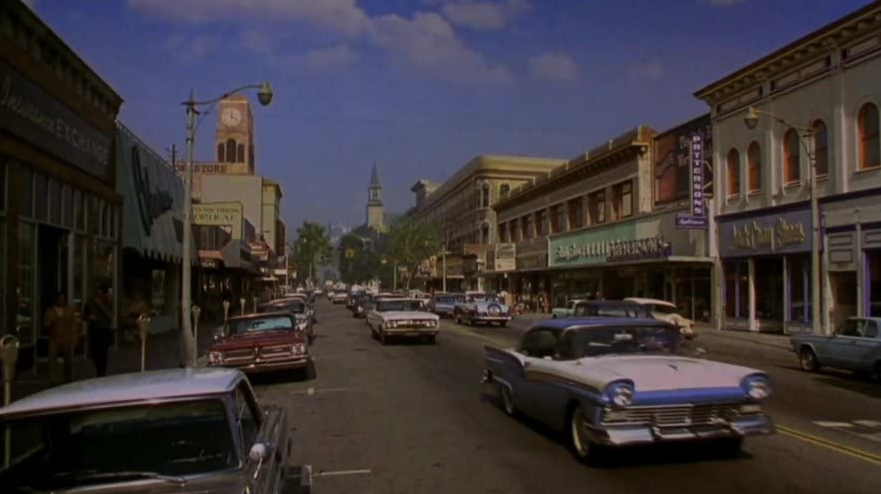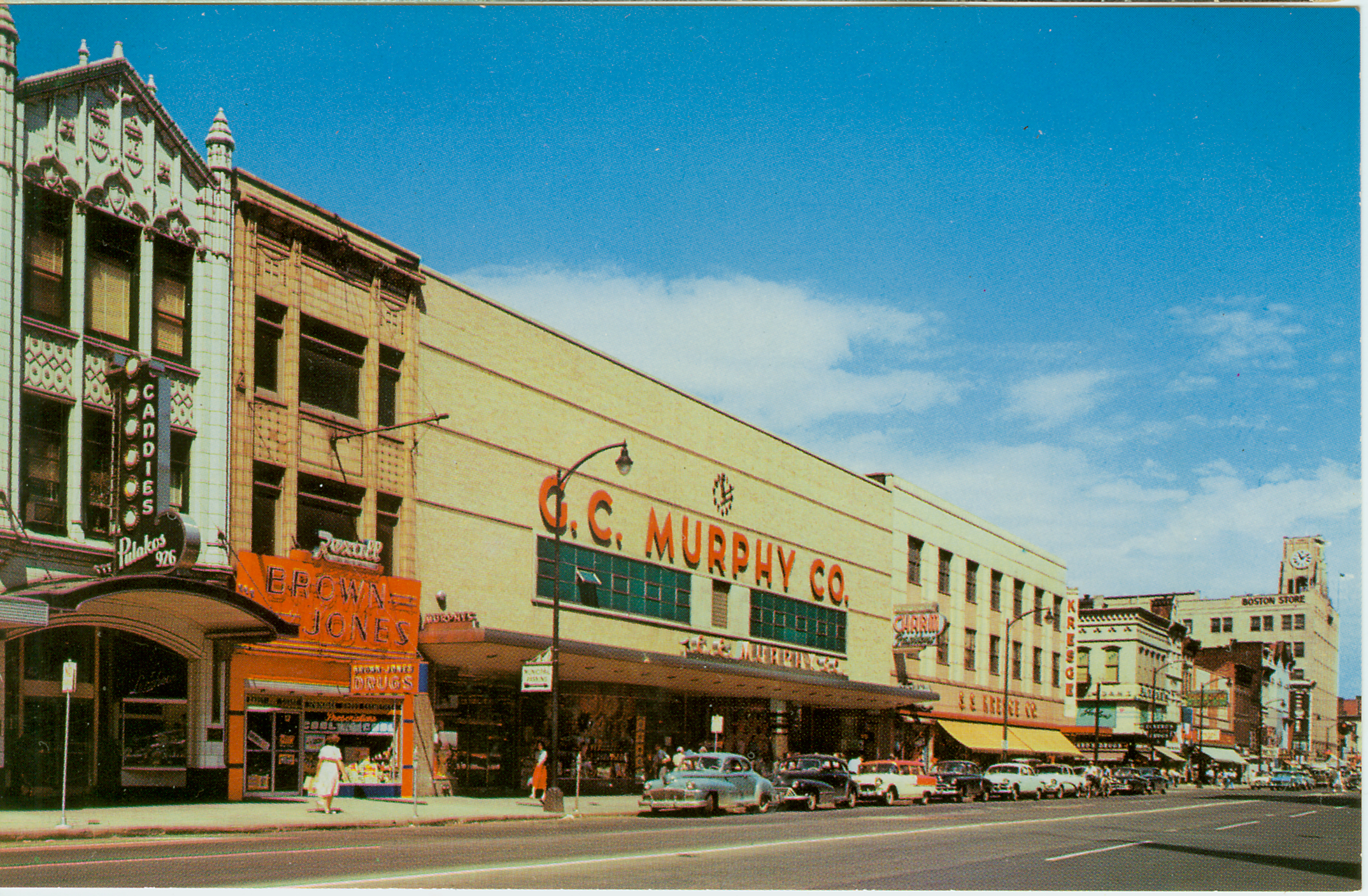 Great care was taken on the set of That Thing You Do! to replicate the look and feel of 1960s Erie — in Orange, Calif., where the film was shot [at left], compared to a photo of Erie by Jerry Skrypzak, a retired Erie police lieutenant, local historian. 
Tying the Wonders reunion in Erie to a good cause is fitting, because *That Thing You Do!" is built on upbeat vibes, starting with its feel-good plot: A garage band ascends from humble beginnings in Erie to raucous yet fleeting fame, thanks to a fluke. Guy "Shades" Patterson (Tom Everett Scott) agrees to play drums with the band at a Mercyhurst College talent show only because the regular drummer (played by Giovanni Ribisi) busted an arm by leapfrogging over parking meters along State Street.
Jimmy wrote the movie's titular song "That Thing You Do!" as a ballad. But Guy, stuck in a humdrum job at his father's appliance store in Downtown Erie, unleashes his percussion prowess at Mercyhurst and the college crowd goes wild. Lenny and the Bass Player (Ethan Embry, who is never referred to by name, though in the credits he's winkingly named as T.B. Player), dig Guy's snappy rendition. So do the patrons at an Italian restaurant near the airport when the band is booked there.
The band inks a record deal, signs on with Mr. White (Tom Hanks) as their manager, joins a cavalcade of musical groups touring state fairs, lands a spot on an Ed Sullivan-like TV show in Los Angeles, then splits up. Still, there's a happy ending, because Guy gets the girl, Faye (Liv Tyler).
It took months for Guy and Faye to confess their love, but Erie embraced the idea that we might become a little Hollywood even before we knew about the Hanks film.
In summer 1995, then-Pennsylvania Secretary of Commerce Tom Hagen toured Erie with T. William Hanson from the Pennsylvania Film Bureau. "If you ever wanted to find Southern California in Erie, that's it," said Hanson, referring to possible location settings such as the Griswold Plaza Post Office and Waldameer Park, in a July 28, 1995 Erie Daily Times story.
In mid-October that year, Hanks announced that he would make a film set in Erie. "Erie Goes Hollywood" exclaimed a newspaper headline.
Alas, things didn't pan out as anticipated. In November, producers said the movie would be filmed in Orange, Calif., with storefronts transformed to look like Woolworths, Hess Optical, Stanley Brothers Furniture, Isaac Baker & Son, and the fictitious Patterson Appliance Store in downtown Erie. Filmmakers needed to shoot in warm weather, not during an Erie winter, they said.
We got over any disappointment. All that mattered was that this film was ABOUT Erie. Or was it? In September 1996, when Hanks said that he wouldn't premiere his film in Erie or even attend two early screenings here, Tim Chambers, head of the Pennsylvania Film Bureau, threw another curve ball to Erie.
"Only a couple of minutes in the movie identify Erie," he said. "It's a road picture."
Chambers was mostly wrong. Erie dominates the first half-hour of the film, and toward the end, after Jimmy ditches her, a dejected Faye says she's moving back to Erie from L.A.
But in some ways, Chambers was correct. *That Thing You Do! isn't a documentary about Erie. Instead, it resonates with all kinds of viewers.
Coleman, 47, doesn't recall when he first saw *That Thing You Do! but said, "It's a movie I always enjoyed" long before he moved to Erie from Trenton, N.J., to run the SeaWolves. 
You don't have to be from Erie to understand the thrill that band members and Faye felt the first time they heard *That Thing You Do! on an Erie radio station. Coleman felt that kind of exuberance the first time he saw his team on Sports Center, he said. That moment also rings true for anyone who hits a home run. For me, that was seeing my first newspaper byline, at age 16.
Erie musician Jamie Shaw, 57, loves *That Thing You Do! for several reasons.
"It became my favorite movie, because it's about music, it's about Erie history, but also ironically, I lived the '80s version of this movie," said Shaw. In 1985, his heavy metal band, Satin Steel, cut a record that got radio airplay and climbed the charts. "We decided to move to California, we played out there, (then), as it fell apart with the Wonders, it fell apart for my band," he said.
"I ended up coming back to Erie. I had gotten out of the business for a while, to be a family man," he said. After he and his wife Jill raised their two daughters, "I met some new friends who are musicians and we put a band together. We couldn't think of a name. I had just watched *That Thing You Do! and said, 'What if we call ourselves The Oneeders?'" The movie band settles on calling themselves The One-Ders, but after too many people mispronounce it as The Oneeders, they adopt "The Wonders" name instead.
To avoid any copyright issues, "We spell it O'Needers, like we are Irish," said Shaw, who has played drums with his band for 12 years.
Audiences don't always understand the allusion. "I'll pause and say, 'Don't you get it? Did you ever see the movie *That Thing You Do?'"
Baseball and movie fans who hear Shaw and the O'Needers play during pre-game festivities at the Sept. 4 SeaWolves' game should be well-versed in the meaning of the band's name, though.
Other Erie rock 'n rollers might also be tickled that Erie's O'Needers and the celebrity Wonders will appear in the same venue, because there's additional Erie history wrapped up in this story.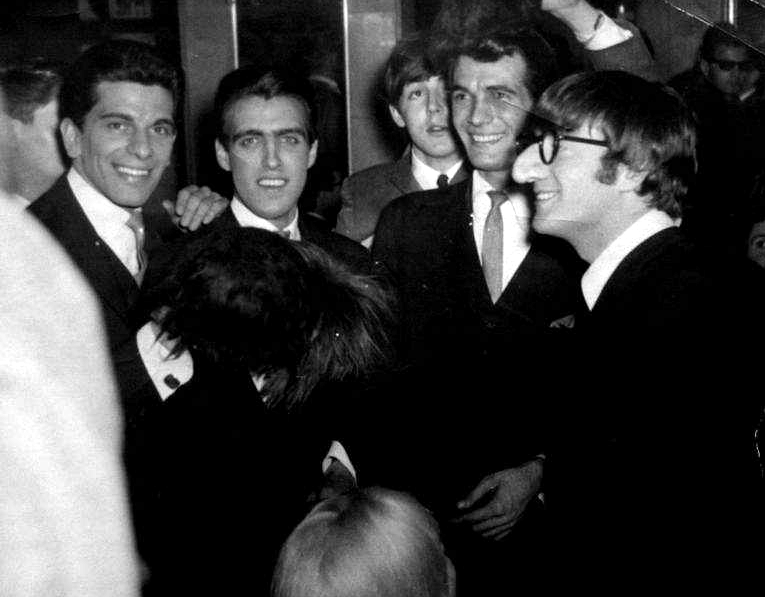 The Fabulous Epics with the Beatles at the Peppermint Lounge in New York City on Feb. 9, 1964. Pictured from left to right are Paul Yoculan, Loren Cope, Paul McCartney, Vinny Frazzini, and John Lennon.
Some will recall that *That Thing You Do! sounded surprisingly similar to the real-life story of The Fabulous Epics (later The Younger Brothers). The Epics started at the Sons of Italy in Erie before landing a three-year gig at the Peppermint Lounge in New York City. Band members Paul Yoculan Younger, Vinny Frazzini, Larry "Bugsy" Cope, Neal Myers, and Walter Slivinski of Erie goofed around with Paul McCartney, John Lennon, and Ringo Starr at the Peppermint Lounge after the Beatles played the *Ed Sullivan Show on Feb. 9, 1964.
The Younger Brothers endured for years in the music industry. In contrast, The Wonders only lasted a few months. Lenny becomes a casino manager. The Bass Player serves two tours in Vietnam. Jimmy makes three Gold albums with his new band, now punnily named the Heardsmen. Guy and Faye marry, have four kids, move to Bainbridge Island, Wash., and start the Puget Sound Conservatory of Music.
In my alternative ending, the Pattersons move back to Erie, because it's a good place to raise a family and still pursue a music career.  Shaw, from the O'Needers, can attest to that. "The Erie music scene is made up of many musicians who played 30 years ago who are still doing it," said Shaw. "I'm amazed at all my colleagues still performing."
I also picture Lenny and The Bass Player coming from the same mold as The Epics/Younger Brothers. In a 1996 Erie Times-News interview, Ray Tubbs, manager of The Younger Brothers, described the band's ethos: "At that time, we were all young and poor. Our dream was to be successful and come back to Erie and build our parents new homes and make it easy for them."
In 2014, the Erie Times-News asked Paul Yoculan Younger about the tabloid show *Hard Copy, which had pursued an expose claiming that Hanks had ripped off the Younger Brothers' story. "They wanted me to go after Tom Hanks for stealing the idea," said Younger, who died in 2019. "I said, 'You're kidding. Why would I want to do that? I never got to know him, but I know he's a good guy and gave our town some exposure."
And that's no shade.
Liz Allen will be doing that thing she does, working as an Erie SeaWolves' usher, on Sept. 4. You can reach her at lizallenerie@gmail.com.
If you go
A limited number of tickets remain for the Sept. 4 Erie SeaWolves game vs. the Harrisburg Senators, which will feature the four actors who played the Wonders in *That Thing You Do!
Game time is 4:05 p.m. and the first 1,000 fans will receive SeaWolves sunglasses like the ones Guy "Shades" Patterson (Tom Everett Scott) wore in the movie.
Tickets for a meet-and-greet buffet and for an autograph session with The Wonders are sold out, but there will be plenty of chances for all fans to see the band members. The Wonders will throw out the ceremonial first pitch, sing "Take Me Out to the Ballgame" at the seventh-inning stretch and participate in other activities inspired by the film.
The O'Needers, an Erie band whose name plays off the original name of The Wonders in the film, will play at the pregame festivities. Learn more about The O'Needers on the band's Facebook page or at theoneedersrock.com.
After the game, fans can stay to watch *That Thing You Do! on the UPMC video scoreboard.
Roll the credits
The Erie County Historical Society (now part of the Hagen History Center) deserves a big thank-you for the research its staffers did in 1995 and 1996 for *That Thing You Do!
Annita Andrick, the Historical Society's archivist and librarian, and Kelly Loell, library and archives assistant, provided more than 70 slides of Erie taken between 1963 to 1966, along with ads for beer distributors, a menu from the Home Restaurant, ads from Erie's newspapers, and names of pop bottling companies to History for Hire, a family-owned prop business in North Hollywood, Calif., and to 20th Century Fox.
"We are interested in anything that will add touches of authenticity to the film and give viewers a sense of what it was like to live in Erie in 1964," Sarah Bowen, from 20th Century Fox, wrote to Andrick.
Bowen listed locations likely to appear in the movie: appliance store, pharmacy, bars, lounge, diner, middle-class house and garage, dentist office, driving range and residential streets. In true Erie fashion, someone crossed "diner" off Bowen's list and replaced it with "dinor."
Andrick also suggested four people as possible sources: Thomas "Tippy" Dworzanski, owner of Park Place and Sherlock's; Mario Bagnoni, retired detective, Erie City Councilman and musician; Barry Grossman, restaurateur (and later Erie County Executive); and Mr. Pulakos (no first name) from Pulakos Chocolates.
WQLN also deserves a shoutout for providing two documentaries to the film studio, including one with video footage of the Boston Store.
"We pride ourselves on historical accuracy," said Jim Elyea, president/owner of History for Hire in North Hollywood, which tracked down many props for the movie, including the microphones, the musical instruments and the parking meters that the band's original drummer tried to hurdle before falling and breaking his arm. Watson's Soda Fountain and Café in Orange, Calif., became Watson Rexall Drugs in Erie for the film. Elyea, who is the author of *VOX Amplifiers: The JMI Years, said that when he visited the retro restaurant a few years ago, it still had "That Thing You Do!" on the jukebox.
Greg Coleman, president of the Erie SeaWolves, also did detailed research to prepare for the baseball team's promotion featuring The Wonders on Sept. 4.
Sketching out ideas on his computer for team jerseys to match the Wonders logo with the exact colors was a challenge, Coleman said. The SeaWolves then had to get permission from Disney, which owns Playtone, to duplicate the logo for the jerseys. 
Sad note
Erie SeaWolves President Greg Coleman and his staff had tossed around the idea for a baseball game promotion tied to *That Thing You Do! for several years before it came to fruition.
The idea to move forward started anew with a series of tweets on April 1, 2020, during the COVID-19 shutdown. If the idea fell through, the SeaWolves could say it had all been an April Fool's joke, Coleman said.
But then Coleman got the devastating news that same day that Adam Schlesinger, who composed "That Thing You Do," was critically ill with COVID; Coleman offered prayers for his family and friends. A radio deejay in college, Coleman knew Schlesinger from his days with the band Fountains of Wayne. When Coleman learned later on April 1 that Schlesinger had died, he extended condolences to actor Tom Everett Scott, saying that Schlesinger "wrote a great song" and promising that the SeaWolves "are absolutely going to honor his work."
Bonus
Mercyhurst University will screen *That Thing You Do! on a community movie night as part of the festivities for the inauguration of Kathleen Getz, Ph.D., as the university's new president.
The movie will be shown at 7 p.m. on Thursday, Sept. 30, at the Mary D'Angelo Performing Arts Center. It's free but you must register at mercyhurst.edu/presidential-inauguration.
Mercyhurst has a special attachment to *That Thing You Do! because it's the setting for the talent show that launches The Wonders into big-time, albeit brief, musical stardom.
"I think people are generally proud of the shoutout Mercyhurst gets in the movie," said Sean Cuneo, director of marketing for Mercyhurst University. "I'm often surprised at how many kids today have seen it and enjoy it."
Alert Erie moviegoers, though, get a chuckle, because despite careful research by the filmmakers to create an accurate portrayal of Erie, the movie shows the Gannon University colors, gold and maroon, instead of Mercyhurst's green color. David Frew, scholar-in-residence at the Jefferson Educational Society, said the talent show looks like it took place at a Gannon student hangout called the Scrounge, in the basement of Beyer Hall.