You Ought to Know: Kevin-John Jobczynski
From doodling dinosaurs in grade school to painting as a professional artist with Disney, Erie Celebrity Sports Artist Kevin-John is someone you ought to know.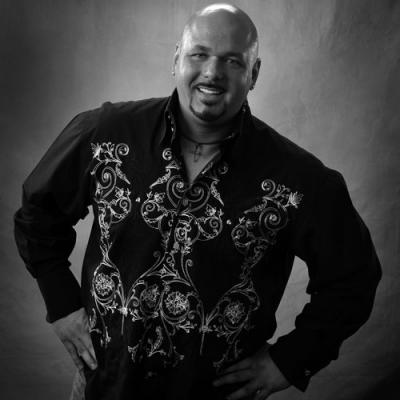 A buzz has started outside a small square room in The Ambassador Banquet & Conference Center, with several pairs of eyes peeping in to catch a glimpse of a rather animated athlete being interviewed by JET 24's Craig Smylie.
Standing with the local sportscaster is Pittsburgh Steelers free safety Ryan Clark. The hard-hitting defensive back is pretty loose with the different media members in the room, joking around before signing autographs at the 10th Edinboro University Sports Memorabilia Auction with wide receiver teammate Antonio Brown. The Steelers stars are two of the special guests for the event, scribbling down their John Hancock's on a special Clark-approved poster created by the third man sitting at the signing table, celebrity sports artist Kevin-John Jobczynski.
"It's pretty sweet," Clark says, as he plants his signature beside his Kevin-John-crafted likeness."I think he made my muscles very representative of who I am – they're very swole. He always does a great job. To have somebody like him involved with this event is huge for this area because he's a guy that's from here and he loves it."
This isn't Kevin-John's first foray into the world of sports. Far from it, in fact, as the Millcreek-bred artist has worked with a SportsCenter studio's worth of professional ballplayers, from Steelers greats "Mean" Joe Greene and Jerome Bettis to NASCAR star Dale Earnhardt, Jr. Heck, even ESPN itself has contracted him for his art. Still, all success stories have a beginning, and appropriately, Kevin-John's sports-art career got its start due to Edinboro's fundraiser.
"Way back in the mid-'90s was the first time that they had a sports memorabilia auction and my all-time favorite athlete was Rod Woodson, and he was coming to be the guest signer at the auction," Kevin-John says. "I hadn't really done anything sports-related back then at all, maybe just a few pieces for personal consumption."
It may come as a surprise, but despite all of his experience with sports art, Kevin-John isn't a huge sports buff, save for his love of football. Before the Sports Auction, Kevin-John was more interested in landmark art, bringing in some cash flow with his craft, but not enough to pay all of the bills. The McDowell High School graduate eventually contacted Edinboro about tickets, offering to donate some of his work to benefit the auction and to provide a gift for his pigskin hero. It was this gesture that helped put him on the sports-art path.
"Rod really liked the piece, and he asked me to help him carry it out to his car when the [Auction] was done," Kevin-John says, recalling the memory fondly. "We talked, and he said, 'I'm opening up a restaurant in Pittsburgh, and I'd like to have a portrait of myself playing football in the restaurant. Would you be interested in doing that?'"
Eventually, Rod would go on to show Kevin-John's handiwork to his teammates, which led to more projects for the artist, oftentimes for trade – an autograph here, a jersey there. However, even with new high-profile clients contracting him for work, Kevin-John couldn't yet call art his primary career. Still, for someone that discovered his love of drawing early on, it was a step towards turning that passion into a career.
"I've always wanted to draw, that was always my thing," Kevin-John says. "I don't know the reason; it's just something inside of me. When I found out that a pencil or crayon or marker could make something out of a piece of paper, I wanted to draw things that I like. When I was a kid, it was Batman and dinosaurs and 'Star Wars.' For some reason, I just wanted to replicate those things on paper."
The goateed artist talks openly of his past. At the Sports Auction, he warmly greets everyone that approaches, his muscular arms reaching out to shake the hands of those that approach him. He wasn't always quite as gregarious as he is now, something that his art helped change.
"I was socially awkward as a real young kid, like a grade-school kid," Kevin-John says, unexpected words from a man that was surrounded by Auction-goers in The Ambassador. "I didn't necessarily know how to communicate very well with other kids and that sort of thing, but as soon as I would start drawing, I would have 12 kids huddled around the table watching me. I realized really early that if I drew a dinosaur better than anybody else in the classroom, that's pretty cool, so I kept doing it."
Fast-forward to the late-'90s and Kevin-John stayed true to his word, keeping one foot in the art world as he planted the other in what some naysayers deemed "real jobs." He worked in advertising, he sold cars, and he worked in radio – all while he pursued his dream career on the side, despite one boss telling him to give up on art and beg his parents to take him back.
Eventually, he did leave something behind.But it wasn't what his boss suggested.
"I realized that until I made [art] a full-time career, it wasn't going to become a full-time career," he says. "I took the leap of faith and left my job and took the shot. I worked my ass off, starved, almost lost my house, but I survived, eventually started eating again, and now it's more wonderful than ever."
Now the Millcreek man has built up an impressive resume. It's hard work, with portraits taking roughly 80 to 100 hours to complete, often forcing Kevin-John into 16-hour workdays to complete a commission on time. Yes, there are times where he isn't always enthralled with his situation, but when he recalls the multitude of unloved part-time jobs – from selling ads to whipping up graphics – he remembers how special his career is to him.
Of course, a recent contract with Disney certainly hasn't hurt his morale at all, although if it weren't for a friend's insistence that he submit his work to the company, he wouldn't be working with the massive corporation. Despite his doubts, Kevin-John ended up being chosen by Disney and now gets to work with the company his idol founded.
"It's like a dream come true," he says, the joy evident in his voice. "Open my high-school yearbook, and where it says what you want to do, it says, 'I want to be a Disney artist.' I can't stop sketching Walt Disney right now because it's so much fun. I'm having the time of my life rendering my idol for his company."
Now Kevin-John lives in Florida, not too far Disney World, part of a personal goal to eventually live by the beach on the ocean, but none of it ever would have happened if it weren't for a little luck, a lot of talent, and the will to stick to his dreams.
 "You can't be scared to fail," Kevin-John says, dispensing words of advice to other potential artists."I've failed thousands of times. So you fail – you learn from it and keep going."
And keep going he did, eventually making his dream a reality. If Kevin-John's life – from the awkward dinosaur-aided early years to having bosses trying to talk him out of his passion – was a Disney movie, you couldn't have drawn it up any better.
Alex Bieler can be contacted at aBieler@ErieReader.com, and you can follow him on Twitter @Catch20Q.