You Ought to Know: Mary Alice Brown
Rebecca Styn talks with Erie's own Queen of Jazz, Mary Alice Brown.
September 20, 2012 at 1:50 PM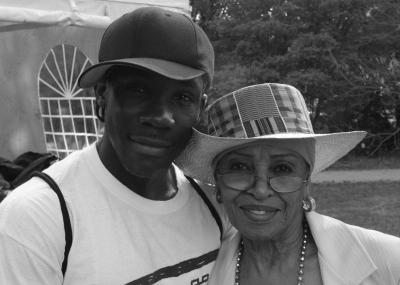 "I've been blessed all my life. This must be told."
These are words jazz pianist and vocalist Mary Alice Brown reiterated to me over and over again during a phone conversation we recently had. She is a woman I have always admired and respected from afar, having seen her grace many local stages over the years. And while we all fondly know her as "Erie's Queen of Jazz," she is much, much more than that. She is a woman who takes nothing in life for granted, someone who believes her life has been consumed by innumerable blessings and that she truly owes everything to God. And although she was born and raised in Erie, she's traveled all over the world for much of her life, sharing her talents with others nationally and abroad, giving patrons just a small glimpse of the raw talent that she possesses.
It's been said Mary Alice sings with the charisma of Billie Holiday and plays with the earthy drive of Les McCann. As a musician, she covers a wide variety of jazz influences from pianist Mary Lou Williams to vocalist Ella Fitzgerald. And in every performance she gives, she embodies the spirit of each of these greats, underscoring each show with her own raw talent, joyous enthusiasm and graceful touch.
"I can't remember a day in my life that I didn't play the piano," she said. "I grew up with a mother and father that really listened to what I had to say. I had wonderful teachers all throughout my schooling that saw the possibilities of a talent within me. My mother was a very talented pianist and everyone saw in my early age, the skills and abilities I possessed."
Mary Alice studied with several private teachers over the years – teachers who would actually pay for her lessons that she may have otherwise not have afforded  – and after high school, went on to the Erie Conservatory of Music.
"After I graduated from high school and went on to the Conservatory, I got married and started performing around the tri-state area. I found a following of people that understood what I was playing. Over that time I met some of the finest musicians I would ever come to know."  I learned she had the opportunity to meet Oscar Peterson [known as the "Maharaja of the keyboard" by Duke Ellington] and Eroll Garner [his best-known composition was the ballad "Misty"] alongside so many others.
During that time, in the early '70s, Mary Alice would also have the opportunity to perform with Bob Hope – in Erie.
"A friend of mine, Bobby Harrison, had just started a youth center outside of a store front on Erie's east side," she explained. "He wanted to start an organization that would help keep young men of all colors off the streets."
This center would come to be known as the John F. Kennedy (JFK) Center, which is still active and strong today. "They decided to have a fundraiser – although I didn't realize at the time it was a benefit. Bob Hope called me personally and asked me to perform. It was the biggest thing to happen to this city."
Shortly after, during America's bicentennial celebration in 1976, Mary Alice opted to move out to Hollywood to pursue a career in music. "I found many reputable talent agencies and started to network with some of the greatest jazz musicians in Los Angeles – jazz guitarist Kenny Burell, jazz saxophonist Dexter Gordon, and organist Jimmy Smith, just to name a few."
She would often visit Jimmy Smith's Jazz Club during open mic night to play.
"You could really get up and jam. This was how we connected and networked and met each other," she said. "We really don't have enough open mic nights in our area – but they were abundant on the west coast. We need more opportunities to hear one another and share each others' talents."
Mary Alice would spend close to eight years out in California where she would perform up and down the northern and southern coasts. During that time, she would also have an opportunity to tour for a year in Japan.
"A young woman had an audition and she asked if I would be her accompanist," she said. "She didn't get the job, but they called me. I'm telling you, I've been blessed. Though I will say, this tour was one of the biggest wake-up calls I would have in my life – and I thought I had already had my fair share of them growing up as a child during the depression."
Mary Alice originally thought she would end up in Tokyo, the capital of Japan and the world's most populous metropolis – and a city where many of the residents speak English. Instead she would end up 800 miles from there, spending the next 365 days on the more remote islands.
"It was a completely different world. None of them spoke English – I didn't understand what I was getting into," Mary Alice said. "We had to quickly learn what they were saying. But music helped break that barrier – it was key. Those residents knew more about jazz music and music in America than Americans knew! We were the only two Americans of African descent on the island. They adopted us."
After that life-changing experience, she received a call from another agent and went back to the west coast. She would spend much of her time performing during afternoon cocktail hours in a hotel at Los Angeles International airport. "I met so many stars going in and out of the airport. I was actually there the day DeLorean was arrested. I saw them bring him down from the hotel. That was just unbelievable."
In case you don't know, John DeLorean was an automobile executive who was arrested in 1982 for putting up $1.8 million to bring 100 kilos of cocaine into the United States. The day he was arrested, he was carrying a briefcase containing $24 million worth of cocaine.
That same year, Mary Alice's husband James would be asked to open up all computer centers for the Tandy Corporation on the islands of Hawaii. They would spend the next 10 years of their lives there. "We stayed on Oahu for most of the time. I was blessed with the opportunity to play all the five-star hotels on all the islands. It was really paradise. The mixtures of cultures was amazing and it was yet another awakening as to who we really are."
Finally, in 1992, Mary Alice would come back home. "I received a call from Mayor Joyce Savacchio asking me to come back home," she said. "She was a great educator and influence in my life. And she believed we needed jazz back in our area."
With that, she would return home, continue on with her great repertoire of concerts locally, and establish a community music school in the JFK Center, which has been in existence the past 15 years.
"Music was the job I was supposed to do," she said. "I truly never thought I would make a career in music, but I have been blessed abundantly with opportunities time and time again. I love being home. We live in a community that really works together. People don't realize this. I've traveled many, many places and I believe this is still the greatest city in the world. We take it for granted and we do this because many of us don't go outside of the city to see what we really have that others don't."
And while you never ask a woman her age, we wrapped up our conversation with some information that gave me a bit of a different perspective on life. "I'm actually 83 years old, but I tell everyone I'm 84. You know why? Because I want to reach it. And as long as it's ahead of me and it's my goal, I know that I will. I plan on being 115 years old - still standing - and still playing that piano."