2021 to Feature Global Summit Double Dip
Jefferson Educational Society's signature speaker series gets two installments
April 13, 2021 at 4:05 PM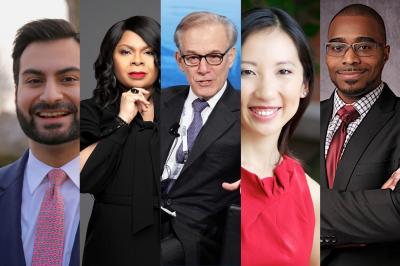 This year, the Jefferson Educational Society is challenging hungry minds to a dual. Not only will its signature Global Summit speaker series be back, it will be back twice to twin-pique our interests.
"We are so pleased that we can present two summits for our members and supporters this year, but most of all for the people of the Erie region," said Dr. Ferki Ferati, president of the JES. "This is a chance for all of us to hear from some of the greatest thinkers, writers, and presenters in the world, and to show them our community's many assets and challenges."
Erie's think tank for community progress will hold an all-free, all-virtual Global Summit XII in May before returning to a traditional live audience format for Global Summit XIII in fall. The reimagined Global Summit XII will have a completely different lineup than the one that was originally scheduled for 2020 — those speakers, highlighted by former U.S. President George W. Bush, will still honor their engagements, but as participants in Global Summit XIII instead.
Global Summit XII begins Monday, May 10 and continues through Thursday, May 27.
---
Digital Global Summit XII Lineup
Week 1
5/10: "Addressing Policy Reform and Racial Equity" feat. Camille Busette and Rashawn Ray
5/11: "A Conversation with Ali Zaidi, Deputy National Climate Advisor to the Biden Administration"
5/12: "Extraterrestrial Life: Are We the Sharpest Cookies in the Jar?" feat. Dr. Avi Loeb
5/13: "A Conversation with Rev. Jeffrey Brown: Race in America and Today's Black Lives Matter Movement"
5/14: "The Iron Lady on Screen: Discussing Margaret Thatcher in Film and on TV" feat. Nile Gardiner
Week 2
5/17: "We Should Have Seen It Coming: From Reagan to Trump — A Front-Row Seat to a Political Revolution" feat. Gerald Seib
5/18: "The Global Coronavirus Pandemic and America's Path Forward" feat. Dr. Michael Saag
5/19: "Madam Speaker: Nancy Pelosi and the Lessons of Power" feat. Susan Page
5/20: "Nancy Reagan: Archives, Letters, Memoirs, and Interviews Offering a New and Revealing Look at the Former First Lady" feat. Karen Tumulty
5/21: "COVID-19: The Path Forward for Parents, Educators, and Public Health Experts" feat. Dr. Leana Wen
Week 3
5/24: "Russia, China, and What You Need to Know About America's Greatest Foreign Policy Challenges" feat. David Ignatius
5/25: "Understanding America's 21st Century Diplomacy: Lessons From the Front Lines of Europe and Asia" feat. Ambassador Christopher Hill
5/26: "Front Row to History: Reporting From the Front Lines of the White House" feat. April Ryan
5/27: "Our Towns: From the Pages to the Screen" feat. James and Deborah Fallows, Steven Ascher, and Jeanne Jordan
---
All events will be streamed live at 7:30 p.m. on their respective dates, with the exception of Dr. Wen's lecture on Friday, May 21 (1 p.m.) Registration is required but free. However, donations are encouraged. 
For more in-depth previews of these speaking engagements, stay tuned for the May 5 print edition of the Erie Reader and log onto eriereader.com in the weeks to come.
Matt Swanseger can be reached at mswanseger@eriereader.com