40 Under 40 - 2015
Forty young innovators, entrepreneurs, and leaders shaping Erie's future.
April 15, 2015 at 4:00 AM
From musicians to talent bookers, from bankers to lawyers, from artists to entrepreneurs, the 2015 Class of Erie's 40 Under 40 features 40 men and women endeavoring to making Erie a better place for young and old alike. 
Some have studied at the ivy leagues, while another followed an educational path that led to Grenoble, France. One served as the Chief of Staff in the U.S. Ambassador Office in Australia, while another began as a nurse's aide before studying for seventeen years to become a leading doctor in his field.
More than half are Erie natives — some had remained by the shores of Lake Erie, while others had ventured off only to heed the call to return. The remainders are transplants, some hailing from small, no-stoplight, Pennsylvania towns, others from cities experiencing their own renaissances, like Detroit, Pittsburgh and Portland, Ore. 
But while their differences may make them remarkable, their similarities make them exceptional: They're all engaged, active young professionals under the age of forty, who are going above and beyond what may be expected of them, and who exemplify all that is good about our region.  
They're dreamers, but more importantly, they're doers. From volunteering, to creating, to entertaining, to investing, they symbolize the necessary grit and fortitude that propel our region forward. They — like the 80 that came before them in 2013 and 2014 — present us reason to celebrate the present and give us hope for our future. 
Introducing 40 fresh faces: The 2015 Class of Erie's 40 Under 40.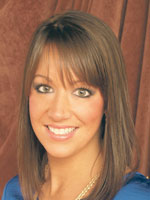 Kristi Bailey, 30
Director of Business Development and Services, Erie Federal Credit Union
Kristi has made advising and promoting local nonprofit organizations something of a second career. She lives her philosophy, "be generous with your time and money" by volunteering for the Girl Scouts of Western PA, serving on the Executive Committee for Junior Achievement, and doing her part to develop the women leaders of the future by Co-Chairing the ATHENA Circle of Trust. The Leukemia and Lymphoma Society named her "Woman of the Year" for her fundraising efforts. Kristi grew up in Waterford, so she's a country girl at heart, spending her recreational hours camping, gardening, 4-wheeling, and snowmobiling, and enjoying warm summer nights by a bonfire. But as a corporate marketing and communication specialist – having earned a degree in communications and public relations from Edinboro University – Kristi regularly employs the leverage her profession has given her in the worlds of retail, housing, and finance.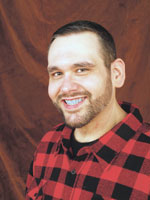 Ryan Bartosek, 34
Talent Buyer/Band Manager/Musician
The crooked i may have shuttered its doors in 2014, but that hasn't stopped Ryan Bartosek from being a major player in the local music scene. The former talent buyer for the defunct State Street venue always has concerts on his mind, whether he's bringing in great bands to the King's Rook Club and The Gathering at Chaffee's, serving in his role as co-owner of Rubber Tramp Live, or playing bass in local rock band Daybreak Radio. The Edinboro native and graduate of General McLane High School and Edinboro University attributes his success in part to when he took control of his life in 2013 by undergoing weight loss surgery, a change that has helped him make a greater impact on The Gem City. "Youth is the life blood of a place like Erie, especially in the arts community," Ryan says. "We're lucky enough to have enough open mindedness and forward thinking amongst our youth to help make Erie one of the most culturally-rich small cities in the tri-state area."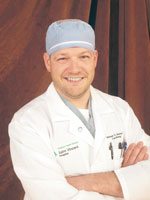 Matthew "Casey" Becker, MD, 38
Cardiologist, AHN Saint Vincent Hospital
When he left his hometown of Pittsburgh to attend Cornell University, Casey planned on being a farmer and veterinarian. But his fascination with medicine led him to transition to human medicine and put him on a path that would lead to medical school at Syracuse University and an internship and residency at Duke University. He's one of the few cardiologists who specialize in advanced Structural, Peripheral, and Coronary Interventional Cardiology, bringing to Erie a myriad of innovative surgical procedures and devices. Saint Vincent recruited Casey from the Cleveland Clinic in 2010 and the decision to come to Erie was easy. He'd vacationed at Presque Isle as a kid and knew what Erie had to offer him and his family.  "Erie is Pennsylvania's best kept secret," he says. "Having a vibrant and growing population of young professionals who are increasingly taking leadership positions in economics, law, government, education, journalism, and medicine – this group energizes and revitalizes the city promising a brighter future for all who reside here."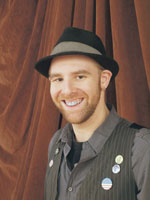 Matt Boland, 29
Musician
Even at 17, Matt thought he knew exactly what he wanted to do with his life. A dozen years later, he still knows exactly what that is – making music, hard-drivin,' original rock-n-roll music – and he does exactly that. From his earlier, punk/rockabilly/blues-soaked days as the leader of Matty B and the Dirty Pickles, to his less-cartoony, more socially-conscious incarnation as Broke Boland, and now as an amalgamous gear-tooth in the gypsy-tonk quartet Potwhole, Matt's been a fixture on the region's live music scene(s) for a good, long while now. He's been the recipient of a total of four Rock Erie Music Awards as well as a Blue Pike Independent Music Award. And he's done six (going on seven) albums in the last seven years. "Self-drive, self-motivation, a positive attitude, and good taste are all anyone needs to succeed," he says. "Make a stain and take some names. It's your generation."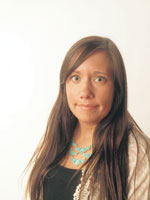 Paige Bosnyak, 24
Project Director, Bayfront East Side Taskforce
This Mercyhurst University grad isn't afraid to look at things differently. "It's easy for people to associate the East Side with crime and decay, but as a resident and employee in the East Bayfront, I see a different picture – one of vibrancy and community." That vision, says the woman who's notched bachelor's degrees in both criminal justice and sociology and is now working on her master's in social administration with a concentration in community practice for social change at Case Western Reserve University,  is one worth sharing with Erie. When Paige isn't at the Bayfront East Side Taskforce, endeavoring to transform the Historic East Bayfront into a neighborhood of choice for individuals, families, and businesses, she can be found either spending time enjoying two of her favorite things in life – cats and craft beer – or "throwing down in the kitchen." Young people living in Erie, she says, shows potential in the city, adding: "For many of us, the decision to stay is more than affordability or job security – it's a shared vision of a livable, thriving city."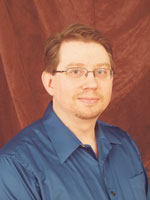 Rob Connick, 37
Artistic Director, Laugh/Riot Performing Arts Company
Artistic director since Laugh/Riot's inception in 2011, Rob says the company has grown its audience dramatically in the last three years. But he's not one to take credit, modestly pointing to "the talent and passion of the actors, technicians, and directors." With a B.A. in drama from Edinboro University and an M.A.  and PhD. in theater from Bowling Green State University, Rob dug into his chosen field early.  Besides shaping his career, it also shaped his life, as he met his wife, Jessica, also a company member, on the Edinboro stage as an undergraduate. Now, their children are acting on that very stage. Laugh/Riot will also be taking "Bedtime Stories," an original production, on the road, says the guy who assembles the season and directs two shows.  "We've made theater a visible, viable part of the Edinboro/Erie County arts scene, showing the Tri-State area that Erie County has talent comparable to those cities," Rob says.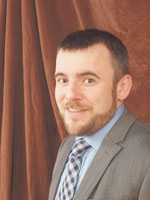 Jeffrey Clorley, 33
Marketing Coordinator, Modern Industries
To keep Erie vibrant, Jeff advises young people to "not become complacent. Keep learning new skills and developing yourself for what's up next." Good advice from someone who grew up in Lawrence Park, a stone's throw from Hammermill and GE, where he got to see the ebbs and flows of Erie's economy first hand. Now he serves as the President-Elect for the NWPA Chapter of the Public Relations Society of America (PRSA) – helping others grow in their abilities to promote and market our region and the institutions that make it flourish. As their Marketing Director, he believes in the mission of Modern Industries, which has been based in Erie since 1946. They are determined to keep our community growing in the future. Jeff keeps them steadily moving forward by coordinating their online presence, conducting market research, and implementing their advertising. Jeff says of Erie, "I love it here and hope I always have a place in this city."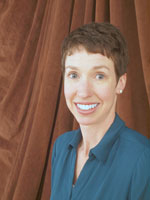 Elizabeth Darling, 38
Physical Therapist/Athletic Trainer
This Detroit native is working to revolutionize physical therapy treatments and patient care, and she's taking it on with Olympic gusto. That's because in addition to her day-job as the Clinic Director of the Erie South office of Keystone Physical Therapy, Elizabeth is also the medical director for the USA Gymnastics Rhythmic Program, and she's developed a strength and flexibility-testing program being used by gymnastics programs around the world. And this isn't her first foray into international competition. She was the trainer for USA Diving at the Olympic Games in Beijing (2008), and she was the first American trainer brought to China to work with the Chinese Women's Volleyball Team for an entire season (2014). In Erie, she's developed a Breast Cancer Lymphedema Prevention and Education Program and helped several Gannon students get experience working with USA Gymnastics National Teams. "I am looking forward to being a part of this community for years to come," she says. "Demographic shifts provide younger professionals like me with the opportunity to contribute to Erie's vibrant future."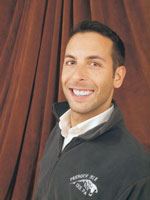 Jon DeMarco, 25
Executive Director, Presque Isle Partnership
"We have an absolute treasure in our own backyard," Jon says. "Presque Isle State Park offers something for everyone." As the Executive Director of the Presque Isle Partnership, Jon endeavors to help people take advantage of all the park has to offer, and with the addition of hayrides in the fall and skiing in winter, the Partnership is bringing the park alive for visitors throughout the year, not just summer. "When the Partnership added the Three Mile Isle Obstacle Course Challenge to the docket of events in 2013, I spent many evenings building those obstacles," says the Erie-native, who enjoys working with his hands and re-purposing wood pallets and driftwood into household furniture. Jon, who earned his bachelor's in accounting from Penn State, University Park, and an MBA from Gannon University, says he's optimistic about the future: "Erie is overflowing with young, vibrant, forward-thinking individuals – it is admirable to see local employers invest in Erie's young people, who understand what it will take to advance Erie as the ideal place to live, work and play."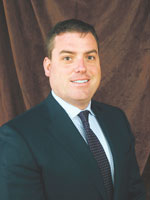 Neal Devlin, 38
Attorney, Knox Law Firm
Neal Devlin was told once, by his father-in-law, that Erie would present him with unique opportunities for himself and the community. Heeding this advice, Neal has served on many nonprofit boards for impoverished youth. Having received his undergraduate degree from Colgate University in molecular biology, it wasn't until Neal went on to graduate summa cum laude from Pitt Law that his future as an attorney would be realized. Other than a one-year stint at the U.S. Court of Appeals for the Third Circuit, he has worked exclusively at Knox Law Firm. He became a partner in 2009 and was promoted to the board of directors in 2014. As he put it when asked what makes Erie special, "Anyone who questions where Erie will be in 30 years need only meet with one of the myriad young professionals, executives and entrepreneurs that fill the seats on nonprofit boards, community organizations, and institutions dedicated to making Erie an exceptional place to live."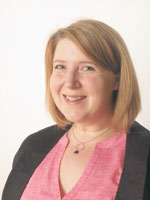 Gabrielle Dietrich, 34
Choral Director, Young People's Chorus
As Director of Choral Ensembles at Penn State Behrend, Gabrielle Dietrich oversees two collegiate choirs, is artistic director of the Young People's Chorus of Erie, and serves as conductor for the organization's three advanced ensembles and co-conductor of its training ensemble. She also conducts the Erie Philharmonic Chorus, and lectures in music at Behrend. In her limited spare time, Gabrielle enjoys cooking and hanging out with Gordy, her rescued greyhound. Hailing from Portland, Ore., Gabrielle earned her bachelor's in music from the University of the Pacific and her master's and doctorate of musical arts from the University of Colorado. Gabrielle says she believes that young people bring freshness to Erie, noting: "There's a natural symbiosis here: the perseverance of the community as a whole and the innovative spirit of the young can come together and create the opportunity for all of us to be flexible without being unfocused, and to have grit without becoming stagnant."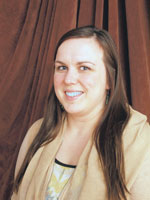 Gretchen Durney, 30
Director of Communications and Contracts, Sisters of St. Joseph Neighborhood Network
A self-described "frequent jotter of ideas/thoughts/plans/etc.," whose notes may just hold the keys to a better Erie, Gretchen's work is helping the Sisters of St. Joseph Neighborhood Network transform some of Erie's forgotten neighborhoods. A native of Harborcreek and graduate of Mercyhurst Prep and Clarion University, Gretchen also served with AmeriCorps National Civilian Community Corps (NCCC) in California and the western region right after high school. That experience informs the work she is doing with the SSJNN to revitalize one neighborhood at a time and empower residents. The best part of her work, she says, is that "we can see it; past present and future – and I am grateful and pleased to be able to work with lovely women religious leaders – the SSJs, our Network staff, as well as Erie's hopeful residents and volunteers of all ages and backgrounds."
Jennifer Dworek, 39
Photographer
Jennifer was a critical-care nurse for 15 years before turning her passion for photography into her life's work, opening Jennifer Dworek Photography to specialize in contemporary portraits of high school seniors, teens, and women. "I like to think that not only do I provide gorgeous portraits of individuals, but also an experience that helps empower women to find their inner beauty and confidence," says the New Castle, Pa.-native, who moved to Erie in 1994 to attend Gannon University. She sees young people as the key to success. "I discovered that following your passion in life is what makes life worth living," she says. "The drive and passion that is present in young people is what makes them so successful. Everyone has passion, but not everyone listens to it. This is the key to being truly happy. When you find this it becomes infectious and motivates others." Jennifer listened to hers and is now inspiring others.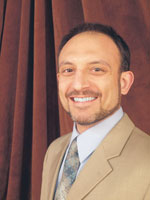 Damon Finazzo, 37
Principal, Villa Maria Elementary School
Damon began his teaching and school-administration career in inner-city Richmond, Va., back in 2001, but returned to his hometown to become the principal at Villa Maria Elementary School, where he's served for the past six years. As one of Erie's Catholic educational leaders, he considers the fostering of faith, individuality, and a sense of service to others to be of utmost importance in building healthy dynamics for the future of the city. "Erie's foundation of being a stable, family-oriented, beautiful community is strong," he says. "The young leaders of Erie have an opportunity to build upon this foundation with the use of unconventional thinking, creative innovation, and bold vision."
Carla Fleming, 38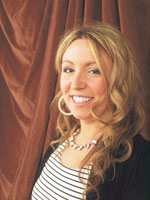 Entrepreneur/Musician/Empowerment CoachWhether conducting a song or a dance, life­-coaching, or blogging, Carla is always in motion, and forever a teacher – and student – at heart. Having studied music and international studies at Binghamton University, then far abroad at Grenoble, France's Universite Standahl, the Friendship, N.Y. native called many lovely towns home before setting roots in Erie – "a beautiful place" – 15 years ago after "falling madly in love" with a city­-native musician. Since then, she's founded Lake Erie Belly Dance, The Fleming School of the Arts, and a successful, uplifting lifestyle blog, Carlaquarious. She's also led Erie's team of international Shimmy Mob dancers-­in-­service for the past few years, raising thousands of dollars for local domestic violence awareness and related organizations, like SafeNet, Inc., while also bringing home a world­-record title in 2014. Having once walked across fire with superstar life­-coach Tony Robbins without getting burned, "I'll never look at fear the same way again," she says. And, now, "most of what I do involves empowering my students, clients, or audiences."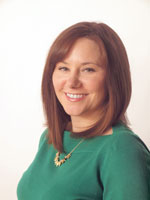 Erika Howland, 36
Copywriter, Tungsten Creative Group
Prior to working as a copywriter at Tungsten Creative Group, Erika spent time in television in Cleveland and Erie, and has worked with the City of Erie and the Millcreek School District. Erika received her bachelor's in mass communications from the University of North Carolina, Pembroke and her master's in mass media and journalism arts from Clarion University. In her current role, the Girard High School alumna creates copy for a variety of media, produces television commercials, and works with clients to develop marketing and public relations plans.  Howland serves on the boards of the Salvation Army and Big Brothers Big Sisters, using her skills to help organizations with limited marketing budgets improve their presence in the community. Nurturing the next generation is important to her, so she has been a Big Sister since 2007.  "It's only in taking chances and thinking differently that we can help keep this great community moving forward," she says, "so it can be what it was destined to be."
Tyler Hudson, 25
President, Hudson Property Management
A graduate of Kennedy Catholic High School, Hermitage-native Tyler Hudson says he's known since he was a teenager that he wanted to own and develop real estate. He's doing just that, starting out by purchasing and renovating residences that he had leased, later selling them. He's now president of Hudson Property Management, and a partner of managing principal in various Hudson entities. Currently, Tyler is pursuing commercial and multi-family development opportunities in order to build "a pipeline of projects" throughout Pennsylvania and Ohio. Tyler is the developer of Hudson Lofts, student housing adjacent to Penn State Behrend's campus. That development is own by Hudson Student Housing, managed by Hudson Property Management, and offers Behrend students "unsurpassed amenities, while still being near campus," Tyler says. The oldest of six children, Tyler takes the words of the late Steve Jobs to heart: "Stay hungry, stay foolish."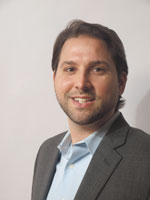 Branden Kaczay, 35
Executive Vice-President-Business Operations, Lake Erie Speedway
Once he arrived in Erie by way of I-90 from Elyria, Ohio, Branden never looked back. Because really, he didn't have a the chance to. The internship he landed at Lake Erie Speedway while completing his degree in business management and sports administration at Mercyhurst University turned into a job that took him to the apex of day-to-day operations in local racing. Since then, Lake Erie Speedway has become an important community asset offering affordable family entertainment. Branden says the size of the community, as well as the energy and vision of young leaders and entrepreneurs, makes Erie a city worth investing in. "Erie has the benefit of a 'big city feel,'" he observes, "and I believe that the energy, creativity, and passion of the young talent will allow Erie the opportunity to continue to evolve, grow, and remain an exceptional place."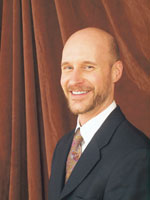 Philip A. Katen, 38
President/Treasurer, Plastikos, Micro Mold
An alumnus of Cathedral Prep, Philip Katen was born and raised in Erie. After receiving his undergraduate from Northwestern University of Chicago and his MBA from Duke University, Katen returned to Erie in 2007 to work at Plastikos. He quickly transitioned from General Manager to President, and Treasurer of Micro Mold. Philip's secret to his success, he says, is putting in a lot of hard work. Katen is an active member of the Junior Achievement Board of Directors as well as the Manufacturer & Business Associations' Board of Governors. When asked about the role young people in Erie play, he replied: "I have personally seen people succeed against all odds when everyone else told them that they were crazy for even trying, and I have seen people fail when one opportunity after another was handed to them on a silver platter.  As I look around Erie, I am excited and inspired by the other young professionals who believe to their core that they can."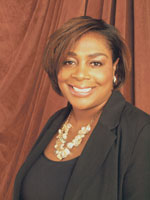 Selena King, 34
Entrepreneur/Director of Development, L'Arche Erie 
This Sharon High School alumna is just as comfortable fundraising and building community relations at L'Arche Erie as the nonprofit's Director of Development as she is belting out lines from Carmen. With plans to pursue a doctorate in organizational leadership, the owner and operator of King Event Management and classically-trained singer who's currently completing her master's degree in public administration at her alma mater Gannon University has already earned her bachelor's degree in liberal studies with concentrations in social work and communications and a minor in leadership studies. "Young people are the heartbeat of this region," says this member of the Erie Public Schools Superintendent's Community Advisory Committee, Christ Community Church, LifeThruMusic Board,  and Erie County Democratic Women and the City of Erie Zoning Hearing Board Vice-Chair. "Without our heartbeat, Erie is lifeless – without hope, direction, or a future.  The best and brightest days of Erie lie in the creativity, ingenuity, and drive of our youth. We're not waiting for opportunities; we're creating them every day."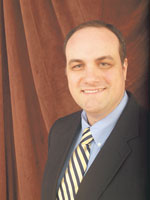 Stephen Kovacs, DO, 37
Pulmonologist & Critical Care Intensivist, AHN Saint Vincent Hospital
Stephen started at Saint Vincent as a nurse's aide when he was 17 and worked his way through medical school. He met his wife on a blind date, took her for a drive around Presque Isle and they married six years later. So to say this Mercyhurst Prep and Gannon University grad holds Erie close to his heart is a profound understatement. Today, Stephen is the director of the Saint Vincent Advanced Lung Center and he co-manages the intensive treatment of critical care patients at the hospital. He is the co-founder of MedicalOpinionCenter.com, which provides an online, second opinion by a specialist for complex medical conditions, and he is the president of Prometheus Medical Innovations, a new medical device startup company focused on devices for the diagnosis and treatment of pulmonary or lung procedures. "Erie is offering a lot more entrepreneurial, medical and technical opportunities than have ever been offered before," he says. "Young people who seize and grasp these opportunities can become very successful."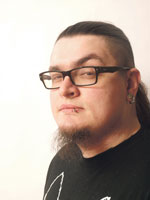 "Monster" Mark Kosobucki, 31
Artist
Education kept taking this Eerie-Erie artist farther south. After graduating from Erie's Collegiate Academy in 2002, Mark headed down I-79 to Edinboro University, to get his bachelor's degree in video production and a minor in art history. From there, he hit I-79 South again to attend Douglas Education Center near Pittsburgh for an associate's degree in specialized business with a concentration in special makeup FX and sculpturing. But for Mark, the creative road ultimately led home. He now freelances as a makeup FX artist (his work's been featured in several movies, including Zombie Killers and Skull Forest) and works as a graphic designer (his work can be seen at the Eerie Horror Festival and with beyond-the-grave-funk-rockers Here Come the Mummies). For Mark, education still matters. "I'm not stingy with what I know. If you ask me a question, want my critique, want to know how to do something art-related, makeup FX-related, if I can answer it, I will," he says. "I don't know everything, but what I do know, I'm happy to pass along. If I've ever inspired anybody to pursue anything creative, I'm happy."
Steven D. Krauza, 37
Owner, Krauza Family Chiropractic
Steven, a graduate of McDowell High School and Indiana University of Pennsylvania, opened Krauza Family Chiropractic in 2003. The 12 years as a chiropractor since then has shown him that our community is an "unhealthy" one. He wants to change that. "I want Erie to be the healthiest county in Pennsylvania by 2025," Steven says. So, he created Challenge Erie in 2009 (a 10-week community wellness experience), and Team Adrenaline (an outdoor fitness program) in 2011. "I thrive on pushing people past their comfort levels," says Steven. "Empowering people to gain confidence to do things they never thought possible is the foundation of my professional life." Steven works in the community with nutritional detox programs, boot camps and exercise classes for area seniors. So he talks the talk, but he walks the walk, too, with Tough Mudders and long distance bike rides for charity. "To move Erie forward, we need the experience and open mindedness of the leaders," Steven says, "but we also need the fresh perspective from our youth. Together, great things will happen."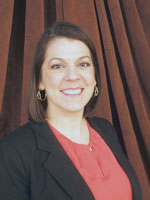 Leah Manino, 35
Vice President of Commercial Lending, Northwest Savings Bank
When asked about what she saw from other young people in Erie, Leah Manino said, "Through the minds and hearts of our city's young people, Erie is made more vibrant, welcoming, and unique." An Erie native, Leah received a degree in management from Penn State Behrend and went on to work for Northwest Savings Bank, initially as the financial institution's first Commercial Lending Trainee, under the mentorship of Donna Carlino. Under her tutelage, Leah was promoted to Vice President of Commercial Lending, providing loans for business purposes through Erie County. In this way, Leah helps to stimulate the growth of local businesses throughout our community. She is also an active member in the Erie Community, serving on the boards of Greater Erie Alliance for Equality, Mercy Center of the Arts, Northwest Institute of Research, and the Lake Erie Ballet.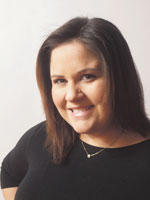 Emily Mosco Merski, 32
Attorney, Vendetti & Vendetti
As an assistant public defender and practicing lawyer at the Vendetti & Vendetti law firm, Emily knows how to dance around a courtroom.  But she's also light enough on her feet to co-chair the 50th Annual Barber Christmas Ball and participate in the Celebrity Dance Competition for Catholic Charities. And all the while she is swaying to the music, she's helping out as the Vice-President of the Mercyhurst University Alumni Board of Directors, a member of the Mercyhurst Prep Alumni Board of Governors, a member of the Mercy Center of the Arts Board of Trustees, and a member of the Mercyhurst Institute for Arts and Culture. She's also on the Young Erie Professionals Board of Directors, the Neighborhood Art House Development Committee, the Catholic Charities Ball Planning Committee, and was the 2014 Chairperson for the Perry Square Alliance Party Off the Park. It takes some pretty fancy footwork to do all that. If anyone can get Erie up out of it's seat and moving to the music, it's Emily.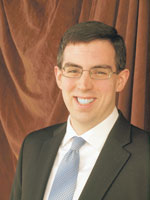 Michael Miele, 30
Director of Instrumental Music, Mercyhurst Prep
This Erie native likes to joke that he's been on the same city block since 1999, when he started his freshman year of schooling at Mercyhurst Prep. Four years later, he "walked down the hill" to start college studies at Mercyhurst University, then, in 2007, walked back up to become a teacher at MPS. To him, teaching's as much about preparing tomorrow's community leaders as it is showing kids how to perform. That work's about fostering creativity and providing outlets for all that local arts have to offer. That's his part, among other native young professionals, in erasing the worn-out notion that 'there's nothing to do in Erie.' "I think it says a lot about our city that myself and others have chosen to continue to make Erie our home," he says. "It's nice to see my generation realize we play an integral role in sustaining what was true all along: Erie is a vibrant community with something for everyone."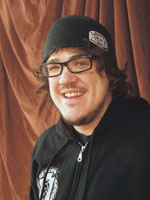 Patrick Miller, 30
Pub Manager/Aspiring Cicerone, Lavery Brewing Company
Encyclopedic knowledge of beer used to be a party trick. Now, it's a lifestyle for this Erie native and graduate of McDowell High School and Thiel College. Pat is committed to the idea that "pubs are, and always have been, incredibly important to any city. It's where business happens – it's where relationships are forged and people connect." As an aspiring Cicerone – the title given to those with proven expertise in selecting, acquiring, and serving today's wide range of beers, and of which there are just 1,173 working in the U.S. – and general manager of pub operations for Lavery Brewing Company, he's organized the pub's beer pairing dinners, its popular Bines vs. Vines events, and fundraisers that have netted several thousand dollars for local nonprofit organizations. "I've worked tirelessly to promote the importance of local small business and the importance of craft beer as a manufacturing sector in our city and county," Pat says.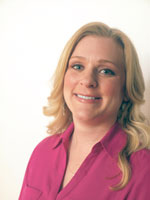 Emily Natalie, 35
Teacher, Erie City School District
Now in her 12th year of work for the Erie City School District, Emily is as committed to keeping students healthy as she is to teaching middle-school-aged kids English as a second language. She serves as an advisor for the national 'Fuel Up to Play 60' initiative, a student-aimed program funded by the NFL and the National Dairy Council to promote healthy eating and exercise habits. Through her involvement in 'Fuel Up' – of which she was named national Program Advisor of the Year in 2011 – Emily's been able to secure over $20,000 in funding that has gone directly toward establishing healthy-lifestyle programs for kids in Erie schools. "When given the opportunity to better the city they live in, the younger generation has risen to the occasion and made a conscious effort to do so," she says. "I'm just happy that I get to be a part of making that difference."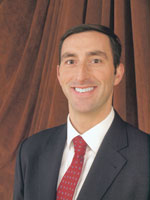 John Persinger, 33
Associate, MacDonald Illig's Business Transactions, Labor and Employment, and Emerging Technologies Practice Groups
John Persinger has traveled the world: a New Jersey native, he attended Harvard University, worked on George W. Bush's re-election campaign, worked in D.C at the State Department, and then became chief of staff in the U.S. Ambassador to Australia's office. While attending the University of Notre Dame Law School, he and his wife decided to settle in Erie amongst family. John works to help businesses and individuals identify and mitigate the risks associated with emerging technologies, and he also is an active volunteer (and an author – his mystery/thriller The Saint Joseph Plot was released in 2013). "I've tried to get more people, particularly younger people, engaged in the political process," John says. He serves on the executive committee of the Erie County Republican Party and advises candidates for office on campaign strategies and voter engagement. John has also taught an American history and government seminar to home-schooled high school students. After all, he says, "young people in Erie are already helping to shape a brighter future for the region."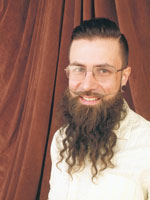 Scott Quezada, 35
Tradesman/Entrepreneur
Not every builder uses their love of nature to inform their business practices, but Scott's business model is based on sustaining and harmonizing with the local ecosystem. He's studied LEED construction methods and attended the 2010 International GreenBuild Expo so he can build green – using locally sourced and sustainable materials to create healthy living spaces. After attending General McLane High School and exploring engineering, art, and science in college, Scott taught himself to build things and founded his company, SQuare Trade Design, which provides remodeling for kitchens and baths. He has been expanding services to additions and full-house construction in recent years. He designed and built his own family's home, complete with rock-climbing wall. The philosophy that sustains him while managing a business, raising a family, and running ultra marathons is to "be a dreamer, be impractical, and stay young at heart."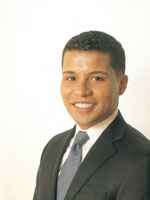 Pablo Reyes, 28
Doctoral Student/Assistant Director, Edinboro University
Education in Northwest Pennsylvania is important to Pablo Reyes. After graduating from Cambridge Springs Junior/Senior High School, Pablo earned a bachelor of arts in political science, a master of arts in communication, and a certificate of advanced study in conflict management from Edinboro University. The relationship was so positive, he now serves as the assistant director of the Annual Fund at Edinboro, where he manages the annual Phonathon and other duties related to fundraising and developing revenue for the university. In addition to his job, he's even currently working toward another degree, this time as a doctoral student in administration and leadership studies at Indiana University of Pennsylvania. Pablo serves as an example of how individual investment in personal development can lead to an even brighter future for Erie. "Regardless of age, background, or aspirations, there is a place for all of us to live, contribute and grow in Erie," Pablo says."Young people make the city and surrounding community vibrant, they introduce new ideas, and they help everyone to see Erie through new eyes."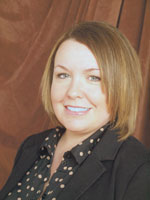 Rachel Rudd, 35
Business Owner/Marketing Officer/Choreographer
"I believe that it is our duty to leave things better than when we found them. Young people have the responsibility to be curious, to challenge the status quo, and to work to make things better. If we don't, then who will?" said Rachel Rudd when asked how young people make Erie special. A woman who wears many hats, Rachel is the owner of Triple Threat Studios, the Chief Marketing Officer for RAYN Business Development, and a choreographer for many local productions. An Erie-native, Rachel graduated from Mercyhurst Prep and then went on to Edinboro University, where she received a degree in communications. Her contributions to the area have helped children and adults alike gain confidence and skill, not only as performers but as human beings. When asked about her success, she replied, "I don't believe in roadblocks. I just look for a way (and there is always a way) to bypass anything standing in my way!"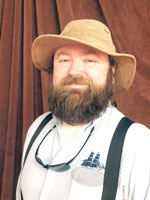 Captain William Sabatini, 33
Captain, U.S. Brig Niagara
Some people enjoy sailing, but Captain William Sabatini lives it. Before coming to Erie in 2005 to work on the U.S. Brig Niagara for the Flagship Niagara League, William was sailing tall ships while attending preparatory school at Tabor Academy in his native Massachusetts and serving as chief mate on the schooner Bowdoin while at the Maine Maritime Academy. In 2014, the impressively bearded, swing dance-loving William was named captain of the Brig Niagara, a job that allows him to sail one of the premier training vessels in the country while keeping Erie connected to its naval history. William is proud of not only his ship and his crew, but also of how his generation has already started impacting The Flagship City. "Young people make Erie special by taking what we have been taught by the masters in our fields and giving Erie lasting identity through innovation."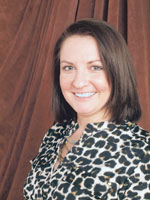 Katie Bool Shafer, 31
Director of Sales and Marketing, Erie Promotions and Expos, Inc.
A graduate of Harbor Creek High School, Katie Bool Shafer earned her M.B.A. and Master's of Corporate Communication from Duquesne University. Katie's been with Erie Promotions and Expos for seven years as director of sales and marketing. She's been integral to the growth of that company – she started a sponsorship program for events, and oversees multi-media advertising campaigns for 12 consumer shows in three markets. And as director of marketing for Shafer Family Homes (she owns the company with her husband), she's part of a business that specializes in high-quality, new homes in Harborcreek's Village of Foxwood. She has a lot of irons in the fire in the area, working with Erie DAWN, Young Erie Professionals (yep!), Make-A-Wish, Erie AD Club, and the Big Brothers Big Sisters; Katie says she's just "grateful for the chance to give my time, talent and kindness back to the Erie community."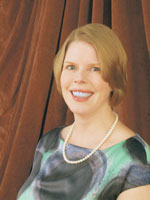 Honey Stempka, 39
Entrepreneur, Sustainable Lifestyle Group
This West Sunbury, Pa. native says she can start a one-match fire and navigate a forest trail in complete darkness from her experiences as a counselor and teacher for at-risk youth in the mountains of western North Carolina – exemplifying the resourcefulness and commitment to the betterment of the lives of those she encounters that remains evident in her current work. At Sustainable Lifestyle Group – a business Honey started – she collaborates with individuals, independent teams, and departments within companies to foster productive habits and processes that will ultimately "add revenue to the business and to employee bank accounts, and reduce the time and money wasted during the day, week, month, and year." This dual bachelor's degree holder in exercise science and dance from Slippery Rock University with a master's degree from Minnesota State University, Mankato in experiential education says she hopes the volunteer work she's done will lead to a better region, having become involved with the Green Building Alliance, the Environmental workgroup for Destination Erie, Sen. Sean Wiley's Advisory Committee for the Environment, and the Athena PowerLink program amongst others.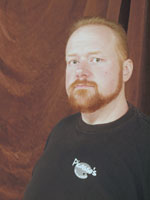 Ray Stolz, 37
Entrepreneur, Picasso's
When Ray founded Picasso's gourmet sandwich shop with his brother Matt, he didn't expect to get mentioned on the The Today Show and The Tonight with Jay Leno. But the idea of an art-themed menu where all the dishes are "masterpieces" was so distinct and fun that it couldn't help but catch on. The restaurant is now located at the Millcreek Mall and a franchise will soon open in Waterford. Ray also does business as MStolz Realty and will stretch his entrepreneurial muscles by starting a new radio station in July at 95.5 on our Erie FM dial. To spread the creative business spirit, his own nonprofit, Hand-Up, Inc. is an organization designed to give a "hand-up, rather than a handout to the people in Erie who are working every day trying to better themselves and their families. He says that anyone can succeed if they follow this sage aphorism: "Failure is not failure to me... failure is a game I play until I win."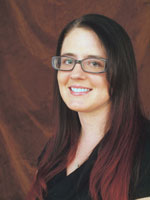 Crystal Sweet, 31
Direct Care Professional/Promoter
Whether it's through home health care or music, Crystal Sweet has a passion for helping others. The hard-working North East native earned her associates degree from the Erie Business Center and now acts as an example to other members of the community through her work as a direct care professional with Home 4 You Home Health Care, where she assists disabled individuals and the elderly with everyday living. She also started organizing and promoting music under the name DreamBig Promotions just over a year ago to help play a part in the Erie music scene, with the shows benefiting organizations like The Charter School of Excellence and Sisters of St. Joseph Neighborhood Network. To top it all off, Crystal recently started working at Romolos Chocolates as well, so she won't be accused of having a poor work ethic. "Our youth and young adults are special in Erie because they are the future of our community," Crystal says."They hold an immense amount of talent and potential to become leaders."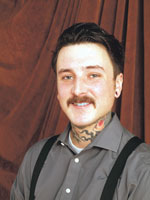 Corey Thompson, 26
Artist/Entrepreneur/Co-owner, Wayward Tattoo Studio
Back in September 2013, after tattooing at several Erie parlors, this Butler High School alumnus decided to become his own boss, partnering with friend and fellow artist Johnny Matters to open Wayward Tattoo Studio. "Our attitude about professional tattooing and how it should be treated has always been similar," Corey says. Deciding to open his business in the city he got his start in was easy, he explains. "Erie has treated me with open arms, since the first day I tattooed. I feel I still owe this town – and my clients – for being so loyal, since day-one." Corey's art was notching him awards as early as 22, when he took home the "Best Of Show" award at the 2011 Electric City Convention; he's since won "Best Flash" in Cleveland and "First Place Traditional" and "Third Place Traditional" at the Meeting of the Marked during multiple showings there. Although he spends hours on the road, touring and tattooing at conventions, he keeps coming back to Erie because it's "an open town, which allows young people to grab what they want," he says. "Stay hungry, kids."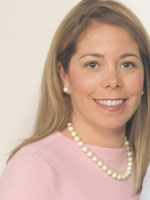 Ann Tredway, 38
President/Chief Development Officer, Hamot Health Foundation
Some of Ann Tredway's friends and colleagues were surprised when she decided to move to Erie after spending 12 years in Washington, D.C., but the decision was an easy one for her."I knew that I wanted to return to Erie," says the New Bethlehem, Pa. native. "Here you can truly be a part of a community and that's really special. I have met so many talented and passionate young professionals, and we all have a similar story." The Mercyhurst College graduate has made an impact in Erie as the president and chief development officer of the Hamot Health Foundation, where she oversees the operations of the organization and provides leadership for all philanthropic programs. In addition to her success in the workplace, she also met her husband Tom just two months after returning to The Flagship City. "I could have lived in Chicago, Boston, or D.C., but I chose Erie because I can make a difference here and I love it."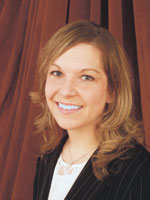 Stacy Tupek, 32
Director of Room Operations, Sheraton Erie Bayfront Hotel
A Buffalo native, Stacy is a graduate of both Cheetowaga Central High School and Canisius College. She's now director of room operations at Sheraton Erie Bayfront Hotel – a perfect job for this self-described "people person." "It's exciting to bring positive energy and an overwhelming friendliness to all of our fellow associates and guests who visit Erie each and every day," she says. When she says she's a people person, she means all people. In that vein, she volunteers at the Highmark Caring Place, spends time at the city mission, and is a volunteer children's soccer coach. For several years, she worked at Camp Turner in Allegany State Park, where she was a youth counselor and was a certified level 1 archery instructor. Stacy lives by a simple motto – that 20 years from now, what will matter most "is how the world can be a better place by the impact you had on the life of someone else."