A Sit-Down With Schember
Recapping the new mayor's first 100 days
April 11, 2018 at 2:45 PM
On Jan. 2, 2018, something happened in Erie that hadn't happened in more than a decade, 12 years to be exact. A change of leadership swept over the fifth floor of City Hall, as Joe Schember was sworn in as Erie's new mayor as Joe Sinnott, after serving three consecutive terms, left 626 State St. not by ballot but by term limits.
The former Vice President of Community Relations at PNC Bank emerged from a hotly contested primary that drew seven – Schember included – Democrats vying to representing their party in the general election. Such attention shouldn't have come as a surprise, as many in and out of Erie regarded it as one of – if not the – most important elections in Erie's history.
Schember ended the night of May 16, 2017 with nearly one-third of the total vote count, a sizeable lead over his closest challengers: Erie City Councilman Bob E. Merski (who notched nearly 25 percent of the vote) and then-Erie County Councilman Jay Breneman (who earned just shy of 20 percent of the vote).
That led to the Schember vs. Persinger showdown in November, as John Persinger, then an attorney at MacDonald, Illig, Jones, & Britton, LLP., handedly emerged with a more than two-to-one edge of his sole opponent local businessman Jon Whaley.
Unlike the lead-up to May's primary election, the march toward November featured significant less fanfare. Both Persinger and Schember ran polite campaigns and backs where patted, not stabbed.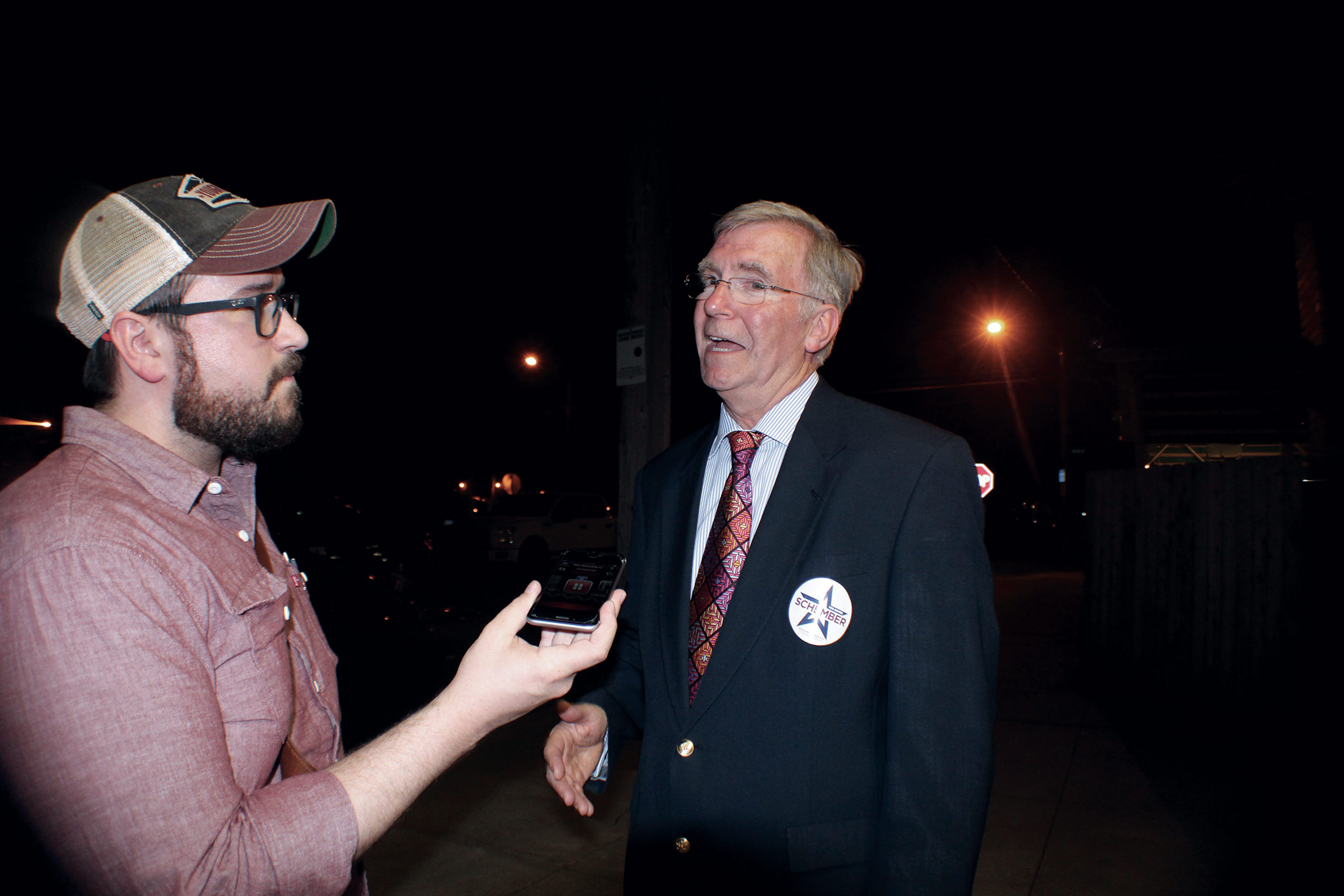 While the end results of the race may have been closer than some expected, Schember bested Persinger by a significant margin, garnering more than 1,300 voters, or nearly 7 percent, over Persinger, who has since been named the CEO of the Erie Downtown Development Corporation.
With more than three months of time in office now, Schember's been able to establish his brand – chiefly: build a better service culture at City Hall, be accessible, and get to work on Erie Refocused, the recently adopted plan commissioned under the Sinnott administration.
On a surprisingly colder-than-usual-for-April day in Erie, I sat down with Erie's new mayor for an hour to discuss a range of topics, including selfies, new key hires, the McBride Viaduct, and his 20-10 policy, amongst many other things.
Ben Speggen: Let's start at the beginning: When did it set in for you that you are now the Mayor of Erie and you now have nearly 100,000 bosses to answer to?
Joe Schember: It wasn't really until I took office. It was a high on election night – probably the biggest high of my life, ever. Then there was a lot of planning November through December.
I went up to Harvard to the new mayor training [a three-day seminar for newly elected mayors at the Institute of Politics at Harvard University's Kennedy School of Government held in partnership with the U.S. Conference of Mayors], which was very helpful. But still, I had no idea what it was going to be like until I actually got here.
Now, my wife and I go to the grocery store like we always have, and before we leave anywhere from 10 to 15 people have come up to me, taking selfies with me [laughs], just talk to me. People have been very respectful but I'm just not used to people coming up to me, just talking to me.
I do have a feeling that from these conversations I'm having – and they happen all over – that things are changing in Erie. I'm getting a very positive vibe from people in terms of what's going on and that's continued for the three months I've been in so far.
BS: Do you remember the first time you introduced yourself as "the Mayor of Erie"?
JS: We were called mayor at Harvard – it was on our name placards, but I hadn't been inducted yet. I just tend to introduce myself as 'Joe Schember'. I don't say 'Mayor Joe' or 'Mayor Joe Schember'. I'm still not used to people calling me mayor, like it's my first name, but people tend to do that. I'm still not used to that happening [laughs].  
BS: Tell me a little bit about the Harvard trip.
JS: It didn't seem political at all. I had been through a political process with the election, but this seemed more statesmen like – trying to figure out what are we going to do, how are we going to make things better in our city. It was a very fulfilling experience.
BS: What were some of the notable challenges that those mayors were face that you face, too?
JS: Blight was a common problem in any city. All of us want to rejuvenate our cities. How do you bring back jobs – good family-sustaining jobs. And one of the common answers on that was manufacturing jobs in the past, like we had in the 1960s, are gone now and you're never going to bring those kinds of jobs back. The kinds of jobs now tend to be high-tech. That's what we need to create in our cities.
One of the things I think about a lot is that we have these four colleges here in the area, and I want to make Erie a city that once [students are] here, they want to stay here. And they can see there are good job opportunities here, great places to live, there's a relatively low cost of living when compared to other cities. Right now, I don't think they're seeing that. It's going to take some time to create that, but that's where I want to go with that.
BS: Do you think that the city has a direct role in that dialogue – going on to college campuses and talking to students, to the administration?
JS: I see myself very active in that. I've spoken to the presidents of all four universities.
BS: What were some of those preliminary conversations in November and December like?
JS: The biggest thing was staffing. We had announced some new positions, and we had to decide who we were going to keep who were running departments now.
My approach is that I want a good person running each department, and I don't intend to stick my nose there. Let them decide hiring structure and that sort of thing.
I feel that that's one of the blessings that I've had: the team that's formed around me. I can't say I've recruited them or tried to bring them it. It's a very diverse and very talented and very committed team that's formed around me, and I'm really happy with that.
Maitham Basha-Agha
BS: You made some significant hires and changes at City Hall.
JS: Economic and Community Development, my number-one goal is to bring more family-sustaining jobs to Erie. And it's probably an oversimplification, but I think that that in a nutshell would solve all of our problems. More good family-sustaining jobs is a primary function of the Economic and Community Development department, and that's why I was really happy to be able to put Chris Groner [Director] in that role.
We created two new positions in that department as well. Abby Skinner, we named her grant writer. They city's never had a full-time grant writer before. We felt that that was important
And also, I wanted to have a business development officer with the job to bring more jobs to Erie in three ways. [For that, we hired] Brett Wiler.
Fifty percent of his time should be spent working with existing businesses, small businesses here in town, helping them to be self-sustaining but also to grow and bring more jobs to Erie. About 40 percent of his time should be spent working with entrepreneurs and innovators in Erie to create new businesses and new jobs. And about 10 percent of his time should be spent bringing new businesses and recruiting new businesses from outside of Erie into Erie. That's a long-term process.
Erie Refocused has a very good vision for Erie's future, and we needed a planner to move it forward. It's not an easy thing. Our first step in this process is to get input from the community, from neighbors, and we're planning to go to every neighborhood. We're going to do that in every neighborhood in Erie, but we're starting in the lower east side and the lower west side.
BS: Have you had meetings with Charles Buki [lead author of *Erie Refocused and Principal Planner for czb, LLC.] since taking office?
JS: I have not had conversations with him. Kathy's kind of expressed to me that she feels his time here is now done, and it's up to use to move forward. He hasn't called me, I haven't called him, we haven't had a conversation at all.
BS: How does your administration go about re-introducing these community meetings, something Buki was calling for the previous administration to carry out more of?
JS: What's been adopted isn't real specific, to be honest. It's general direction. The specifics we still have to figure out and work out. I feel that the
"Community conversations are very important. One of the things I've been doing in the first three months of being in office is being in the community a lot. I want people to view me as open and accessible and transparent as well. I'm not trying to hide anything."
 I'm not trying to hide anything. Sometimes I say more than my media liaison might like me to say [laughs] but that's just kind of my nature as a human being. I guess I just kind of tend to be open and honest in conversations.
"Community conversations are very important. One of the things I've been doing in the first three months of being in office is being in the community a lot. I want people to view me as open and accessible and transparent as well. I'm not trying to hide anything."
BS: Why is that so important to you?
JS: It's something I enjoy. I'll go home for dinner and then will have a couple events that night, and sometimes after eating dinner I don't feel like going out, I'm tired, it's been a long day. But when I get out there, I get re-energized [laughs] and when I get home, I have trouble falling asleep [laughs] because I'm energized from being out there.
I was at Dingus Day last night at the Polish Falcons and that's the most people I've ever seen there. One lady came up and took me out to the dance floor and we did a polka together, which I hadn't done one in several years, and she had to help me through it but it's just really energizing to be out with people. And I think people are starting to understand that I'm open, I'm accessible, you can talk to me when you see me. And I'm hoping that that'll translate into our community meetings now and see that hey I'm out there to listen and that they will talk to us.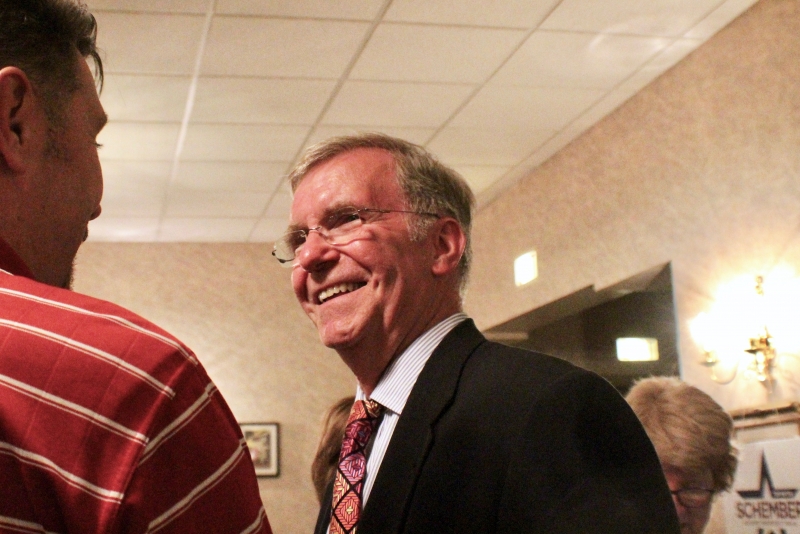 BS: There's a lot of excitement about downtown development. As you're having these Erie Refocused conversations throughout the 17 neighborhoods outlined in the plan, how are you making sure that that excitement is palpable outside of the downtown core?
JS: A lot of it is communication and talking about it. But also listening.
I know there are sections of the city that feel like they're being ignored because all of the focus is downtown and the east and west Bayfront and the Bayfront. Buki encouraged us: You can't spread funding out over everything, or it just disappears. You need to focus on certain areas.
By focusing on these areas, it's going to spread more quickly to these other areas as well. Anyone who wants to take their neighborhood by the collar and start to make it better, we're going to be there helping them any way we can.                 
BS: One of the thing that wrote in the Year-in-Review feature for the Reader is that the City had chosen you and that there is a lot of excitement right now and that we feel like Erie is getting sometime and that much of you would be expected very quickly. When you meet people, you likely hear a 1000 ideas from a 1001 different people. How do you manage and keep track of that?
JS: People seem to be very reasonable in their approach to me. They're not demanding a lot of things, they're not asking a lot of things. A lot of it is that they just want to be around me, they want to get a picture with me…
BS: Are you keeping count of the selfies that you've been in?
JS: [Laughs] I've lost count. But I'm always happy to pose for them and happy to do that. I'm a human being; I know I'm going to make mistakes. And if I do make a mistake, I'm not going to try to cover it up and I'm going to say, 'Hey, that was wrong, we shouldn't've done it that way; going forward, we're going to do it this way.' That's my approach to things.
BS: How do you shape the narrative that downtown is open, is ready for business? Because we've seen a continued population decline since the 1960s. What do you see your role as the city's leader in that regard?
JS: I think one of the most important things is that we need more good market-rate housing downtown. Erie Insurance tells me that when they take an application from a millennial, the first question they get is 'Where are good apartments downtown?' and there aren't a lot of them. And the ones that are are full.
People like Rick Griffith at Lovell Place, he tells me he has no problem filling the apartments at Lovell Place. He'd like to develop more apartments in that area, and I think he will over time. But one of the things he's waiting for and something other developers are waiting for is LERTA [Local Economic Revitalization Tax Assistance], which is something I talked a lot about during the campaign. We've been working hard trying to get something going.
What I'd ideally like is a 100-percent-10-year LERTA, which basically would mean that any new construction, whether it's a business or residence, or any additions that add to the value of the property, there's no additional property tax for 10 years. When we had that back in the early 2010s, there was all kinds of construction going on in Erie. Before that, we had a LERTA that was graduated and complicated and not much was going on. When we had the full 10-year LERTA, the map is covered with dots of all of the new construction that was going on. Since then, we went back to a more complicated LERTA with different areas of the city having different LERTAs in them, and again, we're not having much construction.
BS: What do you see the mayor's role being in the Erie's Public Schools conversation?
JS: I think the school district and the city are partners. What's good for the school district is good for the city and vice versa. We need to work together. We've become involved at their invitation in their strategic planning. What we've done with Erie Refocused so far, we done mostly in conjunction with the school district to make sure that their strategic plan lines up with what we're doing with Erie Refocused.
BS: On of the things you said on the campaign trail were meetings with the County Executive. What has the dialogue between the city and county been like since you took office and Kathy Dalhkemper began her second term as County Executive?
JS: We actually have lunch with each other every other week. It's just her and I talking and sharing ideas, and one of the things we've learned is that we're not going to necessarily agree one everything, but we're going to disagree respectfully and try to understand each other's positions and move forward.
We do have slightly different perspectives with her looking at the whole county, but I consider myself a regional thinker as well. I don't like that silo mentality and that turf protection we've seen in the past.
So I'm trying to get away from that and build relationships not just with the County Executive but with the surrounding municipalities as well. But sometimes, with a different perspective, you can have respectful disagreements about things, and sometimes you have to compromise on things and I think we're both willing to do that.
BS: Pleasant surprises, not-so-pleasant surprises when you got here on Jan. 2, 2018?
JS: [Laughs] Well, pleasant surprises, I'd say the team that formed around me. I couldn't ask for a better team and I'm really proud of that the fact that it's a really diverse team. And I'm really proud of the energy they all bring. They do what it takes. Many nights, they're here working late and they're not complaining. We're really focused on trying to achieve something for this city – and I couldn't do that by myself – and the fact that I've got this great team with me really makes me believe we could do it.
Not-so-pleasant surprises, less time with family. I worked hard in my career at PNC, but the campaign was all-consuming. It was like every minute of every day. Saturday and Sunday were no different than the rest of the week, except that I always made time for church Sunday morning. But other than that, it was all campaign.
But, my wife, Rhonda, could work with me on that. And she was very actively involved in the campaign and we saw a lot of each other going door-to-door together.
But then when I became mayor come Jan. 2, all of a sudden, I leave for work in the morning, and she's sitting at home. And I'm working so hard that there are morning that I leave before she gets up and get back around bedtime.
So I can say half-jokingly but half-truly that the only person upset with me in Erie is my wife because I'm never home [laughs], but I've assured her that that won't last forever. And we did have a really nice Easter weekend, because there was nothing I had to go to Saturday or Sunday, so we spent a lot of time together. I actually got a few things done around the house. In our downstairs bathroom, one of the towel racks was being pulled out of the wall, and I was able to get that fixed and put back in.
BS: The 24/7 Wall St. report labeling Erie as the "worst city for black Americans" – how are you tackling that issue now that Erie's been called out on a national stage for being such an inequitable city?
JS: That's one of the most embarrassing things so far in my role, even though I had been elected at that time but I wasn't mayor at the time, and that's one of the things I want to change as quickly as I can. I've made an effort to get to African American churches with Michael Outlaw [Community Liaison to the Mayor].
In America, the color of your skin, your religion, your ethnicity, your sexual preference – all that stuff – it shouldn't matter if you're a good person and you're doing what's best for the community; that's what matters. So, I'm trying to remind everyone of that. I'm trying to treat everyone with respect, and I do feel like we're make some progress in that area.
A good example of a step we made is the CDBG [Community Development Block Grant] money, the way we've allocated that. I don't want to talk about what happened in the past, but what I told our community and economic development department to 'use the CDBG money as it's intended to be used, I'm not going to tell you where I want you to put money. It's intended to help low to moderate income people improve their lives and that's where I want it used.' I said 'Do what you think is best for the people who need it the most'. That's the only direction I would give them. I think I've gotten very good feedback for how that money was allocated.
BS: What I hear there is that there's a lot of trust placed in your staff to make that decision.
JS: One thing I did was sit in on every presentation these 18 groups made that outlined how they wanted to spend the money and why. And then I looked at how they allocated the money when they presented it to me first. And thought what they did was a good job. I complimented them on that and thanked them for the job they did.
So I'm not like looking over their shoulder and watching every move they make. We're all human, we'll all probably make mistakes, but as long as people are trying to do what's right and open to listen in conversation, we'll continue to move forward.
BS: You mention the importance of family-sustain jobs. How does that translate for New Americans in Erie? And for your administration's policy for immigrants?
JS: I've never been so proud to be an American. In early February, I went to a swearing in a 50 New Americans over at the Federal Courthouse, and I got to speak to them, and what I remembered was that my grandparents went through the same thing these folks went through in order to become an American. And going to a strange place you've never been before, you don't know what you're getting into.
But I know now as the grandchild of an immigrant, they can have a wonderful future, so I try to encourage them, telling them I'm accessible. Niken Astari-Carpenter [the city's first Liaison to Refugees and Immigrants] is at those meetings, as well, and she goes to many meetings, and if one of them has a problem, she's trying to help figure out how to work through it.
I think diversity is our greatest strength as a country, and we need to take advantage of that.
BS: The New York Times did a piece on the McBride Viaduct. You were quick in your administration to say you were proceeding with the demolition path.
JS: It might've seemed quick that I did that, but remember that I was on Erie City Council when the Viaduct was closed. I looked at it very closely then. At that point, I felt the right thing to do was to tear it down.
There have already been three public hearings where anyone could've spoken. There were letters sent to residents in that area, and there were meetings with the residents in that area. All of that has happened over the last eight or so years, so I feel like we've looked at it closely.
Some people are trying to make it a racial issue, some are trying to make it an east-side versus west-side issue, but we don't have the money to fix it up and maintain it. And if we did, that's not going to create any more jobs, it's not going to make neighborhoods better on the east side.
I started studying the Viaduct again in December. I met with everyone from ErieCPR individually, usually an hour and a half, and they showed me slide presentations, they presented their case. My conclusion after talking to them, and then after spending time with PennDOT to understanding the work they've done, it seems like the best course of action to me to tear it down.
I know that as I make decisions, not everyone is going to like every decision I'm going to make, and I accept that. I still respect the other people, and some of them have said that they respect me; they disagree on this, but they want to work with me on other things, like safety for people with disabilities in the city and that sort of thing. Just because somebody disagrees with me on one thing doesn't mean we can't work together on something else we agree on and is good for the community.
Our main problem in that area is east-west pedestrian safety across the Bayfront Parkway. Above 12th Street, when I drive up there I see people with bicycles jumping over the median, people with baby carriages going over the median, and it's not safe.
If we don't get safe crossings for the pedestrians, we're going to have an accident there. So we need things like bumpouts, better lit or painted crosswalks that are more obvious to drivers, and we need to slow drivers down on that highway.
In retrospect, I'm not sure that was a good thing in dividing the east side with the Bayfront Parkway, and that's what it did, it divided neighborhoods – that's why people are cutting across it and going the way they used to go, but it's there, and we need to deal with.
BS: Assuming that everything goes according to, or as close to according to, plan as possible, how does Erie's narrative shift in four years after your administration's been in office?  
JS: We better be able to point to some things we've accomplished in terms of making Erie recognizable and attractive, particularly the downtown and the Bayfront. And there better be a lot more jobs here that we can point to and talk about. And there better be a lot more people, millennials, living in market-rate apartments downtown. We won't be everywhere we want to be, but we better have a lot more that we can say 'look at this,' 'look at that' now we want to do even more of that going forward.
I really think that it's going to take 10 years to really implement all of Erie Refocused. But we better have made some good strides in the first four years towards making that happen.    
 Another thing we haven't talked about and another thing that's important to me is trying to change the culture here to make it a world-class service culture at City Hall. People better recognize there's a must better service culture in City Hall four years from now than there has been.
A couple of things we've done: the 20-10 rule and badges. Twenty feet away make eye contact and smile; 10 feet away you say something whatever you're comfortable saying 'how are you' 'good to see you'. And I started doing that day-one as mayor. I didn't implement this rule until about a month ago, but I can tell you how many odd looks I'd get from employees when I'd say, 'Hi, how are you doing?' you know, it's like, 'The mayors talking to me; what's going?' [laughs]. But now, everybody is staring to doing it.
The other thing was wearing these badges so that people here, residents know who works here so that they can ask for directions.
Another thing we want to do that we haven't yet is something with the entrance, because the entrance off of State Street certainly isn't inviting. If you don't know where you're going when you come in there, you have no idea how to figure out where to go. We are working on it, we have some plans, we're hoping to get one of the local college's design students to design a new entrance way for us.
BS: Anything topics you'd wish the media would cover more?
JS: Something that hasn't seemed to get a lot of play in the media, but we're going to be the pilot for a Department of Justice program called Strengthening Community Police Partnerships. It's a one-day program that hopefully will have a ripple effect down the road.
It's actually going to take place on April 21 up at Mercyhurst University, and we're going to have eight different groups, homogenous groups. It's going to include students, minority groups, business leaders, police officers, New American group – eight of these groups.
In the morning, we're going to welcome them and talk a little bit, and then each group will be given two basic questions: What's going well with the Erie police right now, what do you like about how the Erie police operate; and then what problems are there with the Erie police now, what don't you like about them, what issues are there?
These homogenous groups will work on that and come up with their answers. Then we're going break for lunch, and then after lunch, we're going to break them into heterogeneous groups, and we're going to mix the groups up, and we're going to say, 'Okay, now what we want you to do is look at how we fix these problems, what do we need to do over the next couple of years to fix these problems? What do we need to do over the next couple of years to eliminate these problems and build better community-police relations?'
I'm hoping that that's going to lead to a lot more groups a lot more assignments and lot more work to be done to be to make the Erie police a model for what community policing should be like.
BS: I've got to ask: Is it easier or harder to be a politician in the age of Trump?
JS: I don't think about Trump at all, to be honest, in terms of what I do, because I have no ambitions beyond being mayor. I'd like to be mayor for three terms and leave a transformed city for future generations. That's my number-one goal.
Ben Speggen can be reached at bSpeggen@ErieReader.com and you can follow him on Twitter @BenSpeggen.