AK's Take: NBA Finals Wrap-Up and Erie's LeBron James Hatred
Reaction to LeBron hoisting another trophy.
July 10, 2013 at 11:43 AM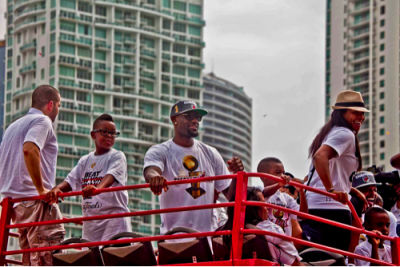 It's all over now. The NBA Finals reached its epic seven-game conclusion Thursday, June 20, and the Miami Heat are now back-to-back champions. While casual observers might say, "Yeah, I saw that coming" this really was an exciting series that either team could've won. That's why they had to play all seven games to decide the champion.
Here's some Need-to-Know Info.
The final result of LeBron James hoisting the Larry O' Brien trophy was anything but a certainty. The San Antonio Spurs had a convincing 3-2 edge at one point and Tim Duncan was on the verge of a fifth NBA championship before Miami rallied back to win the next two games and the title.
The game that will be perhaps remembered more than the Heat's game-seven victory is the incredible game six that went into overtime, with Miami's Ray Allen making the biggest play of the season – a 3-pointer with seconds left on the clock.
It was a shot that cost the San Antonio Spurs an NBA Championship. It took the two teams into overtime, and Miami took control of the series with a huge psychological blow to San Antonio that they would never recover from. See this epic play for yourself.
After the game-six stomach punch that San Antonio took, Miami seemed destined to win game seven and the championship on their home court. Game seven was a great game in its own right, as the Heat won a reasonably narrow 95-88. But, it simply did not compare to the game six and the thrills that came with it.
Here's my take on Game 6 and LeBron James:
I am personally pleased with the result of the Finals, as it is redemption for my Western Conference Finals blunder. In the West, I had Memphis beating San Antonio a few blogs ago.
San Antonio crushed the Grizzlies 4-0, leaving Memphis and me quite embarrassed. However, I had the Miami Heat beating the San Antonio Spurs 4-3 in the Finals. This, of course, came to fruition, and I am once again a "genius."
This NBA Finals also brought my attention to a very interesting discovery: Erie still hates LeBron James.
I was in the car with my brother and friend the night of the spectacular game six of the Finals. We were on our way back home when I checked the score on my phone and saw a close game with about two minutes left, and both teams had scores in the 80s if memory serves right.
I suggested we stop at a bar, grab a beer, and watch the rest of the game. So, we stopped at a half-empty Sandbar and grabbed two cold ones and a glass of good ol' H2O for our designated driver. That night we witnessed some basketball history.
That is when I discovered that my fellow Erie citizens are not in the LeBron James fan club. They cheered every Spurs basket, and booed every Heat basket. The entire bar erupted in disgust when Ray Allen hit the series-changing shot shown above.
I couldn't help but let out a subtle clap, as I still had a chance to get my "Heat in 7" prediction right.
Following my timid cheer, two inebriated gentlemen sitting diagonal to us proceeded to call me a "LeBron bitch." Now, they said it in a playful manner and I don't think they met any offense by it, so I decided to explain to them that I blog about the NBA playoffs for Erie Reader, I want my prediction to be right, and so on. I even told them to check out my blog because I thought they might like it, but I doubt they remembered.
I then asked them why they hate LeBron.
They answered simply, "He's just an asshole."
Fair Enough. Perhaps I should approach their response with some empathy.
I felt I couldn't reason with them, but later that night I decided I'd try to put myself in the shoes of an NBA fan living in Erie. Cleveland is a mere 100 miles away from Erie and there are no pro basketball teams in Pittsburgh or Buffalo. The Cavaliers were a damn good team with Ohio-native LeBron James.  The Cavs made the playoffs almost every year he was there, capped off by the franchise's only Finals berth in 2007.
James leaving meant he "abandoned" Cleveland, and the Cavs were once again irrelevant.
So, I guess I can understand why people are still upset. Every Heat win is just a reminder that he's not in a Cleveland uniform.  
But, LeBron had every right to leave as a free agent. Listen, I've been to Cleveland many times and I love it, but I've also been to Miami.
As hard as it is to believe, South Beach just might be a better place for a millionaire sports icon to live than the Rust Belt Region. It also might be a better place to add more championships to James' hall-of-fame legacy.
Adam Kelly can be contacted at aKelly@ErieReader.com, and you can follow him on Twitter @akAdamKelly.