Alex Bieler's Favorite Songs From 2014
Arts and Culture Editor Alex Bieler has already listed some of his top albums and music videos of this year. Now it's time for his favorite songs of 2014.
December 29, 2014 at 9:00 AM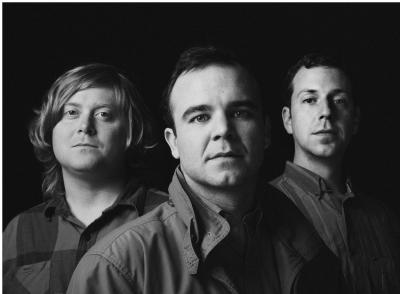 It's rather tricky to come up with a true list of my favorite songs of 2014, since there are always a fair number of songs that I may have missed that came out this year. Unfortunately, it's impossible to get a chance to hear everything, but I still manage to hear hundreds of quality tracks in 2014. Here are 50 of my favorites.
[As a warning, some of these songs may contain some naughty words. A couple might even have some in the title, so you may want to shield your eyes if certain combinations of letters hurt your eyes.]
Against Me! - "Transgender Dysphoria Blues"
I was a big fan of Against Me!'s Transgender Dysphoria Blues, which just barely missed the cut on my favorite albums of the year, and the title track does a phenomenal job kicking off the album with kickass licks and righteous anger.
Alt-J - "Every Other Freckle"
The English band may have sounded a bit more reserved on This is All Yours, but "Every Other Freckle" still showed the intriguingly weird side of Alt-J that had fans loving An Awesome Wave.
Alvvays - "Archie, Marry Me"
It's a song so good, Ben Gibbard covered it. Well, Gibbard covers a lot of song, but Alvvays' sunny pop tune certainly soars on its own.
The Antlers - "Palace"
The Antlers coninued to pump out stunning, dreamlike songs in 2014, and singer Peter Silberman continues to show off one of the best voices in the business on the horn-laden "Palace."
Aphex Twin - "aisatsana [102]"
It's not the obvious choice from Syro - that would be "minipops 67 [120.2][source field mix]" - but "aisatsana [102]" struck me the hardest, with it's sparse, beautiful piano.
Beck - "Blue Moon"
"Blue Moon" was a highlight on Beck's excellent Morning Phase, an echoing beauty on the songwriter's spiritual sequel to Sea Change
Braid - "East End Hollows"
'90s emo giants Braid returned in 2014 on the impressive No Coast, and they certainly didn't sound rusty trading lines on the wonderfully catchy "East End Hollows."
Chance the Rapper - "Wonderful Everyday: Arthur" feat. The Social Experiment
Seriously, it's Chance the Rapper covering the Arthur theme song. How could this not be one of my favorite songs of 2014? It's awesome.
clipping. - "Inside Out"
The first of two songs entitled "Inside Out" to make this list, it's hard not to get sucked in by the time Daveed Diggs hits the first round of "Murder on the outside, everybody inside."
Cloud Nothings - "I'm Not Part of Me"
Dylan Baldi and Cloud Nothings end the excellent Here and Nowhere Else off with a rousing bang on "I'm Not Part of Me," a song that will keep you pumping your fist long after it ends. 
Cloud Nothings - "Pattern Walks"
Man, is TJ Duke's work on the bass awesome on "Pattern Walks." This is simply seven-plus minutes of gritty, glorious rock.
Cymbals Eat Guitars - "Jackson"
Cymbals Eat Guitars has a knack for stellar album openers, but "Jackson" demonstrates a group that has improved with age, making for an excellent song that sets the tone for the band's best album yet.
Damien Jurado - "Silver Joy" 
Damien Jurado does a lovely job on the lovely "Silver Joy," a simple finger-picked track off of the underrated Brothers and Sisters of the Eternal Son.
Damien Rice - "My Favourite Faded Fantasy"
Man, when Damien Rice bellows "I'll never love" after the song's gorgeous first five minutes, I just get chills.
Damon Albarn - "Photographs (You Are Taking Now)"
If Damon Albarn sounds tired on Everyday Robots, it's hard to blame him, as he's a busy man. But it's that sense of weariness that adds an extra element to tracks like the pensive highlight "Photographs (You Are Taking Now)."
Death From Above 1979 - "Trainwreck 1979"
Death From Above 1979 made a thunderous return from a decade-long hiatus, and "Trainwreck 1979" showed that there little rust had accumulated on the duo's bass and drums.
Eels - "A Swallow in the Sun"
Eels' The Cautionary Tales of Mark Oliver Everett slipped under the radar when it was first released, but the album had a few lovely tracks, including the stunning "A Swallow in the Sun."
Father John Misty - "Bored in the USA"
J. Tillman continues to wink at the audience as he airs his grievances on "Bored in the USA," another striking song from his Father John Misty moniker.
Flying Lotus - "Never Catch Me" feat. Kendrick Lamar
Kendrick Lamar kills it on this guest spot, a great compliment to Flying Lotus' jazzy backdrop, replete with killer breakdowns and hand claps.
Future Islands - "Seasons (Waiting on You)"
This one is right up there for song of the year. What's more, it's even better live, with even more gutteral goodness and dance moves thanks to Samuel T. Herring.
Future Islands - "Back in the Tall Grass"
Oh, that bass line. It's so simple, yet so effective in this song, and I can't help but keep it on repeat sometimes.
Hamilton Leithauser - "Alexandra"
The joyous '50s-style track "Alexandra" was not something I expected to hear on Hamilton Leithauser's solo album, but I sure am glad that's the route he went on Black Hours first single.
Hiss Golden Messenger - "Saturday's Song"
There's nothing wrong with having a little fun, and there's certainly nothing wrong with an excellent easygoing roots-rock song showing off the benefits of a good weekend.
Kendrick Lamar - "i"
Kendrick Lamar had a good 2014, which is pretty impressive given that he didn't put out an album this year, but with the summery, good vibes of "i," he succeeded anyway.
King Creosote - "Cargill"
I'm fairly confident that "Cargill" is the 2014's best song you'll hear about fishwives, and you have King Creosote to thank.
Mac DeMarco - "Passing Out Pieces"
Mac DeMarco isn't afraid to make things weird, but he's wonderfully relaxed on the gently woozy "Passing Out Pieces"
Nathaniel Rateliff - "Still Trying"
This is slightly cheating, since Falling Faster Than You Can Run was sneakily put out in 2013, but the album saw a secondary release in 2014. This is good, because I can't help but get the feels when Rateliff shouts "I don't know a goddamn thing" on this stunner of a song.
The New Pornographers - "War on the East Coast"
It's hard not to get swept up in "War on the East Coast," as the Dan Bejar song is an absolute blast contained within four minutes.
Owen Pallett - "I Am Not Afraid"
"I Am Not Afraid" sends chills down my spine when Owen Pallett sings "I'll never have any children," a heartbreaking line in a stunning song.
Parquet Courts - "Bodies Made Of"
"Bodies Made Of," the opener on Parquet Courts' Sunbathing Animal, is a great example of how much fun meandering slacker-rock can be in a cool 201 seconds.
Perfume Genius - "Queen"
Mike Hadreas is powerful human being and he lets you know it on "Queen," spitting out lines like "No family is safe while I sashay" while displaying his strength.
Protomartyr - "Maidenhead"
Joe Casey never sounds too happy during any of Protomartyr's songs, but that doesn't stop moody post-rock numbers like "Maidenhead" from being great. In fact, the dreary disposition actually makes the track even better.

Real Estate - "Talking Backwards"
Atlas was a bit too similar to Real Estate's past works for my tatses, but it's understandable why the band would stick with that sound given how good it is at shimmering songs like "Talking Backwards."
Run The Jewels - "Blockbuster Night Part 1"
There are several reasons that Run The Jewels 2 was my favorite album of the year, and this banger of a song is one of them. Who knew Doctor Who samples could work so well?

Run The Jewels - "Close Your Eyes (And Count to F---)" feat. Zach de la Rocha
Killer Mike and El-P trading off blistering rhymes is never a bad thing. And the Philip K. Dick- referencing guest verse from Rage Against the Machine's Zach de la Rocha is just bananas.
Saintseneca - "Visions"
Saintseneca's Dark Arc was a wonderful twist on a folk genre that had started to grow old after an influx of Mumford soundalikes, and "Visions" captures the joyous harmonies and twisting lyrics that made Dark Arc so great.
Sondre Lerche - "Bad Law"
I am not a dancer. If you make a song that makes me feel like dancing, then you did a good job. Sondre Lerche's twitchy "Bad Law" gets me in a groove every time I hear it.
Spoon - "Inside Out"
The second "Inside Out" song on the list, Spoon dazzles on this airy, easy track, alternative veterans showing all of the newer, flashier acts how it's done.
St. Vincent - "Digital Witness"
St. Vincent had a ton of great tracks of it, but I'll limit it to just two for this list. The horn-aided "Digital Witness" gets a nod due to it's hypnotic rhythms and the heavenly chorus. 
St. Vincent - "Huey Newton"
Annie Clark pulls a delightful Jekyl & Hyde act on "Huey Newton," going from the cooing first half to the searing finish. Plus, bonus points with a song that has the line "real knife, fake ketchup" in it.
Stephen Malkmus & The Jicks - "Lariat"
Wig Out at Jagbags was released so early in 2014 (Jan. 7, for those curious) that people may have forgotten that this breezy Malkmus track was part of this year, but I sure haven't.
Strand of Oaks - "JM"
"JM" is the emotional centerpiece on Strand of Oaks excellent album Heal, a seven-minute slow-burner of that sinks deep into your soul.
Strand of Oaks - "Wait For Love"
After an album full of unflinching honesty about Strand of Oaks main man Timothy Showalter's life, "Wait For Love" is a hopeful, gorgeous song that closes Heal out so well.
Sturgill Simpson - "Turtles All the Way Down"
There is something absolutely fascinating about hearing the line "Where reptile aliens made of light cut you open and pull out all your pain." We have Sturgill Simpson to thank for that.
Sun Kil Moon - "Micheline"
"Micheline" was the first song that I heard of off Sun Kil Moon's stunning album Benji, and it might be my favorite. Mark Kozelek keeps it simple with some gorgeous fingerpicking on this sweet tribute to a trio of deceased loved ones.
Sun Kil Moon - "I Watched the Film The Song Remains the Same"
"Micheline" may be my favorite Benji track, but this "I Watched the Film The Song Remains the Same" certainly impresses with Kozelek's ability to turn a winding story into a beautifully simple 10-minute song.
TV on the Radio - "Careful You"
It's no surprise when TV on the Radio pumps out great new tracks, and this slowly-building snyht-based number is no exception.
Tweedy - "I'll Never Know"
Jeff Tweedy may have teamed up with his son Spencer on Sukirae, but it's the spare "I'll Never Know," which features only the elder Tweedy, his guitar, and a piano that really shines with it's stunning simplicity.
Tyler Smilo - "My Weight"
Erie artist Tyler Smilo's songs on Blood Into Sound carry plenty of emotional heft, but it's the simple, yet affecting "My Weight" that hits me right in the gut.
The War on Drugs - "Red Eyes"
The War on Drugs makes modern heartland rock, and that's a good thing, especially on the triumphant "Red Eyes."