An Abode of Hospitality
The Elsie Greer House hosts festive tour, history lesson included
December 15, 2022 at 8:30 AM
There are a number of historic Erie figures whose names most locals know: Oliver Hazard Perry, Col. Strong Vincent, Harry T. Burleigh, maybe even Laura Sterrett or Emma Lawrence (if you've been reading The Reader for a while). There are many more people in our city's history who simply lived their lives, and often in doing so, had a profound impact on the way the community developed, without even knowing it. Most of their names are not commonly known. Mrs. Elsie Custard Greer is one of those people. Her kindness, generosity, and family strength helped shape the borough of North East into what it is today, but until very recently, no one had likely spoken her name aloud in a century.
That is until Nanci Haibach, a former nurse who has always had a dream of owning a bed and breakfast, purchased the home of and embraced the story of Elsie Greer, and made her dream a reality. The Elsie Greer House, the home that the Greer family built and that Haibach now calls her own, has been standing proudly at the intersection of Park and Division streets in North East since 1865.
Elsie Custard Greer was born in North East in 1827 on her family's farm. Abraham Custard (sometimes recorded as Castor or Custer), Elsie's grandfather, moved to North East in 1797 from Orange County, N.Y. The Custard family were among the first white settlers in this area of Erie County and helped build and populate the town of North East. And Elsie's ancestors were some of Pennsylvania's earliest non-indigenous settlers. Her great-grandfather, William Custard, was born in Philadelphia in 1729 and fought in the American Revolutionary War. Her great-great grandfather, Conrad Custer, was born in Philadelphia in 1693, his father coming to Pennsylvania from Germany around 1684.
Not only was Elsie Greer well-known by her own merit and family history in North East, but her husband, John Greer, (whose father came to settle in North East around the same time as Elsie's grandfather in 1797) was a reputable judge who came to be elected during a time of great political upheaval, on the cusp of the Civil War. Upon Elsie's death in 1888, the Erie Morning Dispatch printed a large article extolling her praises and sharing much of her and her husband's biographies. They noted: "Her life was pleasant, her home circle charming, with an influence permeated with kindness and benevolence. Of this, those among whom her whole life was spent are witnesses. They have known her as maiden, wife, and matron. With these the fragrance of her memory will linger long after the flowers upon her casket have faded." Their home was described as "an abode of hospitality."
"From the second that I got here, even just standing outside of the house, I felt this comfort. And then I came inside and it was ten times that. It wasn't just the look of the house, it was just a feeling," Haibach relates. She purchased the house in May of 2021 and after making the house her own (mostly with a rich palette of paint colors) and doing a mountain of research on the home's history, she opened up the bed and breakfast for guests this past summer.
The Elsie Greer house, built in 1865 and named for its original owner, is a stunner during the holidays and all year round. The architecture is highlighted by a new color palette. (Photo credit: Erin Phillips)
But before the first guests stayed in the home, Haibach welcomed the residents of North East (and beyond) for a home tour and Winter Wonderland of Trees open house last December, and she is now making that a tradition and hosting the event for the second year in a row. "Christmas is always a huge thing for me and I always put up a bunch of trees, so I thought, everyone should come and see them all," Haibach continues. "The event is $5, there will be music playing, they can come into the kitchen for cookies and cocoa, then they can go through the house at their leisure and enjoy the trees and the history. There will be 13 trees in total, all decorated with different themes, and almost all of the ornaments are vintage."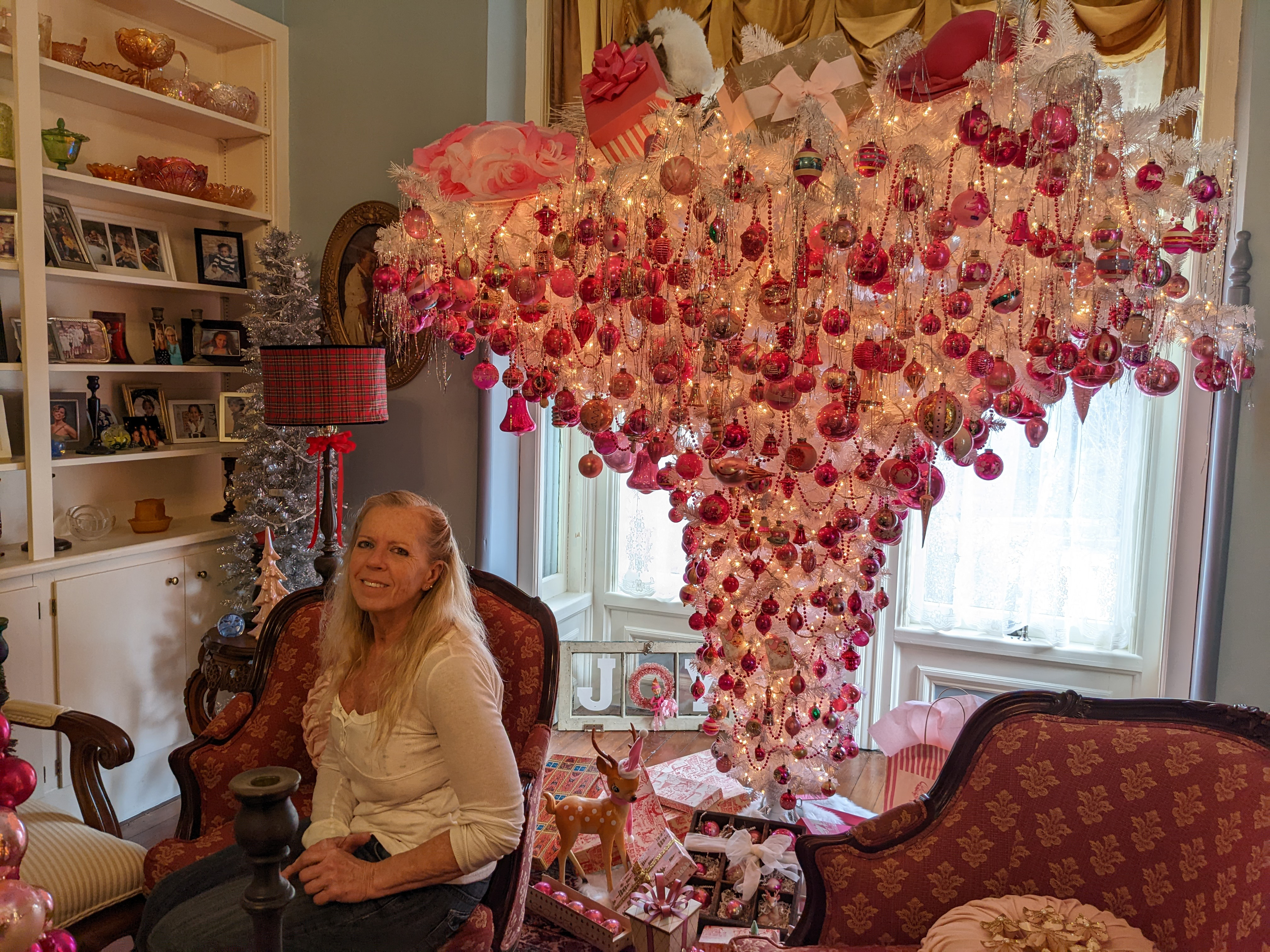 Nanci Haibach sits in the parlor of the Elsie Greer House next to an elaborately sculpted Christmas tree laden with a hundred vintage ornaments and tinsel. (Photo credit: Erin Phillips)
This year's Winter Wonderland of Trees will take place Dec. 10-23 and resume after Christmas from Dec. 27-31 from 4 p.m. to 8 p.m. Whether uniquely, elaborately decorated vintage Christmas trees are your thing or not, the promise of touring the home should be enough to bring you through the door. It is a stunning masterpiece of perfectly preserved Civil War era Italian Villa style architecture, with a massive tower, beautiful woodwork, inlaid hardwood floors, fireplaces, plasterwork, and more. And since Haibach has treated the home with such respect, it likely looks much like it did back when it was built.
Haibach's love of all things vintage doesn't stop with her home or the ornaments: she has curated the house with antiques: light fixtures, a marble-topped coffee station, the ceiling-height mantelpiece, a Murphy bed disguised as a dresser; Haibach doesn't bat an eye at traveling hours away to hunt down the perfect pieces. Every bit of the Elsie Greer House has meaning, a history, a story. Haibach recalls, "Over the summer they took down a huge oak tree in front of the church down the street. It had to be four feet across and I was so sad. All the sawdust was laying there by the stump, so I went back and filled bags full of the sawdust. I'll mix it with stain and fill in the gaps in the floorboards of the house. Elsie probably walked past that tree a thousand times when she walked to church, and I need that part of her history in my house." Out of a respect for history (as well as a personal family history of antiquing), the Elsie Greer House is like a museum in the making, as Haibach continues to collect pieces of local North East history to display around the house. Anyone who comes through the door learns something they didn't know about the town that Haibach has come to love and call home.
While Haibach isn't a native to North East, she has fully embraced the community and is excited to bring travelers to town and to highlight those things about North East that make it unique. She loves to walk around the neighborhood, for fitness and curiosity alike, in particular up and down Division Street, which borders her property to the south, and to the north, borders the land that used to belong to Elsie Greer before she donated it to the Lake Shore Seminary (pre-St. Mary's, pre-Mercyhurst North East). This action shaped the way North East looked and felt then, as well as today. Haibach reflects, "A lot of people just go about their lives and live in a town and just come and go, don't care about what it was. It's important to know the history of a place. I walk around here all summer in the evenings, and people will be on their porch saying hello. It's like living the play Our Town here. It's such a nice town. I love living here; besides the house and whatever it means to me personally, and whatever I feel when I'm in this house, I love the town, too."
Erin Phillips nearly vaulted over a staircase blockaded by Nutcrackers to get a peek at Elsie's tower room, but in the end exercised restraint. She can be reached at erin@eriereader.com