A.V. Undercover Returns for Sixth Season
The A.V. Club kicks off the sixth series of its cover series with performances from Punch Brothers and Bela Fleck & Abigail Washburn.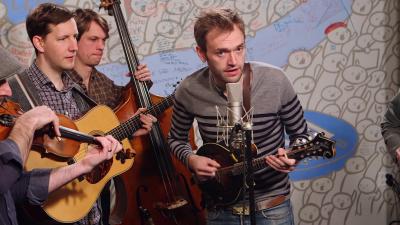 Get ready for a summer of cover songs, because The A.V. Club's A.V. Undercover is back for a sixth season.
I'm not quite sure how I missed the start of the series back on May 12, but I'm not going to complain now that it's here. I've been a big fan of A.V. Undercover, going as far as ranking all of the performances from the last season. Now we have a brand new set of 30 songs, with everything from Beastie Boys to Enya making the list.
The A.V. Club recruited Punch Brothers to open up the new season. The extremely talented string band chose The Strokes' "Reptilia" from the list, which seems a bit cheap given that the band has been covering that song for years, but I'll let it slide since its such a killer version. Want even more bluegrassy goodness? Check out the second episode in the series, which features banjo maestros Bela Fleck and Abigail Washburn taking on Europe's "The Final Countdown." So far, it's looking like this season won't disappoint.
Check out the whole song list for A.V. Undercover Season Six and the videos for Punch Brother's season opener below. Based off of a certain concert I reviewed recently, I have a pretty good guess for who is going to cover Destiny's Child.
The Cardigans, "Lovefool"
Blind Melon, "No Rain"
Beastie Boys, "Sabotage"
The Strokes, "Reptilia"
Crowded House, "Don't Dream It's Over"
Cyndi Lauper, "She Bop"
Oasis, "Rock N Roll Star"
The Runaways, "Cherry Bomb"
Howard Jones, "Things Can Only Get Better"
Phil Collins, "In The Air Tonight"
Destiny's Child, "Bills, Bills, Bills"
The Velvet Underground, "She's My Best Friend"
Europe, "The Final Countdown"
Gillian Welch, "Everything Is Free"
James, "Laid"
Styx, "Renegade"
Patsy Cline, "Walkin' After Midnight"
Paul McCartney and Michael Jackson, "Say Say Say"
The Fixx, "One Thing Leads To Another"
Peter Gabriel, "Shock The Monkey"
Slayer, "Raining Blood"
GWAR, any song
Mighty Mighty Bosstones, "The Impression That I Get"
Electric Light Orchestra, "Don't Bring Me Down"
Stealers Wheel, "Stuck In The Middle With You"
Taylor Swift, "Shake It Off"
The Crystals, "He's A Rebel"
Joy Division, "Transmission"
Toadies, "Possum Kingdom"
Enya, "Orinoco Flow"