Erie At Large: The Last Line of Defense
How important your vote for Pennsylvania's next governor could be
September 2, 2022 at 10:00 AM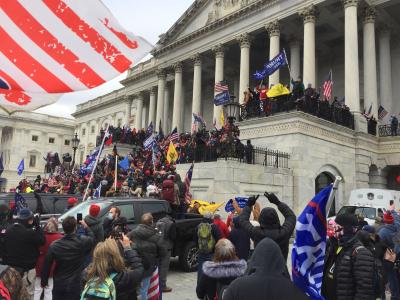 Mail-in ballots begin to arrive in mailboxes across the commonwealth shortly after Monday, Sept. 19, the first day counties can begin to deliver mail-in ballots. That means sometime between then and Tuesday, Nov. 8 — Election Day — voters will have to make a decision about the future of the commonwealth and the future of our country. Moreover, the outcomes of this election are likely to have a significant impact on our next presidential election in 2024, as many of the people on the ballot this year — and their cronies in state and federal government — continue to deny the results of the 2020 presidential election.
While every race this year has amplified importance, perhaps no race is more important than the Pennsylvania governor's race. That's because our next governor will either be the final backstop to defend the people of Pennsylvania from a sedition-prone, anti-choice, anti-education, anti-union legislature, or he will be the election-denying, confederate and Nazi-sympathizing rubber stamp who funded the transport of hundreds of people to accompany him to the January 6 attack on the United States Capitol.
Let's focus on the latter for now. State Senator Doug Mastriano, who is a subject of the January 6 Committee investigation, in part, because there is video of Mastriano breaking through police barricades and marching up the steps of the Capitol where rioters nearby beat Capitol and DC Metro police with flagpoles and riot gear they had strong-armed from the targeted officers. Mastriano claims to have left the Capitol grounds before the violence began, but there is indisputable evidence that he took part in the putsch that ensued that day.
Mastriano was one of the first and loudest election deniers, having spent the previous five years as a MAGA hat-wearing shill for the former president, and has since stated publicly that he would have the right to decertify election machines in select counties across the commonwealth if he does not agree with the outcome of the 2024 presidential election. If Mastriano were governor, you can rest assured that many of those challenged voting machines would be in so-called swing counties like Erie County.
Following the 2020 election, among attempts to assert the state legislature's independence to submit "alternative" slates of electors, Mastriano was one of 24 Pennsylvania senators — including Senator Dan Laughlin — to sign on to an amicus brief in the United States Supreme Court case in which the state of Texas attempted to challenge the election results in Pennsylvania, Georgia, Michigan, and Wisconsin.
He's also pledged to repeal mail-in voting, which has expanded access to the ballot for tens of thousands of Pennsylvanians of all political parties who have difficulty getting to the polls on Election Day for either personal or professional reasons.
And how would you feel about having to register to vote before every election? If Mastriano is elected, that's precisely what he intends to do, even though such a move is believed by many Constitutional law scholars to be unconstitutional at both the state and federal levels. It's unconstitutional because such a move is routinely seen as an effort to disenfranchise large populations of registered voters.
Beyond the undemocratic themes that have consumed this column for many months, Mastriano has promised to ban all abortions with no exceptions for rape, incest, or the life of the mother. Such a policy is generally unpopular. Pew research reports that 61 percent of Americans believe that abortion should be legal in "all or most cases," and that number rises when the life of the mother is at risk.
More recently, Mastriano has courted the most extreme and dangerous elements of the Republican party. He spent $5,000 to recruit followers on Gab, an online social media platform that is viewed by many as a haven for white supremacists. The site was linked to the 2018 antisemitic mass shooting at the Tree of Life synagogue in Pittsburgh.
His affinity for Gab and other fringe media outlets is part of a broader campaign strategy to ignore communicating with or through traditional media outlets. Throughout his campaign, Mastriano has either excluded or ignored mainstream media at his campaign events.
Mastriano came to Erie on August 4 to participate in the Manufacturer and Business Association's (MBA) legislative luncheon, a regular election year event that offers its members and the general public an opportunity to hear from candidates or elected officials. Local press were invited by the MBA, as is common for such events, and the campaign was notified that the media would be in attendance. But when the press arrived, they were not permitted, initially, to enter the event.
After several minutes of negotiations with the campaign by the MBA's vice president of external relations, Jezree Friend, a compromise was reached. The media would be permitted in and could record, but they could not approach or ask questions of Mastriano.
What is he hiding?
Mastriano's contempt for the press and his penchant for extremist media should be alarming. He chooses to operate in the shadows as a candidate and has given no sign that he would embrace the smallest modicum of transparency as governor.
Like his hero, the former president, Mastriano appears interested in building an anti-democratic machine that would sink Pennsylvania into the depths of political and economic despair. He's shown us who he is and we should believe him.
Mastriano posed for a picture at the Army War College as a confederate soldier in 2014. He also funded and produced a film where he and his family star as Nazis. He cosplays the worst of our history to model the future he desires as an elected official.
Now he courts extremists because what's left of the moderate Republican base won't have him.
Neither should you.
Your vote is our last line of defense.
Jim Wertz is a contributing editor and Chairman of the Erie County Democratic Party. You can follow him on Twitter @jim_wertz.