Erie County Update: April 29, 2020
Three new cases reported, with a data breakdown given by Dahlkemper
April 29, 2020 at 3:32 PM
There were three new positive cases of COVID-19 reported in Erie County, bringing the total to 87 cases, and 1,850 negative cases. Of these three, one is in their 30s, one is in their 50s, and one is under the age of five. All three of these cases reside in zone one (the City of Erie) There have been 56 recoveries, for a total of 28 active cases. There have been two deaths due to COVID-19 of Erie County residents.
Some of the breakdowns, per the lab-confirmed cases, show the following: 
Sex
47% male
53% female
Age
3% Age 4 or younger
1% Age 5 - 9
5% Age 10 - 18
15% Age 19 - 24
32% Age 25 - 49
26% Age 50 - 64
16% Age 65 or older
Race
63% Caucasian
22% African-American
13% Unknown
<1% Asian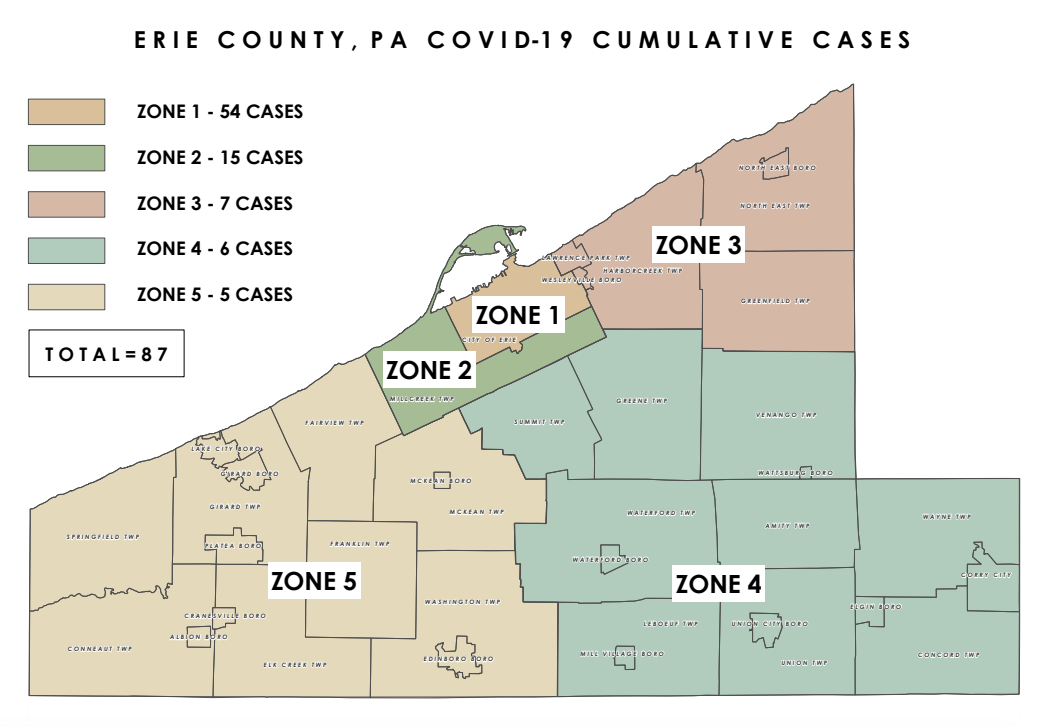 Erie County Executive Kathy Dahlkemper reported in her daily address that Crawford County stands at 19 positive cases (no change since Friday), while McKean County has six (up one), and Warren County at one (no change since April 3). Chautauqua County currently has 32 cases (up one) and three deaths. Ashtabula County now has 113 cases (up three) and 11 deaths.
The Pennsylvania Alliance on Golf has prepared guidelines for the safe reopening of courses, available online here. Golf courses will open statewide on Friday, May 1 with some restrictions.
Dahlkemper reminded residents to complete the 2020 Census online, stressing the importance of an accurate count and what it means for the region financially, especially in the wake of the COVID-19 crisis. 
Regarding details on the Yellow phase guidelines, Dahlkemper noted that she had an upcoming call with the state government later today, as well as one tomorrow. "If they open up the north-central and the northwest, which is sort of the area which the state has talked about opening, we would be the largest county, and we would be the only county with a health department," Dahlkemper commented. She added that "we know we are doing things very differently, and much more robustly here in Erie County, so we think we could be a very good partner with the state on how this is done and how it's done in the safest way possible."
Dahlkemper cited that by her best recollection, there are 20-25 people who work as contact tracers for Erie County, confirming those numbers tomorrow.