Erie Faces Erie: November 23, 2016
Jamie & RJ Messenger: founders of Iron Empire Clothing
November 23, 2016 at 11:45 AM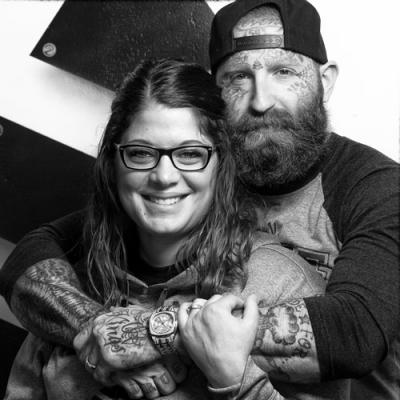 "The important message is to not be afraid to take the leap. We just did it, both feet."
Ed Bernik: Why would somebody want to start a clothing line in Erie?
RJ Messenger: When we started, it was a fun hobby to keep us busy on the side. We both worked full-time jobs, just got married, bought a house – and it was one of those things: What do we do now to occupy our free time? So when we started the clothing line it wasn't to be our own bosses or become entrepreneurs. But I think someone should want to start a clothing line, in Erie or elsewhere, because there's so much you can do with this business: put your own ideas into the design, create a brand, or use it to inspire people through the messages.
Jamie Messenger: We definitely didn't intend it to be a "business" when we started but we're glad that it took us in that direction. You could ask "why" about any business. This was representative of us. We felt like we could really be a positive influence in the community, and the community for us.
EB: What's the theme of your clothing? What makes it unique?
RJM: I think our clothing stands out because there's meaning behind it, it's more than just clothing. It's a brand, a way of life, a mindset – with a lot of positivity. Some of our shirts just have a design or a logo but the majority have a saying: something we came up with that might motivate or inspire others. We see a sense of pride in people wearing Iron Empire, because they might put on a shirt one day and feel like that shirt represents who they are and what they're about. Whether it's a saying like, "In myself I trust" or "My life, my way" or one of our longer sayings. People get a sense of pride in what the shirt says and represents, and they're proud of it being from Erie.
EB: Who is your clothing marketed to?
JM: We honestly love this question! Because we don't have a specific market. We want it to be for everyone. A lot of times people say, "I never stopped in before because I thought it was fitness clothing." It's really not, though it does fit that market. But as a whole, our aim is to be a lifestyle brand for anybody who wants to feel good about themselves or needs a little push to get through the day or be inspired.
EB: You've become a national brand. How do you promote yourselves outside of Erie?
RJM: We rely on social media for the majority of it. We have a large fan base through Facebook and especially Instagram. We're tagged and posted daily – all around the country people are wearing our clothing and tagging us, with, "I'm in the mountains on the West Coast" or "I'm in this forest," or "I'm in another country." We've got famous people wearing our stuff, and people tagging us saying, "This WWF wrestler was wearing your shirt in Rome." How awesome is that?! We also travel a lot around the country attending fitness events, expos where we meet hundred of thousands of people. At out-of-state events, they're meeting us and getting an idea of what the brand is about. We'll sell 50-75 shirts in an area where we've never been, and it just spreads like wildfire.
EB: You've seen tremendous growth in the last year. Do you see that as sustainable?
It's kind of like a runaway train. As long as we keep working and putting in the time, there's nothing that's going to stop the growth of it.
RJM: It's kind of like a runaway train. As long as we keep working and putting in the time, there's nothing that's going to stop the growth of it. Every week there's something new, something different. It's all coming together at once. We saw this on TV: "This overnight success took 30 years of hard work." But we put so much in early on that it's almost like out of nowhere, we went from having a few shirts online to people around the country wearing them. It's been nonstop, and we're just trying to keep up with it now.
EB: You both seem so positive. Was there a time when you had doubts?
JM: There are nights when we're laying there saying, "Oh boy, what are we going to do, what did we get ourselves into?" But then it always works itself out because we're willing to work as hard as it takes. If we have to be here 18 hours a day to make it work, we're here 18 hours and happy to get home, have dinner, and spend some time with the dog. There's always going to be doubt – you're not truly an entrepreneur otherwise. But the important message is to not be afraid to take the leap. We just did it, both feet. We said, "We're going to commit to this. We're young and don't have any kids, and if it doesn't work out, it doesn't work out – but hopefully it does."
EB: Any new ideas for the future that you're excited about?
RJM: We have a lot. It's almost like we're always working behind the scenes on something down the road. Right now, as far as the clothing and the store go, we're releasing our winter line, with a lot of new designs. We just locked in a big sponsorship with the Bayhawks – that's a first for us. And a sponsorship with the Otters.
EB: You guys also do a lot of community outreach besides your business.
JM: That's important to both of us. It's part of our core values: giving back and seeing a positive return. We're working on getting a program off the ground where kids do community service and in exchange they get a gym membership. Working out can be a positive influence, to get out some of that energy and be part of a bigger community. We've also done a lot of work with different charities. We're gearing up to do our clothing drive for the City Mission, which we also did last year. This year, we want to do it a little bigger and better. Giving is so big and Erie needs it so much. It needs somebody who's not afraid to get in there, down to the nitty-gritty.
RJM: There's a saying from someone that I look up to on a professional level, Tony Robbins. He has a quote that hits me every single day, 'If you're not willing to give a dime out of a dollar, then you're not willing to give $100,000 out of a million.' Many people say, "When I'm making $500,000, then I'll donate to charities." But if you aren't willing in the beginning, you won't be down the road. So sometimes when we do well at an event, rather than paying off some of our bills, we'll go out to dinner and pay for another person's dinner. Anything like that, because we know how much that can mean to that person. We feel that because of the support we receive, we have to pay it back somehow, someway. If we do it now, then down the road when we're more successful, we'll be able to help a lot more people and help change their lives.
Jamie and RJ Messenger: ironempireclothing.com
Ed Bernik: bernikphotography.com