Erie Playhouse Announces 2015-16 Season
The Erie Playhouse upcoming season includes shows like Sister Act and Kiss Me, Kate.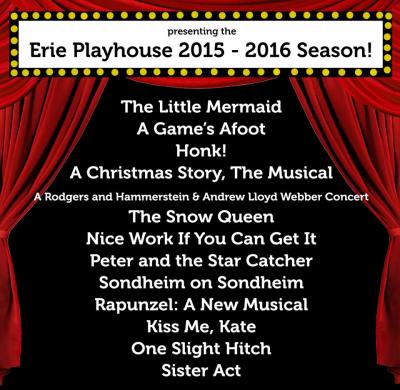 Another year, another season of shows from the Erie Playhouse. The Playhouse will wrap up its 2014-15 season All Shook Up in August, a campaign of plays and mucials that included Vanya and Sonia and Masha and Spike, Shrek: Addams Family, and a highly-anticipated return of Les Miserables, but all good things must come to an end some time.
Fortunately, another good thing will be starting up in its place. The Playhouse announced the lineup for the 2015-16 season earlier this week, offering up a slate of 13 shows for local theater fans to enjoy starting in September. The season will kick off with Mainstage show The Little Mermaid Sept. 17, while Honk! - the first of three Youtheater shows - begins a two-weekend run Nov. 13.

Highlights for the season include arguably the most well-known comedic story involving nuns with Sister Act (apologies to fans of the '60s sitcom The Flying Nun) and the Cole Porter musical Kiss Me, Kate, a show which recently had its original cast recording added to the Library of Congress along with Radiohead and Big Bird, which is very good company.
For a complete listing of shows and dates for the Playhouse's 2015-16 season, check out the list below and head to the Playhouse's website for tickets and other details.
The Little Mermaid - Mainstage, Sept. 17-20, 24-27, 23-27, and Oct. 2-4
The Game's Afoot - Mainstage, Oct 16 & 17, 22-25, 28-31, and Nov. 1
Honk! - Youtheater, Nov. 13-15 and 18-22
A Christmas Story, The Musical - Mainstage, Dec. 3-6, 10-13, and 16-20
A Rodgers & Hammerstein and Adrew Lloyd Webber Concert - Special Event, New Year's Eve Dec. 31
The Snow Queen - Youtheater, Jan. 15-17 and 20–24
Nice Work If You Can Get It - Mainstage, Feb. 5-6, 11-14, and 17-21
Peter and the Star Catcher - Mainstage, March 4 & 5, 10-13, and 16-20
Sondheim on Sondheim - Special Event, April 8 and 9
Rapunzel: A New Musical - Youtheater, May 6-8 and 11-15
Kiss Me, Kate - Mainstage, June 10 & 11, 16-19, and 22-26
One Slight Hitch - Mainstage, July 8-9, 14-17, and 20-24
Sister Act - Mainstage, Aug 5 & 6, 11-14, 17-21, and 26-28