ErieMade Business Academy Now Enrolling
Entrepreneurs of any socioeconomic status encouraged to capitalize on new initiative
January 20, 2022 at 11:15 AM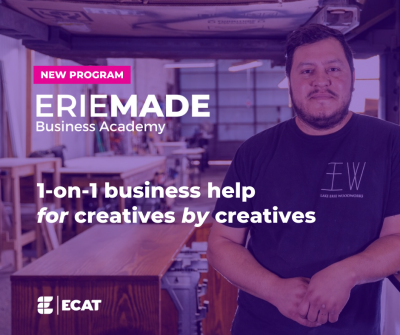 Erie has it made — more than you might think.
Each year, our "Made in Erie Gift Guide" and "Industry, Innovation, and Entrepreneurship" (I2E) issues almost invariably lead to new discoveries about genuinely, inventively exciting things happening in our midst. There are few times we haven't come away from the experience of putting together one of those issues without being legitimately impressed. But there is so much more potential even beyond that — seeds of innovation waiting to germinate. However, ideas are just ideas without the proper investment and resources behind them, and the encouragement to bring them to light. For minorities, access to these essentials has historically precluded them from making their ideas a reality.
Backed by Bridgeway Capital's Creative Business Accelerator (CBA) and Western Pennsylvania Entrepreneur Diversification Fund with additional financial and administrative support from Erie Arts and Culture, the ErieMade Business Academy will provide a platform for anyone with ambition and a worthwhile concept. The six-month program will offer aspiring entrepreneurs one-on-one guidance and peer support while instilling business fundamentals, with the freshly renovated Erie Center for Arts and Technology (ECAT) at the former Wayne School playing host. Working closely with registrants will be project consultant and business assistance specialist (and 40 Under 40 honoree) Kristen Santiago of Ivy + Atlas and Gone Local Erie.
"I am already working with many Erie makers and understand their obstacles to success," said Santiago. " I'm looking forward to working with a group of makers ready to expand and contribute to Erie's economy."
Those makers eligible for the program may include artists, designers, craftspeople, micro-manufacturers, and more — up to 20 participants will be selected between now and when the application period ends on Monday, Jan. 31 at noon. Selectees will be notified on Monday, Feb. 7 and begin their tutelage shortly thereafter. Among the first things they will do is undertake the Creative Business Ladder assessment to identify their individual strengths and weaknesses and ascertain their best path to achievement. 
Says Katie Johnson, CBA associate director: "Tools like the Creative Business Ladder will help Erie's makers access capital, markets, space, guidance, and other key elements to growth."
Hopefully, those components can be assembled into an Erie made even better in the future. 
To apply to the ErieMade Business Academy, start at eriecat.org/eriemade. Deadline is Jan. 31. Program begins Feb. 7, 2022. 
Matt Swanseger can be reached at mswanseger@eriereader.com