Fit Plus Answers the Boutique Call
Why Erie's newest workout experience will have you saying 'be right over'
February 2, 2021 at 1:19 PM
Photos by Jessica Hunter
Has anyone seen their "new year, new me" around lately? 
If not, don't panic. The reimagined self often proves as elusive as Bigfoot, Bessie the Lake Erie Monster, or the Waterford Sheepman, vanishing just as quickly as it appears, into the shadows of bad habits and open pantry doors. The fact of the matter is this — 85 percent of New Year's resolutions fail, and an overwhelming number of those are fitness-related. 
Why? When it comes to working out, most people don't know jack. Specifically, they don't know Jack Sullivan, former competitive bodybuilder, longtime Erie gym owner, and fitness expert. Sullivan, attended Gannon University's kinesiology program, is an IFBB Pro League International Judge, spent time as a personal trainer and gym manager before purchasing and rebranding American Fitness at the corner of West 38th and Greengarden with his brothers. Although REAL Training and Fitness enjoyed nine strong years in business (2011-19), when the building was put up for sale, Sullivan passed.
"It was very difficult to walk away … because we were doing well for a long time. But I'm somebody who wanted some different challenges and to do different things."
Thus his goal for 2020 became "new year, new business model," which manifested in the launch of Fit Plus in Millcreek Township this past November.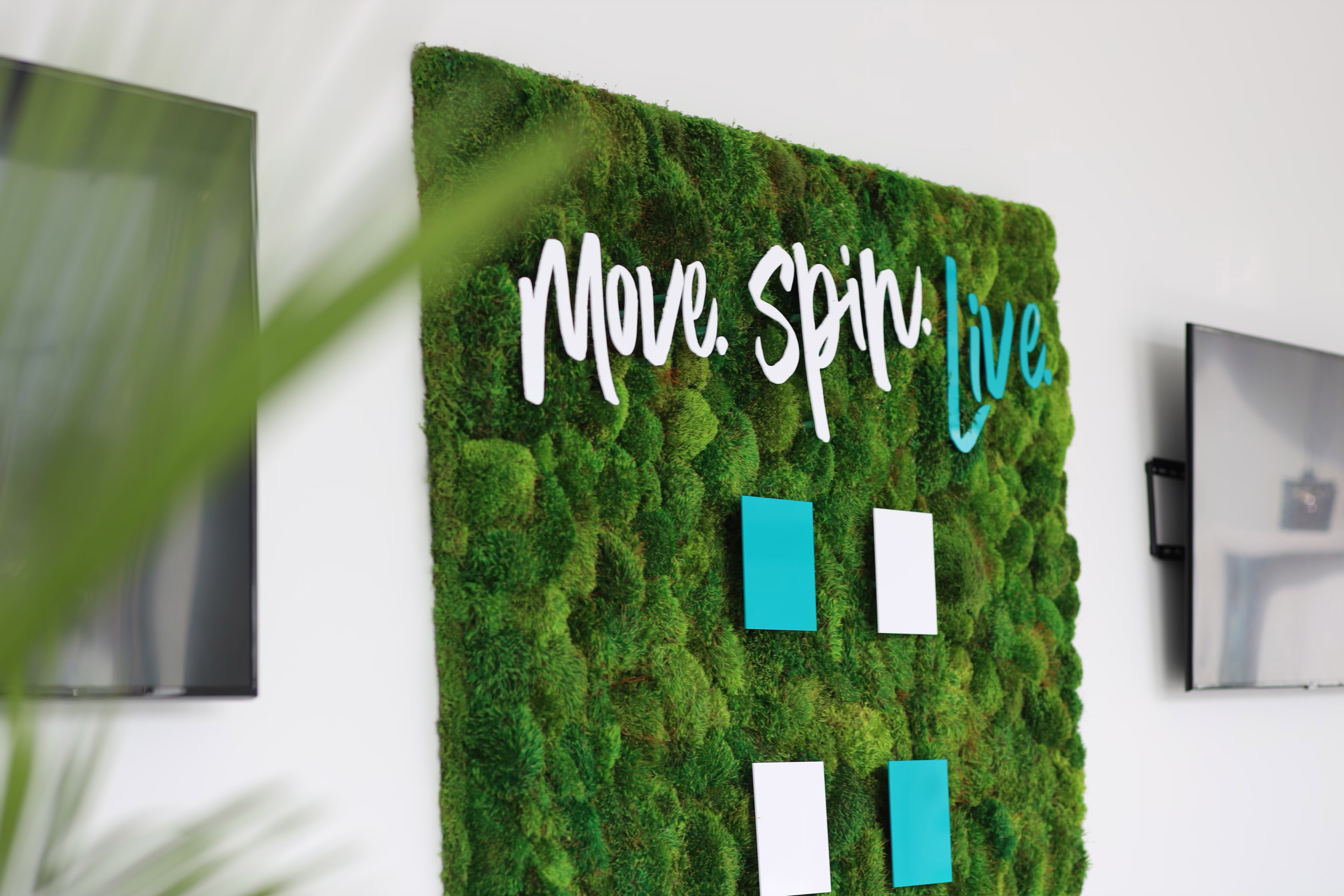 The boutique gym boom
Sullivan lists three primary reasons why people do not follow through on their fitness goals:

They don't know what they're doing.

They're intimidated.

They lose motivation.
A good personal trainer can help individuals avoid these pitfalls, but for as much as their guidance can bulk up confidence, their hourly rates (as much as $60/hour) can slim down wallets just as fast. 
On the opposite end of the spectrum are low-cost, 24/7 gyms like Planet Fitness that abide by the mantra "come whenever, do whatever, just don't be a bellend about it." And while that operating framework reduces the intimidation factor, it does little to instill accountability.
And in the middle is the traditional gym with set hours and schedules, where you're more likely to chum it up with regulars, deadlift without drawing death stares, and generally take advantage of more equipment and more features. But you're also likelier to encounter the regular who makes a regular scene of they're being there (are you birthing a water buffalo or are just you happy to hear yourself grunt?), get sidetracked, roam aimlessly because you don't know what equipment you want to use, or pace purposefully because the equipment you do want to use is occupied. 
It is the shortcomings of these formats that ushered the rapid rise of the boutique gym. Boutique gyms are characterized by their smaller, more upscale facilities, emphasis on small group exercise, and greater level of individualized attention.They usually have one overarching theme — e.g., cross-training for the elite athlete (CrossFit) or spirit-cleansing cycling (SoulCycle). Participation is á la carte rather than membership-based, with per-class payment plans.
Fit Plus(es)
Boutique gyms hit several sweet spots with all crowds — convenience, a sense of community (social proof), and a specialized experience — all of which justify shelling out more per visit than a traditional gym. In his international travels judging competition, Sullivan could not help but notice "the tide changing" in his industry, influencing his pivot away from REAL Training and Fitness and toward what has become Fit Plus.
It's already been seen in Erie with places like Level Red Boxing, iRock Fitness, and Liege Barre and Pole. Sullivan's biggest inspiration, however, was Miami-based Orangetheory, which utilizes heart rate monitoring technology as a tool to motivate members through its small-group circuit training classes. As participants move in shifts between cardio, rowing, and strength training stations, their current "heart rate zone" is broadcast on a large monitor. During each workout, members are challenged to spend at least 12 minutes in the "orange zone" — one tier below their individual maximum heart rate (which varies with factors such as age).
The Move Fit room at Fit Plus is set up very similiar — six treadmills, six rowers, and six strength stations for a maximum group size of 18 (reduced to 12 during COVID). Total calorie burns and heart rates are transmitted from the participants' devices to a widescreen in the back of the room as the lights and music pulse with a quality and clarity that would rival many nightclubs. The workout programs, devised by one of Erie's top trainers Sam Skraba, are progressive in nature, designed to target specific muscle groups for both improved aesthetics and functional strength. The workout splits are as follows, so plan accordingly:
Mondays:

legs

Tuesdays:

chest/shoulders/triceps

Wednesdays:

back/biceps

Thursdays:

glutes/abs

Fridays:

push/pull
But that's only half of it — indoor cycling, largely an afterthought at other local gyms, is given star treatment at Fit Plus. The Spin Fit room combines light, music, video, and charismatic instructors for an immersive and motivating workout experience. As with the Move Fit room, the heart rate monitor system is employed to full effect, with the exercise bikes glowing different colors to correspond with the rider's current level of exertion. Video reels of world-renowned cycling routes transport participants to another place. All the while, the Fit Plus Erie app continuously records your results so you can track and share your progress, which will be tested quarterly.
Even with the imposition of COVID and reduced capacity, Fit Plus has further validated the appeal of the boutique model.  "It's a tangible thing you can feel when you see everybody leaving the class, high-fiving each other and talking about how they were kicking ass and how many calories they burned. It's a really cool experience." 
Community, convenience, and experience? Check, check, and check.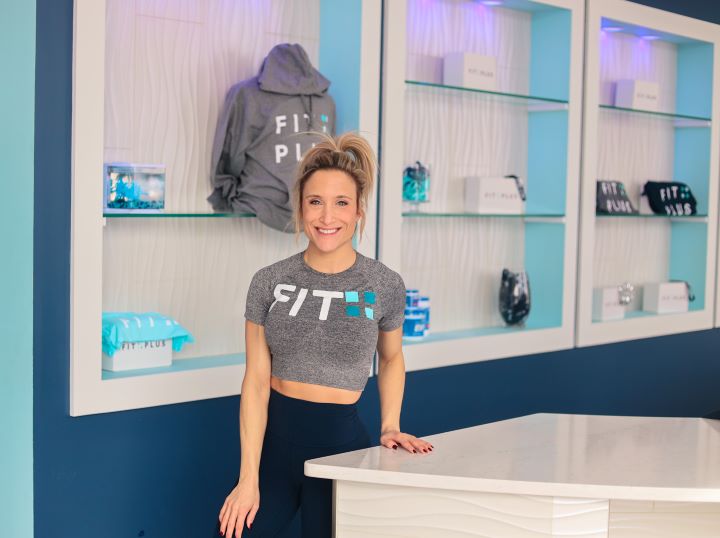 Fit Plus general manager Jessica Ambeau greets guests at the front desk of the gym's modern lobby. Ambeau, an IFBB Pro bikini competitor, followed love (owner Jack Sullivan) and her passion (fitness) to Erie, becoming part of the Fit Plus ownership team after 11 years in banking in the Rochester, N.Y. area.
Do hit your goals on your way out
Be not deceived by the posh, spacious lobby with its soft gray color palette, modern pendant lights, and living moss wall. This is a place to relax your anxieties and doubts — not your expectations. Although to that end, you should be realistic, says Sullivan.
No matter where you work out, if you want to succeed, you have to be honest about why you've failed in the past and what you need help in, and ask the right questions to the right people who can help you to the right solutions for you. 
Explains Sullivan: "I've been in training a long time. I've worked with a lot of people, executives in town, athletes, your common everyday folk. And the first thing we would do is go through a really in-depth consultation. And I would explain the way that nutrition works and the way fitness works and say, 'Okay, now the rest is about you.'" 
Your background, history, objectives, and timetable all factor into a personalized plan, but so does your willingness to stick to it. Very few people have the wherewithal to adhere to the daily routine of a competitive bodybuilder — two hours of weight training, one hour of cardio, and plain chicken and rice six times. But that's okay, because very few people aspire to be competitive bodybuilders. 
"Ultimately, whether you're male or female, everybody wants to be healthy, they want to be functional, and they want to look better and feel better," Sullivan summarizes. These goals are attainable but they require "education, consistency, and discipline" — and, moreover, placing yourself in situations and environments that nurture those virtues. 
"Be active, eat better foods (whole, nourishing, anti-inflammatory), train regularly. Get into a routine and be consistent with the things you need to do. And that's different for everybody."
Regardless, they very well might find common ground — and their "new year, new me" at Fit Plus.
Join in the action at Fit Plus by the month, by the individual class, or by the class pack. Call 814-315-1110 or email info@fitpluserie.com for more info. 
Matt Swanseger (mswanseger@eriereader.com) thought he saw his "new year, new him" reaching into the cookie jar the other day — but it was very anticlimactically just his "new year, same him."