Geeked Out: The 2015 Electronic Entertainment Expo didn't disappoint
The Electronic Entertainment Expo gets the Lindvay treatment.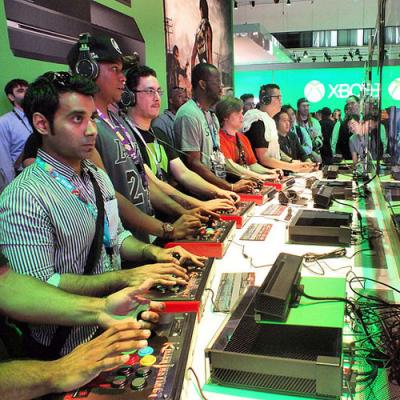 The Electronic Entertainment Expo wrapped up last week and the gaming industry set forth to amaze and dazzle consumers in an attempt to bring more people into the "next gen" of consoles and gaming. We had press conferences from the usual suspects, like Microsoft, Sony, EA, Bethesda, Nintendo, and Square Enix, all trotting out their next big game lineups. So in case you missed all those pressers, I'm here to help.
Bethesda started the cavalcade of press conferences. They announced a new Doom game, which, hey that's cool, but the big news was Fallout 4. The Fallout franchise has been around since 1997, and is arguably the greatest game series to enable players to wander the wastelands following a nuclear apocalypse. Fallout fans should be excited by the news, as the last two entries into the franchise, Fallout 3 and Fallout: New Vegas, were stellar, and Fallout 4 looks to capitalize on the graphical fidelity achieved in the latest console generation jump. The location is always a big component to the Fallout Series: In Fallout 3, we were in the Washington, D.C. metro area, with vistas of our nation's capital ravaged from nuclear war, and New Vegas was set in the irradiated wasteland of Nevada. In the announcement, Bethesda set the stage for the game to take place in Boston, and anyone who visited there this winter might have an easier time imagining Boston as a post-apocalyptic setting for a game. 
Next up was Microsoft, who has been considered in second place in this current generation console wars, with Xbox One sales seeming to slightly lag behind those of the PlayStation. Fear not X-bone owners! While they did trot out a handful of fantastic looking games, Microsoft had two major announcements that weren't game releases. First was the announcement that Microsoft is going to be virtual reality agnostic, bringing not only Oculus VR to the platform but also partnering with Valve in bringing their own headset, The Vive, to the console. If you've been following Virtual Realty hardware, this should get your jimmies rustling; however, right after that announcement, Microsoft demo-ed their "Hololens" with the mega hit Minecraft – and this (more than virtual reality!) is where the future of gaming truly is. 
The Hololens is a headset which projects holograms onto surfaces in your home. When watching the demo it simply looked like magic. I've read from other journalists that have had personal demos with the device and everyone is amazed at how incredibly it works. I highly recommend you look up the demo of Microsoft's Hololens. I've said it before, and I'll say it again – VR is cool and all, but holograms are where it's at. That's the future I want. 
EA was next with somewhat of a lackluster press conference. The major takeaway was the reveal of Mass Effect: Andromeda, which is something we've all been waiting for and anticipating anyway. Mass Effect is a sci-fi role playing game series set in a distant future where humanity discovered an ancient alien warp relay in our galaxy that lets us stretch across the stars. 
The Mass Effect trilogy is a high-mark in the last generation of consoles. If you like role-playing games and a sci-fi that is a smart mix between Star Wars and Star Trek, then you should be excited for Mass Effect: Andromeda. While it was just a cinematic trailer with no gameplay, I am ready to head back to the universe that game developer Bioware has created over the years. The show was then capped with a trailer for the hotly anticipated Star Wars: Battlefront game, in which huge teams of players battle it out Empire Strikes Back style. Ever wanted to pilot an AT-ST or run around the forests of Endor as either the Rebels or Imperials? Battlefront is the game you've been looking for and it looks pretty awesome.
Ubisoft also had a press conference, but I can't get excited over yet another Assassin's Creed game. This one takes place in London and looks neat, I suppose. But after the release of Unity, I am still feeling burned. 
PlayStation was the high mark for me, not just because it is the current console I own, but it also had the game announcements that excited me most. First off, the vaporware game of The Last Guardian was shown again, and on a public stage with a promise of "Seriously guys, this game is actually going to for real release… soon." This is good news since The Last Guardian was a supposed system seller for the PlayStation3, and it's good to see that it wasn't totally canned. 
The Electronic Entertainment Expo wrapped up last week and the gaming industry set forth to amaze and dazzle consumers in an attempt to bring more people into the "next gen" of consoles and gaming.
Still, the biggest surprise of E3 was the reveal of Square Enix's Final Fantasy 7. Yes, it's finally happening: After years of fans clamoring for FF7 to be remade on the PS2 and PS3 and right when we've all but given up hope of ever seeing the game get the high fidelity update treatment, it finally happened. I would also like to note that immediately after publicly announcing Final Fantasy 7 remake, Square Enix stock rose substantially. That's how much people want this game – myself included –  but then again I am a sucker for anything Final Fantasy.
Nintendo rounded out the end of E3 press conferences. Their big news was Star Fox Zero for WiiU, a Legend of Zelda co-op game on 3DS, and a Metroid Prime multiplayer game for 3DS… Yeah, still no new Metroid game (I am bummed, as well). However, better than this press conference, Nintendo hosted the Nintendo World Championship prior to E3 week and that was AWESOME. If you can, head to YouTube and watch it. It's fun and sums up why Nintendo has such a fond place in so many gamers hearts.
While this isn't the exhaustive list to help catch you up on all that you might have missed, I hope this helps. Did I miss an announcement that has you super excited? Shoot me an email or comment on this story online! 
John Lindvay can be contacted at jLindvay@ErieReader.com, and you can follow him on Twitter @Fightstrife.
Sponsored by: Epic WebStudios