Hop Along Rocks Out at the Rock Hall
The Philly-based quartet put on a powerful performance outside The Rock and Roll Hall of Fame.
August 17, 2015 at 7:20 PM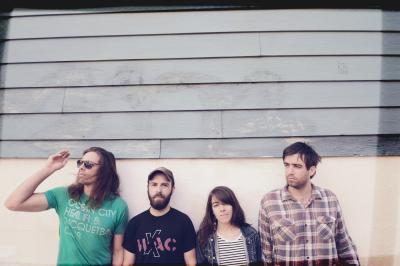 It was a gorgeous Wednesday night when Philadelphia-based band Hop Along came to visit The Rock and Roll Hall of Fame. There were plenty of other visitors as well, since the quartet was there to do more than just check out items like Michael Jackson's gloves from Thriller or one of Tom Morello's acoustic guitars. No, they were in Cleveland to rock out for one of the museum's free Sonic Sessions.
The evening started when quirky, Kent, Ohio-based duo ShiSho took the stage, performing songs about high school shindigs and some of the more awkward occasions in life, all while handing out party hats and streamers. As you could guess, it was a fun, unexpected experience. Cleveland rockers Goldmines was up next and put on a showcase on shredding, with some riffs that would appease quite a few Sleater-Kinney fans.
By the time Hop Along jump on the outdoor stage, the crowd packed tightly by the stage. Anyone who wasn't jammed in between the ample amps was quickly informed of Hop Along's presence when the band ripped right into "Waitress" of 2015's Painted Shut, an album that I listed as one of my favorites so far this year.
By the time Frances Quinlan's soaring vocals closed off that set opener with "You and some others stick around," it was quite evident that this would be a show that you should, well, stick around for. The band mainly played tracks from the excellent Painted Shut, with a couple of tracks from 2012's Get Disowned mixed in mid set. Either way, this was a powerful set from a band that could swiftly go from an easygoing coo to gritty wails and searing riffs.
Really, the only disappointment is that the crowd never got to hear the Robert Goulet version of Rage Against the Machine's "Killing in the Name Of" that the band joked about playing during some stage banter. Intriguing covers aside, Hop Along came to The Rock and Roll Hall of Fame and provided a slice of rock heaven.