In Review: The Independent Arts Festival
Six acts. Two days. One reviewer. Abby Badach was there.
June 20, 2011 at 12:00 AM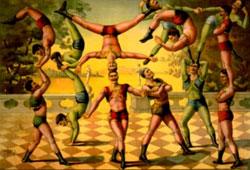 Certain performances may satisfy an audience – sustain them, even. To an artist, regularly swathing oneself in the invigorating display of another's music or dance is as nourishing to the creative life as eating is to the physical life. Call it a cycle – performers feed off the audience's energy, and the members of the audience sustain their spirits from witnessing their display of art.
And so art grows and nourishes onward.
But like a daily regimen of dry, whole grain toast – nutrient-rich as it may be – the festival-goer might become so accustomed to expected combinations of pirouettes or major seventh chords that, though the vitamins and minerals remain, the flavor becomes so familiar it's lost.
The Independent Arts Fest at Mercyhurst College was anything but dry toast.
With six performances over the course of two nights, this banquet of contemporary dance, scat singing, percussive poetry, and scintillating acrobats deeply pleasured anyone's palate. The IAF, held June 8-9 in the dazzling Mary D'Angelo Performing Arts Center, was the piquant curry on your white rice that you didn't even know you craved.
The IAF was held in association with Pennsylvania Presenters' 2011 Spring Arts conference, which rolled into Erie for the first time June 7-10 on the Mercyhurst College campus (which has only gotten increasingly picturesque through the years).
The festival began with Zvi Dance, an athletic and lyrical dance troupe under the direction of Israeli-born choreographer Zvi Gotheine. Upon stepping into the auditorium, the audience was introduced to Alison, a sinewy young woman in a pink A-line dress who was already shaking things up onstage. She was captivating, waving coyly over her shoulder every so often to the entering audience, as a beat played over an ambient whirr of phonograph crackle.
But even more intriguing were the white letters projected on the black screen behind her:
"Take out that cell. Turn it on. Keep it on." The screen changed. Alison's pink skirt belled out from her legs as she twirled.
"Take my pic."
Alison fluttered her fingers demurely.
"It's okay. I need a new pic for my profile."
Beneath the constantly changing stream of bold commands was a phone number – and, sure enough, the blue electronic glow of cell phone screens popped up around the house as they snapped and sent pictures. The text-message interaction would continue later in their program, where the audience's texts would appear in real-time as one dancer laid on her belly, ankles propped up and crossed, responding to each on a laptop computer.
Zvi Dance's technology-infused performance served as the most cerebral of any of the six showcased vignettes – perhaps a bit too cerebral, I overheard a few audience members say – though it did start the festival off with an impressively bold take on the collision of technology and the human experience.
The next act, Grammy-winning jazz vocalist Kurt Elling, smoothly scatted his way onto the stage in a pink shirt and a sharp, icy gray suit.
The 43-year-old Elling was such a cool cat it was easy to imagine him as a transplant from a bygone era. Ever-gracious to his accompanying ensemble, he'd snap and swoosh his wrists crisply during the toe-tapping numbers, and sensuously swerve the microphone during the croon-heavy ones. "Skylark," in particular, showcased his rich baritone.
Luckily for Erie audiences, he'll return to Mercyhurst on May 12, 2012.
The Golden Dragon acrobats bounded onto the stage as the final act of Day One, with dazzling costumes and even more dazzling feats of flexibility. (Did she really just balance a chandelier of tiny cups of water on her foot while standing on her head? Oh, yes, she did.) From astounding jumps through stacks of metallic rings to a balancing act atop a mound of kitchen chairs stacked to the ceiling, these acrobats left everyone gasping.
And there was curtain call, and there was applause – the first day.
Andy Milne and Dapp Theory's jazz/percussive poetry fusion kicked off the second evening of the festival.
Milne's piano stylings laid a silky smooth backdrop for spoken word vocals with a distinctly urban feel.
"Blackout" – a composition Milne said he wrote during the great Northeastern power outage in the summer of 2003 – was a particular standout, with bassist Chris Tordini's strings slapping and bending and buzzing like overworked power lines, while poet John Moon painted a vocal picture of a person yearning to see clearly through the darkness.
"If I could turn the lights out, you'd see that I'm an occupant of the physical document…"
Cleveland-based Groundworks Dance Theater took the stage next with their tribute to the jazz-meets-blues era, led off by the whole ensemble performing to John Lee Hooker's gravely "Boom Boom."
But this wasn't your ordinary jitterbug and Charleston routine. The Groundworks dancers put an imaginative, risky take on an often-explored genre and fully developed the emotions of each persona in each number, from explosive anger to aching lust. They captured the spirit of the era, from flouncy dresses twirling in the sunshine to sliding hemlines up thighs, thanks to moonshine.
A smolderingly sexy duet to Aretha Franklin's "Today I Sing the Blues" was, debatably, the standout performance of the two-day festival. The dancers sensuously explored every inch of the stage – and each other – as they crawled and rolled and leaped to the "it-don't-get-more-soulful-than-this" ballad. When you get a standing ovation in between works in a set, you know it's damn – scratch that, day-ummm! – good.
Jazz fusion violinist Diane Monroe closed the performance series with her imaginative synthesis of originals and standards. Though her improvisational skills are top-notch, Monroe also boasts a long résumé of classical training – and it's this that serves as a framework to give her style a characteristic elegance so at the forefront of her performances, it's nearly tangible.
Monroe playfully ended her set with an improvisational jazz take on the original "Star Trek" theme, and the vibraphone accompaniment added that spacey, ethereal sound.
With a wide range of acts from gasp-inducing acrobats to urban jazz soundscapes, the Independent Arts Fest did indeed go where no festival has gone before.