Variations on a Thiem: An Evening with Kate and Patrick
Dramashop will host a two-night stream as one local couple hits the stage once again
September 16, 2020 at 2:22 PM
As individuals, they've each been involved with dozens of local productions from the Erie Playhouse and the Erie Philharmonic to Peek'n Peak's Medieval Feast and comedy troupe In All Seriousness. Well-versed in the worlds of both comedy and musical theatre, Kate and Patrick Thiem have made performing on stage an integral part of their lives. 
Thanks to Dramashop, on Friday and Saturday, Sept. 18 and 19, they'll be taking to the stage again. "There's a piece of us that's been missing," explained Patrick. In March, when quarantine began, theatre – like so many other parts of life – got put on hold. "This has allowed us to reconnect with that."
An Evening with Kate and Patrick Thiem will give the two actors a chance to spread their wings, performing a two-hour, live-streamed revue filled with some of their favorite musical numbers. 
The show stars – as you may have guessed – Kate and Patrick Thiem. They'll be joined by Michael Malthaner on keyboards and Robert Martin on guitar. Their musical accompaniment will be appropriately socially distanced, but in the same room, as the Thiems will play off them in lieu of a traditional audience. With the help of director Zach Flock, (Dramashop's Artistic Director), a masked, minimal crew running lights and audio, and the live-streaming prowess of CAM Erie, the show will be watchable for anyone who grabs a ticket online.
Viewers will hear songs from some of the couple's favorite modern musicals. Expect to hear duets like "The Song That Goes Like This" from Spamalot (a request direct from Kate's mother), "Falling Slowly" from Once, and "What You Mean to Me" from Finding Neverland. Songs will draw from musicals like Barnum, Shrek, and Beauty and the Beast, and Wonderland to name a few. 
Though the floorboards of Dramashop's stage have gone formally untrodden since the production of Nevermore closed on March 1, fans will know that they haven't stopped producing one-of-a-kind theatre experiences throughout all of 2020. With April's Silent Sky, and the June's online cabaret Afar But Not Apart (its title a loving nod to the predecessor), audiences have been able to see the Dramashop explore creative new forms of production.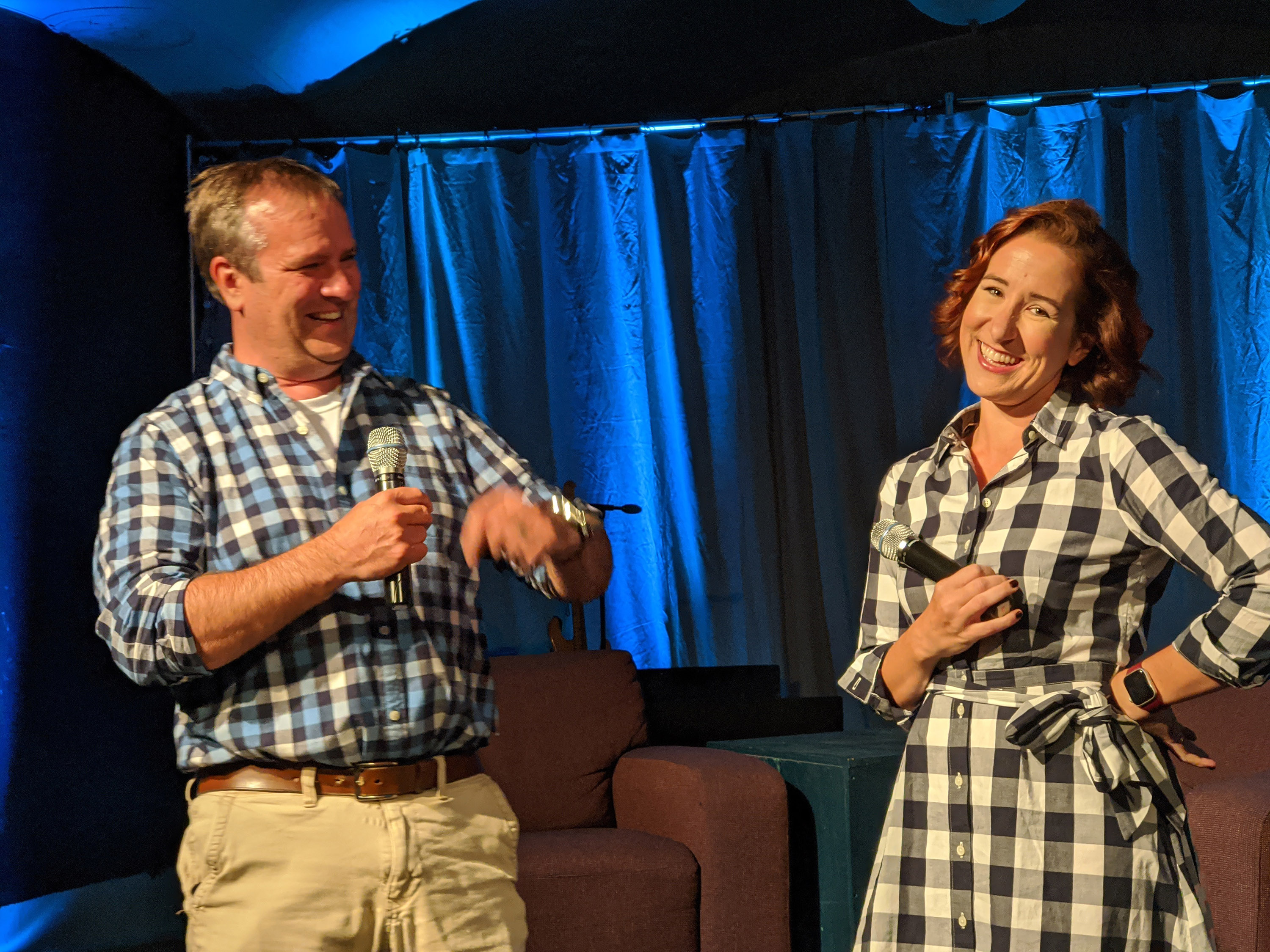 "Theater folk are having to think outside the box, and as a result, almost being more creative in how they're producing theater and or concerts," Kate detailed. "And Zach has put so much work into this project that there are still parts of it that we haven't seen yet that will when we finally get to [final rehearsals], it's going to kind of dawn on us how big this is and what he's done to make this possible." 
"I don't think I've ever performed in a live-streamed concert ever in my life. This would never have come out unless the circumstances were what they are," Kate illustrated.
The evening will have the feel of a classic-era variety show. A winking nod to things like The Dean Martin Show and The Lawrence Welk Show, letting the couple riff off of each other "without the schmaltzy stuff" Patrick clarified. 
Still, it's a show jam-packed with the music that they love. "These are songs that we've never had a chance to sing because they've never been produced locally or we've never had a chance to audition for them" Kate explained. "That's why a cabaret is so lovely is that you can find a theme with a lot of varying songs."
"We love to laugh. We love to have fun. We love to be back on stage again, obviously. So I think we're hoping that this is just the night where you can enjoy yourself," Kate said. "You can just sit back and laugh. We're hoping to entertain, we're hoping to put a smile on your face." 
"To let you forget" Patrick picked up, Kate adding "to just have a good time again and enjoy the theater again."
Friday and Saturday, Sept. 18 and 19 // 8 p.m. // Live via Zoom // For more information go to Dramashop.org and for tickets go to dramashop.square.site.